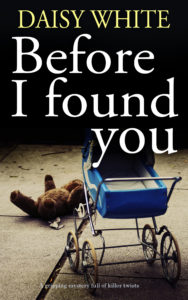 #blogtour – Before I Found You by Daisy White @DaisyWhite1922 @JoffeBooks @Books_n_all #GuestPost
Welcome to my stop on the blog tour for Before I Found You by Daisy White. Thank you to Jill from Books 'n' All for asking me to take part.
I did read the first book in this series featuring Ruby Baker back in July last year. Unfortunately, I couldn't fit in a read of Before I Found you but I do have a guest post from Daisy White for you today. First, shall we find out what the book is about?

Do you love gripping mysteries? Then discover Ruby Baker, a young woman with a talent for uncovering the truth.

A child found alone on the beach, shouting into the waves.

A mother who served ten years for a crime she says she didn't commit.

Ruby Baker is back with another seaside mystery. When she and her friends rescue a child from the beach in a storm, police are baffled. Nobody has reported a child missing, and the girl seems so traumatised that she is unable to speak.

In Johnny's hairdressing salon, the notorious Beverly Collins makes an appointment with Ruby, but it soon becomes clear the woman wants more than a haircut.

Beverly has just been released from Holloway Prison after serving ten years for child cruelty. The body of her missing daughter was never found, but Beverly insists she is innocent,and she wants Ruby Baker's Investigation Bureau to prove it.

This isn't going to be an easy investigation. Opinion is divided on Beverly's innocence. Reporters Kenny and James are keen to uncover a big story, while Ruby's best friend, Mary, is distracted and struggling to deal with motherhood.

As Ruby tries to unravel the past, she discovers that Beverly Collins' release seems to have triggered a bizarre chain of events.

Was she really framed, and if so, where is her daughter Ella now? And who is the mystery girl on the beach?
Before I Found You is out now in ebook and paperback.
---

Writing a Period Mystery Series by Daisy White
I did a tremendous amount of research before and during writing the Ruby Baker Mysteries. I knew Ruby lived in the early sixties, but I needed to ground myself in her time. No mobile phones, and there were houses that did not have telephones. The lack of technology was at times quite advantageous. Ruby has to investigate using phone boxes, newspaper archives, and simply by gossiping with customers at the salon.
Three generations of my family have lived in Brighton, so I had plenty of wonderful memories to call on. My mother in law was a hairdresser in the sixties, so I was able to draw on her knowledge of how an apprenticeship worked, and what was used to colour hair in those days.
Something that came through from all my 'social' research was the community support. People knew each other, and dates were often simply a shake and a jukebox tune, simply because they couldn't afford anything else. Despite this, the whole family, street or estate knew who was seeing who. Smoking was something 'everyone did', and this was way before 'healthy eating' (according to my sources!), so chicken and chips, fish in cheese sauce, or sausage and gravy was perfect for a weekly 'proper dinner'. According to my aunt, who was doing her nurse training in Brighton in 1963, the younger generation lived off 'cigarettes and tea'. She's a very fit and healthy seventy year-old now 😉
Thanks so much, Daisy.
---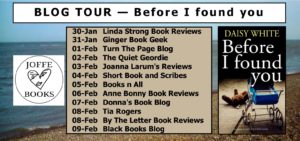 ---

Hi I'm Daisy White – mum, entrepreneur, and writer. I started off self-publishing, then signed YA series to two fabulous US publishers.
I've always wanted to write crime but none of my initial manuscripts were anywhere near good enough to show the world!
In 2016 I rewrote an earlier idea and entered it into the UK International Novel Writing Competition. It was long-listed and that gave me the confidence I needed to submit to publishers.
My second crime novel for Joffe Books, 'Before I Found You' is out Feb 2018, and my first story for younger children will be published in an anthology for Patchwork Raven later this year. I'm also finishing off a standalone thriller, which I'm really excited about!
As well as writing, I give talks, workshops and signings. Writing is an obsession, a compulsion and a love, but like most writers I also diversify to pay the bills!