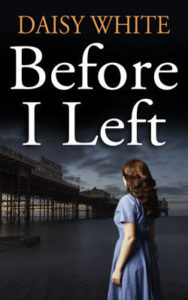 #blogtour – Before I Left by Daisy White @DaisyWhite1922 @JoffeBooks @Books_n_all #bookreview
Today I'm pleased to be on the blog tour for Before I Left by Daisy White. Here's what it's all about:

A LONG HOT SUMMER, A CITY BY THE SEA, AND A SERIAL KILLER ON THE LOOSE.

Nineteen-year-old runaway Ruby Baker and pregnant best friend Mary escape domestic violence in London to find a new home in Brighton. They join a glitzy set of party girls who are hell-bent on enjoying themselves in the new freedom of the 1960s.

But their new life soon comes under threat. Ruby keeps spotting a tall stranger in the shadows. Someone is watching her. This man may have followed them from London. And Ruby fears her dark secret will be exposed.

Then a murder at a local beauty spot brings more danger for the party-loving set, and the first murder is followed by a second. Rumours of occult sacrifices spread across town.

In a breaktaking conclusion, Ruby faces a race against time to save someone very close to her. Can she keep her secrets from being exposed and her new life from being destroyed?
Before I Left is quite an atmospheric story. It's the 1960s and the party scene in Brighton is in full swing. The era comes through quite strongly with a real sense of the carefree times that young people were experiencing, possibly for the first time. We meet Ruby Baker and her best friend, Mary Evans. They're new to Brighton after running away from home in Croydon and a life of domestic violence.
Ruby and Mary instantly fit in with a group of existing friends and find themselves with jobs and a place to live almost instantaneously which is ever so slightly implausible. But even if this is a little hard to believe, I think one of the strongest elements in this book is the friendships. Not just Ruby and Mary, who are incredibly close, but also the other members of their group. I particularly liked Johnnie, the hairdresser, who I thought was a really interesting character and sort of a fairy godfather to the girls. All the friends looked out for each other which I thought was a lovely aspect to the story.
There are two strands running through the story. One is that a mysterious man is watching Ruby. What does he know about her reasons for running away from home? The other strand is a series of what appear to be sacrificial murders. I must admit that whilst one is wound up quite well, I wasn't entirely sure what the point of the other strand was. Apparently this is the first in a series featuring Ruby so perhaps it's explained in the second book.
Before I Left is an easy book to read with some very engaging characters and a storyline that is fairly unique and not quite what I was expecting.
With thanks to Joffe Books and Books n All Book Promotions for the review copy. Before I Left is published now in ebook and paperback.
---
Don't forget to visit the other blogs taking part in the tour.
---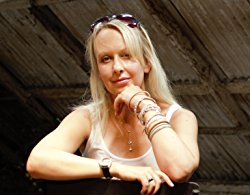 DAISY WHITE is a writer, mum, literary entrepreneur and consultant. She also runs multi award-winning pop up indie bookshop, Daisy White's Booktique, lives in a cowshed and has a passion for mud-running, vintage hats and reading.
Roadkill was Daisy's first YA book, self-published with KDP, and was followed by YA fantasy Killing Time.
In 2014/15 Daisy was delighted to sign her Taming Tigers trilogy to US publisher Melange Books, and her dystopian Cloud Red series to Limitless Books. Book two in the trilogy, 'The House of Luma' is out 2018.
Her new crime series – The Ruby Baker Mysteries, was signed to Joffe Books in 2017 and the book one, 'Before I Left' is out July 20th 2017.
Daisy would like to thank everyone who has taken the time to read and review her books, as she learns something new from each critique.