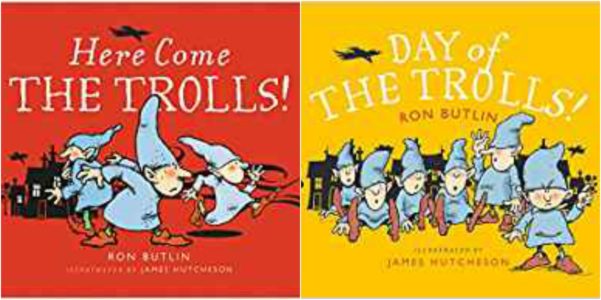 #bookreview – Here Come the Trolls and Day of the Trolls by Ron Butlin and James Hutcheson @RonButlinMakar @SKARPHEDON #blogtour
Welcome to my stop on the blog tour for Here Come the Trolls and Day of the Trolls, written by Ron Butlin and illustrated by James Hutcheson. Thank you to Kelly Lacey from Love Books Group for the spot on the tour and for providing copies of the books for review.

Here Come the Trolls

Through gaps in the roof we didn't repair

through cracks in the walls we pretended weren't there…

…the trolls have come creeping

while we were all sleeping.

Trolls on your chair, trolls in your bed –

is anything worse than a troll on your head?

What happens when your house is invaded by trolls – mischievous creatures who do nothing but cause havoc and mayhem? Find out in this zany and charming book which tells you how to get rid of them for good and make your house a troll-free zone!

Available now in paperback.
Day of the Trolls It's the Day of the Trolls: Fart-Fart and all the trolls are back! Join them in the shopping mall where they go wild, causing havoc as they overrun the place. But when they follow sign saying All Trolls – This Way, things turn out very differently to what Flycatcher, Bumscratcher, SnotFace, Squeer and the rest of them expected …

Available now in paperback.
---
I read Here Come the Trolls and Day of the Trolls with my just 4 year old and he liked them, although I think he found them a little long and maybe a slightly older child would enjoy them even more.
Both books are glossy and beautifully illustrated. The stories are fun – in Here Come the Trolls, a house is overrun with trolls. They're everywhere and we learn how best to remove them. In Day of the Trolls, the trolls wreak havoc at the shopping mall, causing trouble left, right and centre.
The trolls are naughty, mucky, and rather rude, burping and farting all the time. I must admit that I wasn't sure I wanted to give my son ideas!
The books are written in rhyme and I think this is something that works really well in children's books. They're very well written and I actually think that the older the person (be it a child or adult) the more they will enjoy them and the more they will take from them. The illustrations match up perfectly with the text and are very comical. Overall, these are entertaining, fun books about some slightly unsavoury, but also slightly cute, trolls.
---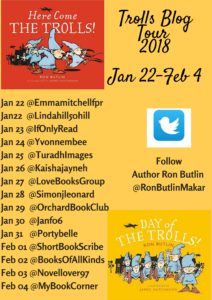 ---

Ron Butlin
With an international reputation as a prize-winning novelist, Ron Butlin is one of Scotland's most acclaimed writers. He has published several novels including The Sound of My Voice (winner of the Prix Mille Pages 2004 and Prix Lucioles 2005, both for Best Foreign Novel),  and most recently Ghost Moon (nominated for the International Impac Dublin Literary Award 2016); three collections of stories and eight books of poetry. Besides his radio plays much of his work has been broadcast in Britain and abroad. His fiction and poetry have been translated into over a dozen languages.
He lives in Edinburgh with his wife, the writer Regi Claire, and their dog.
James Hutcheson
Based in Edinburgh UK, working as an illustrator, typographer, cartoonist and graphic designer. Portfolio includes album covers for artists as diverse as Steve Winwood, The Incredible String Band and the mighty Phil Cunningham.
Have worked on publications by British and International authors including Harold Bloom, Charles Bukowski, Alasdair Gray, John Berger, Antonia Fraser, Michel Faber, Alberto Manguel, Yann Martel, Slavoj Zizek, George Monbiot and Alexander McCall Smith. Currently Creative Director at Birlinn/Polygon.