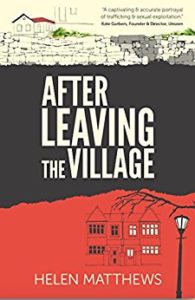 #bookreview – After Leaving the Village by Helen Matthews @HelenMK7 @hashtag_press
I'm delighted to be sharing my review for After Leaving the Village today. I'd like to thank Helen Matthews for sending me a copy of her excellent book for review and to apologise for it taking me a little while to get to it.
Two women. Two villages. Different destinies. Odeta's life has shrunk to a daily round of drudgery, running her father's grocery store in a remote Albanian village. One day a stranger from Tirana walks into the shop and promises her a new career in London. Odeta's life is about to change, but not in the way she expected.
Journalist Kate lives on a quiet London street and seems to have a perfect life but she worries about her son Ben, who struggles to make friends. Kate blames the internet and disconnects her family from the online world so they can get to know their neighbours. On a visit to her home village in Wales, Kate is forced to confront a secret from her past. But greater danger lies closer to home. Perhaps Kate's neighbours are not the friendly community they seem.
You can get the ebook of After Leaving the Village for just 99p so what are you waiting for? It's also out in paperback.
---

Odeta is an Albanian girl, 17 years old and from a small village. When dashing Kreshnik tells her she could have a more exciting life in London, she can't wait to leave her father's shop behind. But she's an innocent – she doesn't know what lies ahead for her in London. She ends up being held in the house next door to Kate, a journalist who subjects her family to an experiment of living with no internet, which leaves her at odds with her husband and son.
We start the book with Odeta leaving Albania and arriving in London. Poor Odeta, she had no idea how much she would yearn to be back in the simple life she had before. We witness her confusion and distress at the way she is being treated and see her trying to adjust, before we are introduced to Kate. I hadn't reread the blurb before starting to read this book and so was a little surprised when the story switched in this way and Kate was brought in. Newly moved to the area, she's trying to make friends with her neighbours – don't they say that each area of London is a village? But she's also from a small village in Wales and a trip there makes her remember something that happened when she herself was a teenager. I must admit I'm not entirely sure what this added to the story, apart from to flesh out Kate's own story, but I suppose it was a good way of illustrating the meaning of the title – both of these women had left behind a village and this was their story of what happened next.
And what brilliant and fascinating stories these are. From the time we meet Kate the story is told in alternate chapters from Odeta's and Kate's points of view. Comparisons between the completely different lives these two women are living, next door to each other, are inevitable and from being completely separate, they end up becoming intertwined, leading up to a very exciting conclusion.
After Leaving the Village is a fantastic read. I loved every minute of it. Towards the end my heart was racing and I couldn't put it down as I was desperately rooting for the two women to succeed, to survive. It's a stark reminder of how vulnerable girls can be preyed on, trafficked and abused. It's also a look at how the internet has taken over our lives, becoming something we (almost) can't do without.
I really wouldn't have known this was a debut novel. It's so well-written and has obviously been researched in detail. I think Helen Matthews has done an amazing job with this book. It's insightful, intense, interesting and really quite thrilling.
---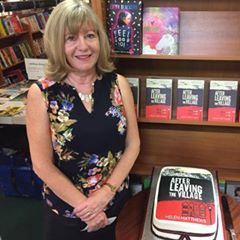 Helen Matthews is the author of debut novel `After Leaving the Village', winner of the Winchester Writers' Festival prize for opening pages of a novel. Born in Cardiff, she read English at the University of Liverpool. After travelling, she worked in international development, consultancy, human resources and pensions management but fled corporate life to pursue her dream of becoming a writer. She holds an MA in Creative Writing from Oxford Brookes University. Helen has won prizes for short stories and has been published in literary journal Artificium. As a freelancer, she writes content for websites and business magazines and has, in the past, been published in The Guardian and had columns broadcast on BBC radio. She is married with two grown-up children and lives in Hampshire.