Seven Day Spotlight – w/e 02/06/19
Hello and welcome to this week's Seven Day Spotlight. It's been a relatively quiet half term. Always nice to have a bank holiday of course. We've been to see The Secret Life of Pets 2 at the cinema. It's good fun but our son and I agreed The Lego Movie 2 was our favourite film of the year so far. Have you seen any good films lately (kids or otherwise)?

Here's what I posted on my blog this week:
Monday's post was my review of The Wrong Direction by Liz Treacher.
Tuesday's post was my review of Worst Case Scenario by Helen Fitzgerald.
On Wednesday, I shared three audio extracts from The Blue Bench by Paul Marriner.
Thursday's post was my review of Call Me A Liar by Colette McBeth.
Friday's post was my review of The Girl Before You by Nicola Rayner.
Saturday's post was my review of Someone Is Lying by Jenny Blackhurst.
---
Would you like to know what I added to my TBR pile this week? Here goes:
The night she moves in with Peter, she's so happy, so exhilarated, so in love. Later, she will remember a much smaller feeling, a tiny one percent in her gut. And she will remember pushing that feeling aside…

Samantha Frayn doesn't know why Peter Bridges picks her – a nobody with bitten fingernails and a troubled childhood behind her – but she falls quickly. He's older, charming, likes fine wine and French films, and his beautiful home has real art on its walls.

Peter transforms Samantha's life in an instant. He sees the better version of herself – the one she's always wanted to be. It's only normal that there's a little friction, when she moves in, over domestic matters like where things are kept, or the proper times to eat, sleep and shower. She's lucky to be with someone who can help her find a new job, move on from childish friends, and speak with greater sophistication.

But as Samantha notices, more and more, Peter's temper, she starts to wonder if there might be consequences to breaking the rules of the world he has so quickly built around her.

And then she receives an anonymous note that makes her ask: is she the first woman to feel trapped by Peter? Is she being paranoid, manipulated, or could she be in danger?

You can tell the truth about your life, but someone needs to be listening. Someone needs to trust you. And someone needs to save you from the man you thought you loved.
The Woman Next Door by Sue Watson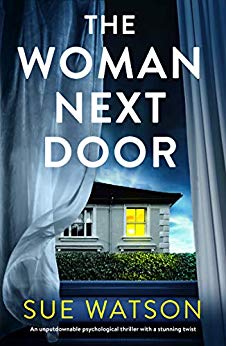 'Have you ever had a secret that you couldn't tell a soul, even the people you love? I have.'

Lucy has a kind and adoring husband, a job she loves as a teacher, and a house on Mulberry Avenue with floaty curtains and the softest bed linen. After her troubled childhood, she knows life will never be perfect, but it's pretty close.

She's also got Amber, right next door. They never run out of things to talk about. Even if Amber's life – with her high-profile job and handsome, wealthy boyfriend – is more glamorous than Lucy's.

But then Amber starts to hint that her life isn't all it seems, and when she comes to Lucy, terrified, saying that she's getting threatening messages, Lucy promises to protect her.

The closer Lucy gets to anyone, the harder it is to keep her past to herself. But Amber's boyfriend has left her just when she needs him most, and she doesn't have anyone else.

Lucy knows all too well that people aren't always what they seem. Sometimes they have secrets. And they'd do anything to keep them. Lucy's still sure: she can trust her friend… can't she?
My Dark Vanessa by Kate Elizabeth Russell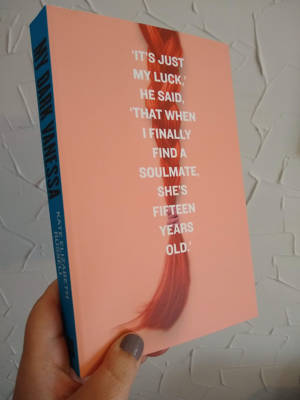 2000. Bright, ambitious, and yearning for adulthood, fifteen-year-old Vanessa Wye becomes entangled in an affair with Jacob Strane, her magnetic and guileful forty-two-year-old English teacher.

2017. Amid the rising wave of allegations against powerful men, a reckoning is coming due. Strane has been accused of sexual abuse by a former student, who reaches out to Vanessa, and now Vanessa suddenly finds herself facing an impossible choice: remain silent, firm in the belief that her teenage self willingly engaged in this relationship, or redefine herself and the events of her past. But how can Vanessa reject her first love, the man who fundamentally transformed her and has been a persistent presence in her life? Is it possible that the man she loved as a teenager—and who professed to worship only her—may be far different from what she has always believed?

Alternating between Vanessa's present and her past, My Dark Vanessa juxtaposes memory and trauma with the breathless excitement of a teenage girl discovering the power her own body can wield. Thought-provoking and impossible to put down, this is a masterful portrayal of troubled adolescence and its repercussions that raises vital questions about agency, consent, complicity, and victimhood. Written with the haunting intimacy of The Girls and the creeping intensity of Room, My Dark Vanessa is an era-defining novel that brilliantly captures and reflects the shifting cultural mores transforming our relationships and society itself.
Bea and Dan, recently married, rent out their tiny flat to escape London for a few precious months. Driving through France they visit Bea's dropout brother Alex at the hotel he runs in Burgundy. Disturbingly, they find him all alone and the ramshackle hotel deserted, apart from the nest of snakes in the attic.

When Alex and Bea's parents make a surprise visit, Dan can't understand why Bea is so appalled, or why she's never wanted him to know them; Liv and Griff Adamson are charming, and rich. They are the richest people he has ever met. Maybe Bea's ashamed of him, or maybe she regrets the secrets she's been keeping.

Tragedy strikes suddenly, brutally, and in its aftermath the family is stripped back to its rotten core, and now neither Bea nor Alex can escape…
The Night You Left by Emma Curtis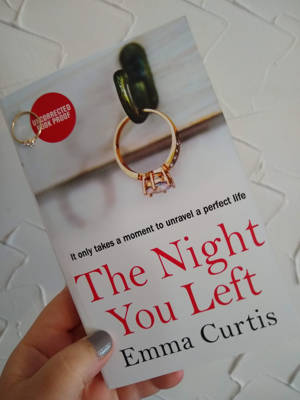 IT ONLY TAKES A MOMENT TO UNRAVEL A PERFECT LIFE . . .

When Grace's fiancé vanishes without a trace the night after proposing, her life is turned upside down. But has Nick walked out on her, or is he in danger?

As Grace desperately searches for answers, it soon becomes clear that Nick wasn't the uncomplicated man she thought she knew. And when she uncovers a hidden tragedy from his childhood, she realises an awful truth: that you can run from your past – but your secrets will always catch up with you . . .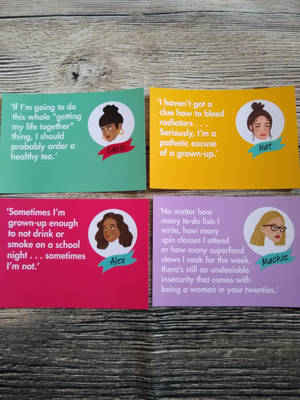 The struggle is real but at least they're all in it together.

Ever managed to kill a succulent after just a few days?
Got seven reminder letters on the kitchen table because you forgot to pay your council tax?
Become a hot mess who's falling apart because they've been broken up with?

Mackie, Edele, Alex and Nat are navigating their chaotic and confusing twenties together. They have jobs and pay their own rent (well, most of them) but don't know how to bleed radiators, defrost a freezer or test the smoke alarms.

With break-ups to deal with and major decisions to make, life can get messy especially when they're still trying to get the hang of this 'being a grown-up' thing.

Welcome to the joys of being almost adults.
The Book Collector by Alice Thompson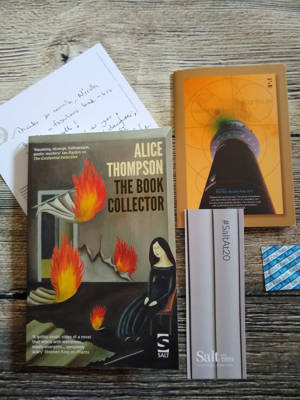 In Edwardian England, Violet has a fairy tale existence: loving husband, beautiful baby son and luxurious home. She wants for nothing. But soon after the birth of her baby the idyll begins to disintegrate. Violet becomes obsessed by a book of fairy tales her husband has locked away in a safe. Paranoid hallucinations begin to haunt her and she starts to question her sanity. Meanwhile, vulnerable young women are starting to disappear from the nearby asylum. Soon Violet herself is interned in the asylum for treatment only to discover, on coming out, that her husband has hired a nanny while she has been away, the beautiful, enigmatic Clara. The brutality of the asylum is nothing compared to the horrors that now lie in wait.
I also won this rather snazzy mug in a competition run by the author, Jennifer Maclaire.