ShortBookandScribes #Audio #Extracts from The Blue Bench by Paul Marriner @marriner_p @annecater #RandomThingsTours #BlogTour
I have something a little different for you today – audio extracts from The Blue Bench by Paul Marriner. I actually won a copy of this book in a giveaway and it really appeals, but it's a big book so I need to set aside some extra time for it. As most book lovers will tell you, that's not so easy but I'll get there and in the meantime I'm going to enjoy these extracts. My thanks to Anne Cater from Random Things Tours for the place on the tour and to Paul for the extracts and the introductions.
---
Margate 1920. The Great War is over but Britain mourns and its spirit is not yet mended.

Edward and William have returned from the front as changed men. Together they have survived grotesque horrors and remain haunted by memories of comrades who did not come home. The summer season in Margate is a chance for them to rebuild their lives and reconcile the past.

Evelyn and Catherine are young women ready to live life to the full. Their independence has been hard won and, with little knowledge of the cost of their freedom, they are ready to face new challenges side by side.

Can they define their own future and open their hearts to the prospect of finding love? Will the summer of 1920 be a turning point for these new friends? As the body of the Unknown Warrior is returned, can the nation find a way forward?
---
Now over to Paul to introduce the extracts:
Many thanks for joining me on this leg of the blog tour for The Blue Bench.
The audiobook version of the The Blue Bench was launched a few weeks ago – an amazing narration by the talented Colleen MacMahon. I've written elsewhere of how much I learnt about what to listen for in a narration so suffice to say here that the most important thing I learnt is that narration is a performance art form in in its own right. It far exceeds 'reading the story out loud' and the talent, professionalism and technical know-how required to produce a top class narration is not to be underestimated. If you like audiobooks that are engrossing and immersive then I'd like to think The Blue Bench is for you and if you've not listened to an audiobook before then why not give it a try?
Either way, we've three extracts to tempt you.
The first is the extract you'd hear if you try the sample on amazon, Audible or iTunes. There are two parts to it. Part one is from a very early part of the book when three main protagonists visit the grave of the Unknown Warrior in 1940. It is part of the novel's set up. The second part is the brief scene, also very early in the book, describing an advance in World War One at Vimy Ridge, being led by Edward, another of the main protagonists. Though only short, this scene is critical to the novel's main premise. This extract, in two parts, lasts just under 4 minutes.
The second extract is taken from a scene 2/3rds through the novel. It is at a party hosted by Beatrice, Catherine's aunt. Catherine and Edward have sung and played piano for Beatrice's guests and the scene is a chance to learn more about the relationship between Catherine, Evelyn and Edward. Though understated this is a key scene which goes on to include an important reference to the concept of The Unknown Warrior. This concept was proposed by Reverend Railton (a real historical figure) and he is present in the scene. This extract lasts 5 ½ minutes.
The third extract is the shortest at just over a minute. This extract is closer to the book's finish and though short is intended to emphasise the novel's focus on The Unknown Warrior. It is a simple description following the emotionally charged day of The Unknown Warrior's funeral service and interment in Westminster Abbey on 11 November 1920.
In all these extracts the clarity and sincerity of Colleen MacMahon's narration shines through and I am very lucky to have found a narrator both skilled and passionate. I hope there is something there for you to enjoy.
As ever, always pleased to hear others' views and comments.
Many thanks to Nicola for hosting these extracts as part of the blogtour for The Blue Bench.
Link to audio book version of The Blue Bench.
---

---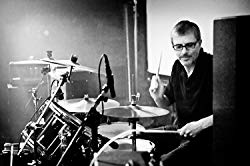 Paul grew up in a west London suburb and now lives in Berkshire with his wife and two children. He is passionate about music, sport and, most of all, writing, on which he now concentrates full-time. Paul has written four novels and his primary literary ambition is that you enjoy reading them while he is hard at work on the next one (but still finding time to play drums with Redlands and Rags 2 Riches).