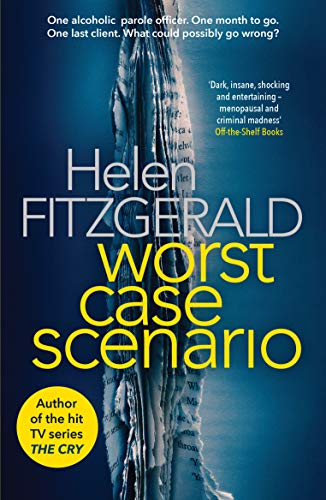 ShortBookandScribes #BookReview – Worst Case Scenario by Helen Fitzgerald @FitzHelen @OrendaBooks @annecater #RandomThingsTours #BlogTour
I'm so pleased to be reviewing Worst Case Scenario by Helen Fitzgerald today. My thanks to Anne Cater from Random Things Tours for the place on the tour and to Orenda Books for supplying an ecopy of the book for review purposes.
---
Mary Shields is a moody, acerbic probation offer, dealing with some of Glasgow's worst cases, and her job is on the line. Liam Macdowall was imprisoned for murdering his wife, and he's published a series of letters to the dead woman, in a book that makes him an unlikely hero – and a poster boy for Men's Rights activists.

Liam is released on licence into Mary's care, but things are far from simple. Mary develops a poisonous obsession with Liam and his world, and when her son and Liam's daughter form a relationship, Mary will stop at nothing to impose her own brand of justice … with devastating consequences.

A heart-pounding, relentless and chilling psychological thriller, rich with deliciously dark and unapologetic humour, Worst Case Scenario is also a perceptive, tragic and hugely relevant book by one of the most exciting names in crime fiction.
---

I've read a couple of Helen Fitzgerald's previous books and it's fair to say she's not an author who holds back on the shock factor. However, with Worst Case Scenario she's gone a step further with her protagonist, Mary Shields.
Mary is a probation officer with thirty years' experience. She's also going through the menopause and she feels rage deep within her soul. It doesn't help that she is dealing with the lowest of the low, and all her bosses seem to care about is flexitime, ticking the boxes etc. It takes a special person to do the job and Mary is certainly that. But she's also close to breaking point.
It's one of her clients who pushes her over the edge and leads to the craziness that takes place in this book. It's like watching a car crash, knowing that Mary is going to snap, that she's wrong but also right.
I did love Mary. She absolutely says it as it is, no holds barred. Brave but foolish, I guess. I did a lot of nervous smiling and giggling whilst I was reading this book.
The writing is witty and acerbic, crude and direct and I did enjoy it. It's a fast-paced read as Mary lurches from nightmare to disaster and it certainly kept me interested. I wasn't overly keen on the ending and couldn't quite believe that that was how it was going to be wound up. Having thought about it a bit since, I can see that it does work and makes what happened all the more shocking, but I would still have preferred a bit more of a conclusion.
All in all, Worst Case Scenario is quite a ride. Fitzgerald has a quite unique writing style and I felt like punching the air when Mary gave people what for without feeling guilty about it. Isn't that a problem most of us have with stating our views? We don't have the confidence to not feel bad about the fact that we have an opinion? Well, no such problem with Mary. This book is great fun.
---

---

Helen FitzGerald is the bestselling author of ten adult and young adult thrillers, including The Donor (2011) and The Cry (2013), which was longlisted for the Theakstons Old Peculier Crime Novel of the Year, and is now a major drama for BBC1. Helen worked as a criminal justice social worker for over fifteen years. She grew up in Victoria, Australia. She now lives in Glasgow with her husband.