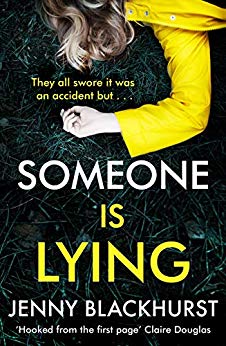 ShortBookandScribes #BookReview – Someone Is Lying by Jenny Blackhurst @JennyBlackhurst @Headlinepg @annecater #RandomThingsTours #BlogTour
Welcome to my stop on the blog tour for Someone Is Lying by Jenny Blackhurst. I'm reviewing this fab read today. My thanks to Anne Cater of Random Things Tours for the place on the tour and to the publishers, Headline, for sending me a proof copy of the book for review purposes.
---
One year after Erica Spencer trips and falls down a flight of stairs at a lavish Halloween party, the residents of the exclusive gated community where she lived have comes to terms with her death and moved on with their lives.

Until one day, a post on the school's website announces there will be a podcast to expose what really happened on the night of the accident. Six suspects are named, with the podcaster promising to reveal the murderer by the end of the series.

Everyone in this community has secrets to keep, and one of them is already a killer…
---

Goodness me, this is a thrilling story with twists galore. I loved it.
This is the story of a posh gated community in Cheshire, Severn Oaks. Almost a year ago one of their number, Erica Spencer, died when she fell from a tree house at the party of her neighbours, Karla and Marcus Kaplan. Now, someone is producing a series of podcasts suggesting Erica was pushed and there are six suspects amongst the neighbours – the Severn Oaks Six no less. You can imagine the panic, consternation and worry this causes.
I struggled a little at the beginning as all the characters are introduced almost at once and I had to think hard about who was who. But I soon got a handle on that and got to know them all really well. They were all portrayed as quite difficult to like, with secrets that the person behind the podcast seemed to know about, which made them even more cagey than they might otherwise have been.
I loved how suspicion was thrown on everyone throughout the book. I think Jenny Blackhurst did a fantastic job with that and she really kept up that level of intrigue. Nobody is what they seem in this story!
There's quite a lot of one-upmanship and back-stabbing, inevitably amongst the women. I think my favourite character was one of the men, Alex, who doesn't take things too seriously, but even though the other characters are not that likeable, they're really interesting, as is the dynamic amongst the group.
Someone Is Lying kept me turning the pages long after I should have gone to sleep. It's gripping and it's a really current storyline. The podcast idea works brilliantly and I loved it when the characters were gathered round listening to them. I felt like I was alongside them, waiting for the next revelation.
This is only my second Jenny Blackhurst book and I'm wishing I'd read the others as I think she's a fantastic writer. Someone Is Lying is certainly one I'd recommend, one that will thrill you. It definitely had that effect on me.
---

---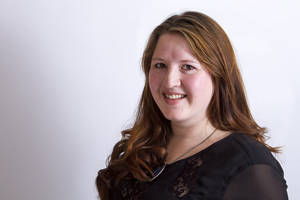 Jenny Blackhurst grew up in Shropshire where she still lives with her husband and children. Growing up she spent hours reading and talking about crime novels – writing her own seemed like natural progression.