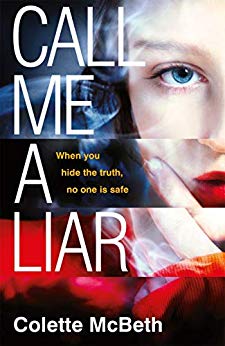 ShortBookandScribes #BookReview – Call Me A Liar by Colette McBeth
I'm delighted to be able to share my review of Call Me A Liar by Colette McBeth today. I really enjoy this author's writing. You can buy the ebook right now and the paperback is available from 13th June. I'd like to thank Colette for very kindly sending me a proof copy for review purposes.
---
You could say it started with vanity. We believed we were special. But the truth is we were simply vulnerable.

Months after landing their dream job, five brilliant young minds are sent on a remote retreat.

But when one of them disappears, they're forced to question why they were brought there in the first place.

And for the first time in their lives, they realise too much knowledge can be deadly . . .

One of them is lying.
One of them is guilty.
No one is safe.
---

I've really enjoyed Colette McBeth's writing in the past, in particular An Act of Silence which I thought was brilliant. Call Me A Liar has a different feel to it, probably due to the subject matter, but it's still a great read.
Joe and Libby met at university and soon formed a relationship. On looking for a position post-studies, Libby stumbles across a newspaper advertisement which simply asks candidates to crack a code. Whatever the job is, it requires the best, young, technical minds. Joe and Libby fit the bill, along with three others, Tess, Will and Asha. They are sent to a remote house for a retreat and it's there that things start to really go awry, especially when one of the gang goes missing.
The big strength of Call Me A Liar is the fact that it's never clear which character can be trusted. There are three sections and each one turned what I thought onto its head. It's very cleverly plotted to achieve this, to put the reader on the back foot. It's also full of sinister undertones, with these technical minds doing all kinds of computer wizardry that may or may not be completely ethical, and dangerous people keeping an eye on them doing so.
This is not a book full of easy to like characters but what was interesting was that ultimately I think everyone ended up where they should be, got what they deserved.
This is a complex and twisty read, and a dark one at that. It highlights how much is going on behind the scenes that we have no idea about. I do think the first section was quite slow as we are introduced to the characters and what they have let themselves in for, but the second and third sections really pick up the pace and got me really interested in (a) what was going on here and (b) what was going to happen next and how would it be resolved.
Call Me A Liar doesn't beat An Act of Silence for me, but it's an accomplished story of deceit, morals, fear, and the dynamics between family and colleagues.
---

Colette McBeth is the critically acclaimed author of psychological thrillers, Precious Thing, The Life I Left Behind and An Act of Silence, which was shortlisted for the Ian Fleming Steel Dagger. Her new book, Call Me A Liar was released in Spring 2019.
Colette was a BBC TV News television correspondent for ten years during which time she covered many major crime stories and worked out of Westminster as a political reporter. Prior to that, she was a news editor for Sky News.
Colette is a member of Killer Women, the female collective of crime writers.
Author photo taken from Amazon