Seven Day Spotlight – w/e 01/07/18
It's time for another Seven Day Spotlight post. I've spent the last week sweltering in the heat.

I've been saying this a lot.

I know we complain if it's hot and complain if it's cold but I really do much prefer colder weather.
I don't usually do a monthly round up but I would just like to say that I've managed an amazing 17 books this month.
I know that's small fry to some people but for me it's a never before reached amount. Two of the books were read through The Pigeonhole where you are sent a stave of the book a day which helped me cram even more books in. It's as addictive as Netgalley! My favourite books of June were The Dead Ex by Jane Corry and The Death of Mrs Westaway by Ruth Ware (review to follow).
Here's what I've posted on my blog this week:
On Monday, Lizzie Lamb talked about the Scottish Highlands/castle location of Girl in the Castle.
On Tuesday, I reviewed Ivy and Abe by Elizabeth Enfield. It's a touching and bittersweet story, a real 'what if' read.
Wednesday's review was The Dead Ex by Jane Corry. I thought this was a fantastic story of lies, duplicity and revenge.
On Thursday, Ken Lussey was my guest with a post about Eyes Turned Skywards and the Duke of Kent's role in it.
I also reviewed The Photograph by Debbie Rix which was a lovely dual timeline novel set partly on the gorgeous island of Sardinia.
Friday's post was an extract from Corrupted, the fourth book in the Charles Holborne series by Simon Michael.
On Saturday, I posted my review of the compelling In The Wake by Helen Trevorrow.
And finally, today I shone the spotlight on The Bomb Girl Brides by Daisy Styles.
---
I've had another quiet week for additions to my TBR pile with just three!
One Little Lie by Sam Carrington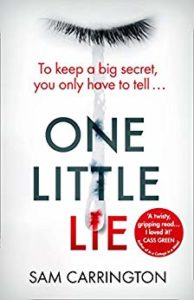 'My name is Alice. And my son is a murderer.'

Deborah's son was killed four years ago. Alice's son is in prison for committing that crime.

Deborah would give anything to have her boy back, and Alice would do anything to right her son's wrongs.

Driven by guilt and the need for redemption, Alice has started a support group for parents with troubled children. But as the network begins to grow, she soon finds out just how easy it is for one little lie to spiral out of control…

They call it mother's intuition, but can you ever really know your own child?

Deeply psychological and suspenseful, One Little Lie is a twisty and unnerving story about the price of motherhood and the unthinkable things we do to protect our children.Perfect for fans of Cara Hunter and Laura Marshall.
The Lost Daughter by Gill Paul
A Russian princess. An extraordinary sacrifice. A captivating secret…

From the author of The Secret Wife, a gripping journey through decades and across continents, of love, devastating loss and courage against all odds.

1918
With the country they once ruled turned against them, the future of Russia's imperial family hangs in the balance. When middle daughter Maria Romanova captivates two of the guards, it will lead to a fateful choice between right and wrong.

Fifty-five years later . . .
Val rushes to her father's side when she hears of his troubling end-of-life confession: 'I didn't want to kill her.' As she unravels the secrets behind her mother's disappearance when she was twelve years old, she finds herself caught up in one of the world's greatest mysteries.
A missing child. A desperate mother. And a house full of secrets.

Two years ago, Julia lost her family in a tragic accident. Her husband drowned trying to save their daughter, Lily, in the river near their rural home. But the little girl's body was never found—and Julia believes Lily is somehow still alive.

Alone and broke, Julia opens her house as a writers' retreat. One of the first guests is Lucas, a horror novelist, who becomes obsessed with finding out what happened to Lily. But within days of his arrival, the peace of the retreat is shattered by a series of eerie events.

When Lucas's investigation leads him and Julia into the woods, they discover a dark secret—a secret that someone will do anything to protect…

What really happened that day by the river? Why was Lily never found? And who, or what, is haunting the retreat?

From the bestselling author of Follow You Home and The Magpies comes his most terrifying novel yet.