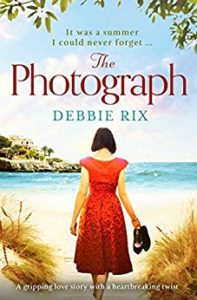 #bookreview – The Photograph by Debbie Rix @debbierix @bookouture #BlogTour
Welcome to my stop on the blog tour for The Photograph by Debbie Rix, which is a lovely dual timeline novel. I'd like to thank Kim Nash from Bookouture for the place on the tour and the review copy via Netgalley.

If you loved The Letter by Kathryn Hughes and The Hourglass by Tracy Rees you'll be swept away by this stunning summer read.

Italy, 1958: Rachael is a young widow with a small child. After a lifetime of running for survival, of not knowing who to trust and where to call home, she finds herself in a place of safety. On a sun-drenched Italian island for one carefree summer the troubles of her past fade away and she falls in love. But will Rachael's new-found happiness bring her further heartache?

England, 2017: Sophie has a handsome husband, a gorgeous house in the English countryside and a successful career as an anthropologist. But the one thing she longs for is a baby of her own. As she struggles to conceive, cracks begin to appear in her marriage. So Sophie throws herself into her work and tries to seek comfort in childhood memories of her beloved grandmother Rachael.

One afternoon, Sophie finds a forgotten letter and an exquisite silk bracelet hidden in Rachael's old writing desk. Intrigued, she begins to unravel the extraordinary story of her grandmother's past – and a secret that has the power to change everything…

The Photograph is an utterly beautiful and compelling story of love, loss and a family secret spanning generations.
---
The Photograph has two things that I love in a book. The first is a dual timeline story and the other is an Italian setting. So I was sold, as they say.
In the 1950s Rachael flees her home in Hungary with her father. They end up in a camp in Austria before moving to London where her father takes an archaeology post. His work then takes them to Sardinia, a beautiful Italian island, where Rachael falls in love with a local man.
Then in 2017, Rachael's granddaughter, Sophie, has all that she could wish for except for one thing: a child. As is often the case, her intense desire for a baby causes fissures to appear in other aspects of her life. But she's an anthropologist and she starts to take comfort in looking into her great-grandfather's work.
I found Rachael's story much stronger than Sophie's. I often tend to prefer the more current story in books such as this as I like the way that secrets of the past can be uncovered, but Sophie's story, for me, didn't get going until quite a long way into the book when she starts to find out more about her great-grandfather's work and discovers the photograph in the title. Rachael's story, however, was quite tragic, really moving and she really went through the mill. I liked her character a lot, as well as her father, George. If I'm honest, I would have liked the two strands to be more closely woven together, but I still enjoyed reading both women's stories and found their experiences interesting.
I loved the author's descriptions of Sardinia. I want to go there now! It really captured my imagination and sounded idyllic. The time that Rachael and George spent there was probably my favourite part of the book.
Towards the end I was really moved by a couple of events and a tear came to my eye. The Photograph is a bittersweet story of love and loss which will most definitely appeal to the romantics amongst us.
---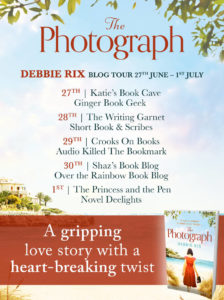 ---

Debbie Rix has written four novels, the latest of which – 'The Photograph' – will be published on June 27th 2018. The story crosses generations and continents as Sophie, desperate for a child of her own, uncovers the extraordinary secrets of her grandmother, Rachael, fifty years earlier.
Earlier this year Debbie was shortlisted for the RNA's Historical Novel category for her third novel 'The Silk Weaver's Wife' (pub: 19th July 2017) about a silk designer named Anastasia from Verona whose life is almost destroyed when she is forced into a marriage to a Venetian silk weaver. In the present day Millie visits an old villa near Verona and uncovers a lost painting. Who is the woman in the painting and how will her experiences affect Millie's life?
Debbie's debut 'The Girl with Emerald Eyes', reached the No.1 spot in Amazon's Italian category. Set amidst the world of medieval Italy, it explores the creation of the most famous building in the world – the Leaning Tower of Pisa. Her second novel – 'Daughters of the Silk Road' topped the historical fiction charts, reaching No.1 in Italian, Women's fiction and Mystery, Thriller & Suspense and spent many weeks in the top 100 best selling lists. It follows the fortunes of a family of merchant explorers who bring a Ming vase back to Venice from China in 15th century.
Debbie spends a lot of time in Italy and the setting of the novels reflects her knowledge and passion for the country. She lives in the Kent countryside with her journalist husband, children, sheep, chickens and cats. When not writing, she is usually to be found in the vegetable garden. She began her career with the BBC- initially as the news reader on Breakfast Time, thereafter appearing as a presenter and reporter on a variety of factual and light entertainment television series. She had a spell as an Agony Aunt, and has also written about gardens and gardening – one of her private passions.