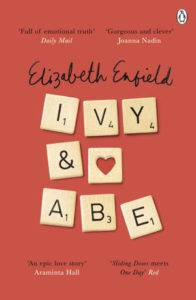 #bookreview – Ivy and Abe by Elizabeth Enfield @lizzieenfield @PenguinRHUK #IvyandAbe #BlogTour
I'm so pleased to be taking part in the blog tour for Ivy and Abe by Elizabeth Enfield today. I'm reviewing the book further down this post and it's such a great read. I'd like to thank Katie Ashworth from Penguin Random House for asking me to take part and for sending me a review copy.
---

Two people.

One love story.

A million possibilities.

———————————–

They're soulmates.

Ivy and Abe were inseparable as children until an accident tore them apart. Several decades later, when both are in their seventies, a chance encounter reunites them. But time is not on their side.

What if they'd met in a different time and place? 

In another life, Ivy and Abe meet in their forties, when both are married already. Unable to resist the attraction between them, they embark on a passionate affair.

In yet another, they marry young, with a bright future ahead of them – only for a dark shadow to threaten their happiness.

Throughout various incarnations of their lives, they come together and go their separate ways, fall in and out of love, make or break promises.

In every universe, Ivy and Abe are meant to meet. But are they meant to be?
You can buy Ivy and Abe now in ebook and in paperback from Thursday.
---
'….I know you, I always have,' he says. 'You're a part of me, and if I lose you, I won't even be myself.'
This is a quote that really spoke to me as I read Ivy and Abe. It wasn't plain sailing at all for them but there seemed to be an invisible cord that linked them no matter what stage of life they met and the circumstances of their meeting. They were always going to be drawn to each other.
This is an unusual book. It's told in chapters ranging from 2026 right back to 1965 when the main characters are ten years old. Each one is almost a short story in its own right and in each one Ivy and Abe are brought together in some way, even if it's only a brief meeting. As the blurb says, they've always been destined to meet.
It's something that fascinates me. If you were in a different place at a different time, how altered would your life be? And is there that person out there who is the other half of us, the perfect fit? In each chapter Ivy and Abe have some interaction, sometimes they meet, sometimes they have a relationship, other times they are childhood friends.
It's actually quite a sad book. I don't mean that in a bad way, but it has a melancholy feel to it and there is quite a bit of trouble, angst, all the way through. In a way, with a book about the subject of two people who have this incredible love for each other I would have expected more happiness. But it's a beautifully written story of love, more often than not against the odds, and I found it very moving.
There are little markers throughout the book, little ways to ground us, to remind us that although each chapter has a different set of circumstances surrounding it, ultimately the underlying circumstances are very similar. I'm not going to say what they are but I thought it was a clever touch by the author to always bring in these constants in an ever-changing story.
I would recommend reading each chapter in one go if possible, rather than stopping part way through. I found it quite difficult to get back into whichever story I was reading at the time without having to go back and remind myself of events so far. As I said, each one is self-contained, a different version of reality, so you have to approach each one without thinking too much of what has gone before.
Ivy and Abe is a fascinating, clever and bittersweet read and I won't forget it in a hurry.
---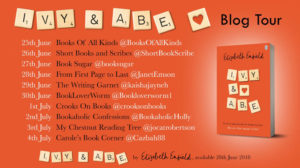 ---

Elizabeth Enfield worked as a journalist and producer for BBC radio, before going freelance and now contributes to numerous national newspapers and magazines. Her short stories have been broadcast on Radio 4 and are published in various magazines.
She was previously published under the name Lizzie Enfield.