ShortBookandScribes #BookReview – The Woolworths Saturday Girls by Elaine Everest #BlogTour
I am delighted to be sharing my review of The Woolworths Saturday Girls by Elaine Everest today, paperback publication day, as part of the blog tour. If you're a regular reader of my blog then you'll know that in November I set myself the challenge to read all the books in the series before this latest book was published in paperback and I made it!
Here are my reviews for the other books in series order:
My thanks to Courtney Jefferies at edpr for the place on the tour and for sending me a copy of the book for review purposes.
The Woolworths Saturday Girls by Elaine Everest is out now, published by Pan Macmillan in paperback original, priced £7.99.
---

---
1950. The Second World War is over and life has moved on for the Woolworth girls, Sarah, Maisie and Freda. In a new world the Woolworth women have high expectations of their daughters, wanting them to seize opportunities they didn't have themselves. Ready to take on Saturday jobs at Woolworths, budding friends Bessie, Claudette, Clementine and Dorothy are faced with unforeseeable challenges as the real world comes into focus. Their bond can only be strengthened as they overcome the darkest times. Perhaps their lives are not as clear-cut as their mothers wished them to be . . .

When Bessie finds love in the wrong crowd and falls pregnant, the image of her future and ambitions become skewed and she relies on the Saturday girls to help her see her problems through – but how can they find a home for the baby when it arrives? With wild imaginations, it is up to the Woolworth girls, new and old, to save the day and their futures.

Can the Woolworth girls achieve their dreams in time for their futures to begin?
---

---
In this latest instalment in the Woolworths series it's 1950. The war ended five years earlier, rationing lives on, and yet things are starting to change for women with the original Woolworths girls, Sarah, Freda and Maisie, branching out in ways they could never have imagined. This book focuses on the next generation, teenagers Clemmie and Dorothy, and Bessie and Claudette. At an age where they are starting to think about their futures, they all take on Saturday jobs at Woolies in Erith.
Whilst three of them do very well, Bessie has her head turned by a young rogue and ends up in a bit of a mess. What I really loved was not only that her friends stood by her but also the change she underwent herself. Bessie's situation felt very real and I imagine a lot of girls in the 1950s had similar experiences.
It was nice to see the young girls step forward but long-time readers of the series will be pleased to note that all the regular characters still play their parts. One of my favourites, Freda, experienced quite a change in her life too and I really hope there will be more books in the series so I can find out what happens to her next, as well as everybody else. It's so heart-warming how such a big group of people, many of whom aren't actually related by blood, treat each other as part of one big, mostly happy, family.
The Woolworths Saturday Girls is a superb addition to the set. Elaine Everest writes such warm and nostalgic stories that transport me to a different time and place. I really enjoyed the historical markers such as the advent of television, and some of the characters meeting Margaret Roberts when she was just starting out in politics. I also enjoyed seeing it through the eyes of the teenagers making plans at the start of such an interesting decade. As always, I raced through this book and then felt bereft at the end, especially now I haven't got another one to go onto. I have everything crossed for a new Woolworths book before too long.
---

---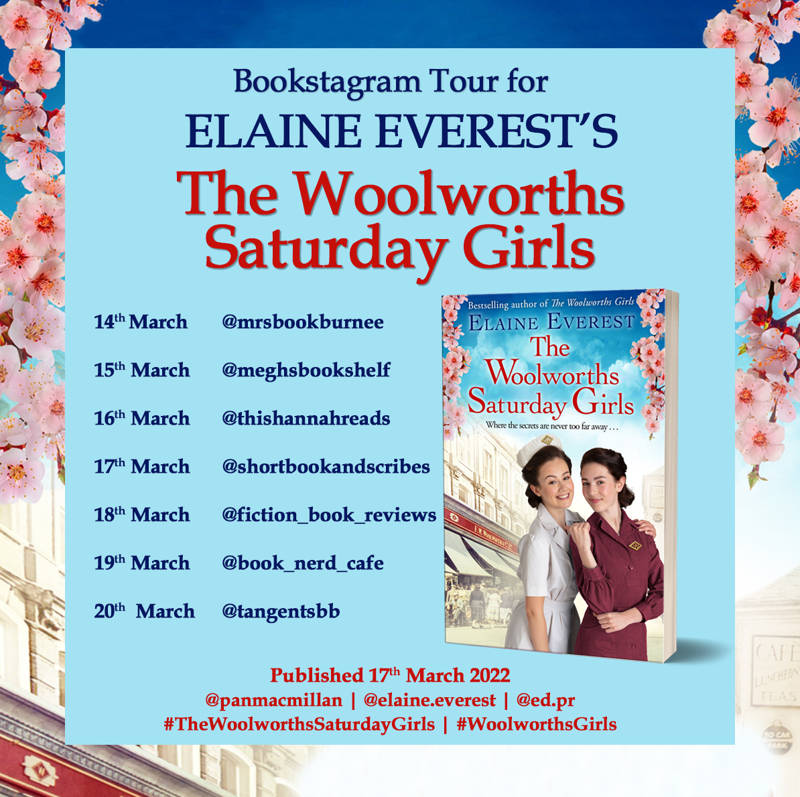 ---
---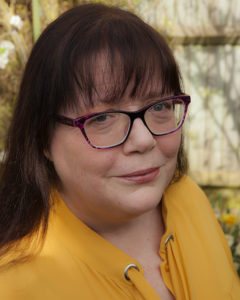 Elaine Everest is the author of bestselling historical sagas including The Woolworths Girls, The Butlins Girls, Christmas at Woolworths and The Teashop Girls. She was born and raised in North-West Kent, where her much-loved Woolworths series is set, and worked as a Woolworths Saturday Girl herself in the late 1960s/early 1970s.
Elaine has been a freelance writer for 25 years and has written over 100 short stories and serials for the women's magazine market. She is also the author of a number of popular non-fiction books for dog owners. When she isn't writing, Elaine runs The Write Place creative writing school in Hextable, Kent. She now lives in Swanley with her husband, Michael and their Polish Lowland Sheepdog, Henry.