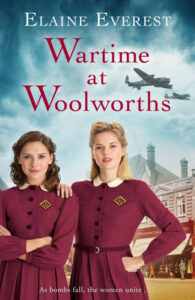 ShortBookandScribes #BookReview – Wartime at Woolworths by Elaine Everest
I'm sharing my thoughts about Wartime at Woolworths by Elaine Everest today. This is book three out of the five that I am hoping to read before the next book, The Woolworths Saturday Girls, is published in March. My thanks to Pan Macmillan and EDPR who sent me the copy of the book when I participated in the blog tour with a Q&A with the author.
---

---
The Woolworths girls have come a long way together . . .

Fun loving Maisie, is devoted to her young family and her work at Woolworths. But her happy life with her RAF officer husband, their baby daughter leads her to think of the family she left behind . . . With the war now into its fourth year, what will she find when she sets about searching for them?

Sarah and her husband, Alan, are blissfully happy and long for a sibling for their daughter. But dark days lay ahead for this close family.

Freda heads home to Birmingham, to go in search of her family, back to the life she fled – far from the safety of Woolworths and her new friends.

With families' separated by war, will the Woolworths girls be able to pull together?

Wartime at Woolworths is the third moving instalment in the much-loved Woolworths series by bestselling author Elaine Everest.
---

---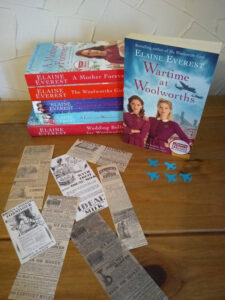 I'm really enjoying making my way through the Woolworths series. Wartime at Woolworths is book three and is currently my joint favourite along with book one.
War is still rumbling on in Erith, the Kent town where the Woolworths store, which is so integral to the story, is based. It was lovely to meet up with Ruby Caselton, the matriarch of the story, again along with the girls, Sarah, Freda and Maisie, and Betty Billington, the store manager. I love all the characters and their deep friendships. They'd do anything for each other.
There are several threads to this story, alongside the general getting through from day to day during wartime. Freda and Maisie both find themselves drawn back to the families they haven't seen for a while; Vera, Ruby's tetchy neighbour has her own problems to deal with, when usually she's busy commenting on everybody else's; and there are new residents on Alexandra Road, but they may not be all they seem. I thought the author brought all these aspects together really well and I was well and truly hooked with a need to find out what was going to happen.
I was very moved by the ending of the book but also excited for what the next instalment will bring. I'm already wondering what the gift from Woolworths might be (that's the title of book four). Wartime at Woolworths is thoroughly heart-warming with a strong sense of community, showing how people pulled together at a difficult time and helped each other. It's such a lovely read.
---
---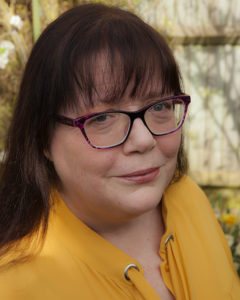 Elaine Everest, author of bestselling novels The Woolworths Girls, The Butlins Girls, Christmas at Woolworths and The Teashop Girls, was born and brought up in North-West Kent, where many of her books are set. She has been a freelance writer for 25 years and has written widely for women's magazines and national newspapers, both short stories and features. Her non-fiction books for dog owners have been very popular and led to her broadcasting on radio about our four-legged friends. Elaine has been heard discussing many topics on radio, from canine subjects to living with a husband under her feet when redundancy looms.