ShortBookandScribes #BookReview – Christmas at Woolworths by Elaine Everest
My review today is of Christmas at Woolworths by Elaine Everest. I'm on a mission to read all of the books in this series before the next one is published in February 2022. This is book 2 and is one that I purchased myself.
---

---
Even though there was a war on, the Woolworths girls brought Christmas cheer to their customers

Best friends Sarah, Maisie and Freda are brought together by their jobs at Woolworths. With their loved ones away on the front line, their bonds of friendship strengthen each day. Betty Billington is the manager at Woolworths, and a rock for the girls, having given up on love . . . Until a mysterious stranger turns up one day – could he reignite a spark in Betty?

As the year draws to a close, and Christmas approaches, the girls must rely on each other to navigate the dark days that lie ahead . . .

With so much change, can their friendship survive the war?

Following on from her bestselling debut The Woolworths Girls, Christmas at Woolworths is the heartfelt second book in Elaine Everest's Woolworths series.
---
---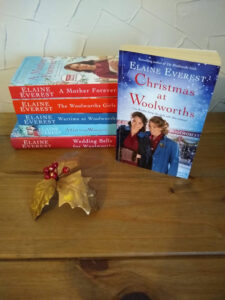 In Christmas at Woolworths we again meet up with Sarah, Freda and Maisie, the trio who met at their interview at the Woolworths store in Erith in 1938. It's now 1942, the war is going strong and there's plenty of make do and mend, with rationing meaning treats are few and far between.
This book focuses more on Freda, the youngest of the girls, as she comes of age and takes on an exciting new role. There are new friends and all the old favourites are there, such as Ruby Caselton, Sarah's grandmother and the matriarch of the story, and Betty Billington, the manager of the Woolworths store, who finds herself with a new chance in life.
The story doesn't take us to Woolworths as much this time and most of it isn't set at Christmas, although Christmas 1942 does play a part and is memorable for some of the characters. This book is more about new relationships, new friendships and the trials and tribulations of being at war, including having to deal with bombing raids. It's a lovely, heart-warming return to Erith and the characters I came to love in the first instalment, The Woolworths Girls.
I'm now looking forward to reading book three, Wartime at Woolworths and seeing what's in store for these lovable Erith folk, at war, on the home front and behind the counter of Woolworths. I feel that there would always be a warm welcome around Ruby's table and a return to the town is such a joy.
---

---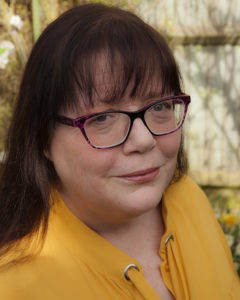 Elaine Everest, author of bestselling novels The Woolworths Girls, The Butlins Girls, Christmas at Woolworths and The Teashop Girls, was born and brought up in North-West Kent, where many of her books are set. She has been a freelance writer for 25 years and has written widely for women's magazines and national newspapers, both short stories and features. Her non-fiction books for dog owners have been very popular and led to her broadcasting on radio about our four-legged friends. Elaine has been heard discussing many topics on radio, from canine subjects to living with a husband under her feet when redundancy looms.