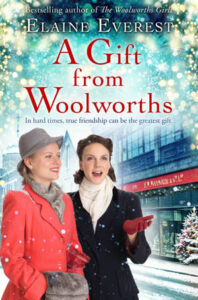 ShortBookandScribes #BookReview – A Gift from Woolworths by Elaine Everest
Regular readers of my blog will know I'm working my way through the Woolworths series. Today I'm reviewing A Gift from Woolworths which is book 4. I was hoping to get all 5 books read before The Woolworths Saturday Girls is published in paperback on 17th March. I'm not sure if I will make it or not but I'll certainly have a good go!
My thanks to Pan Macmillan who sent me this review copy when I was on the blog tour a few years ago.
---

---
Will the war be over by Christmas?

As the war moves into 1945 the lives of the women of Woolworths continue. When store manager, Betty Billington, announces she is expecting Douglas's baby her future life is about to change more than she expects.

Freda has fallen in love with the handsome Scottish engineer but will it end happily?

Maisie loves being a mother and also caring for her two nieces although she still has her own dreams. When her brother appears on the scene he brings unexpected danger to the family.

Meanwhile Sarah dreams of her husband's return and a cottage with roses around the door but Woolworths beckons.

Will our girls sail into times of peace, or will they experience more heartache and sorrow? With a wedding on the horizon, surely only happiness lies ahead – or does it?

A Gift from Woolworths is the fourth instalment in Elaine Everest's much-loved Woolworths series.
---

---
A Gift from Woolworths is book 4 in the popular series and what I love about these books is that they never dip or wane. Elaine Everest manages to come up with new and interesting storylines for her characters, and there are always new people coming along too to add to the mix.
In this book it's 1945 and it's clear the Second World War is coming to an end. As the year goes on each of the characters has their own cross to bear but as always it's the camaraderie between them all that shines through. With Ruby Caselton at the heart of the extended family, including a fair few who aren't actually related to her but are treated like they are, there's always lots happening.
I loved reading this book. As with the previous books, I raced through it. It was so easy to read but also so lovely and warm. I always enjoy the scenes at Woolworths which feel nostalgic, and I liked how some of the characters, particularly the men returning home from the war, started to branch out in new directions.
Up next is book 5 and I'm sure it will be just as fabulous as this one and the previous books in the series. If you like sagas and historical fiction and you haven't read this series yet then I heartily recommend it. I'm really loving my time with the Woolworths gang.
---
---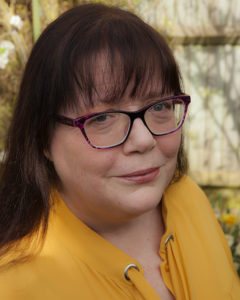 Elaine Everest, author of bestselling novels The Woolworths Girls, The Butlins Girls, Christmas at Woolworths and The Teashop Girls, was born and brought up in North-West Kent, where many of her books are set. She has been a freelance writer for 25 years and has written widely for women's magazines and national newspapers, both short stories and features. Her non-fiction books for dog owners have been very popular and led to her broadcasting on radio about our four-legged friends. Elaine has been heard discussing many topics on radio, from canine subjects to living with a husband under her feet when redundancy looms.