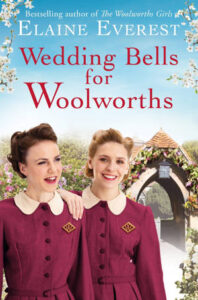 ShortBookandScribes #BookReview – Wedding Bells for Woolworths by Elaine Everest
Regular visitors will know that I set myself a challenge to read all of the Woolworths series before the next instalment, The Woolworths Saturday Girls, comes out in paperback on 17th March. By jove, I've only gone and done it as today I'm sharing my thoughts on book 5, Wedding Bells for Woolworths! I do have a copy of The Woolworths Saturday Girls and will be reviewing it on publication day for the blog tour.
My thanks to Pan Macmillan and EDPR who sent me my review copy of this book when I took part in the blog tour in 2020.
---

---
July 1947. Britain is still gripped by rationing, even as the excitement of Princess Elizabeth's engagement sweeps the nation. In the Woolworths' canteen, Freda is still dreaming of meeting her own Prince Charming. So far she's been unlucky in love.

When she has an accident on her motorbike, knocking a cyclist off his bicycle, it seems bad luck is still following her around. Anthony is not only a fellow Woolworths employee but was an Olympic hopeful. Will his injured leg heal in time for him to compete? Can he ever forgive Freda?

Sarah's idyllic family life is under threat with worries about her husband, Alan. Does he still love her?

The friends must rally round to face some of the toughest challenges of their lives together. And although they experience loss, hardship and shocks along the way, love is on the horizon for the Woolworths girls . . .

Wedding Bells for Woolworths is the fifth instalment in Elaine Everest's much-loved Woolworths series.
---

---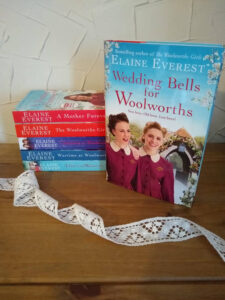 I'm a huge fan of this series which never fails to put a smile on my face. I have to say that despite being set in peacetime, I think this is the most turbulent instalment of the series so far!
It's 1947, the war is over but rationing isn't. The lovely characters are still dealing with the aftermath of the conflict but the upcoming wedding of Princess Elizabeth and Prince Philip gives them something to look forward to. Freda, who I think is one of my favourite characters, is still looking for her happy ever after and I was hoping all the way through that she would find it. I had a couple of possible beaus in mind for her and let's just say I was very pleased with the outcome.
There's a lot going on in this book. It begins with a funeral and there is more than one wedding. There's also trouble ahead for one of the couples which I found sad but also indicative of real life, especially at that time.
It was so lovely to catch up with the characters again. The circle of friends keeps getting wider and wider and what's so nice is how they look out for each other. Woolworths plays its part as ever, but we see the group spread a little wider and branch out in different directions.
I really loved Wedding Bells for Woolworths. More than once I did a little contented ah and there were also a few oh no's. I enjoyed meeting new additions to the group and seeing them get settled in along with old favourites such as Ruby and Bob. I also liked the way the story was weaved around real historical events such as the royal wedding and the London Olympics.
This book was such a delight to read. I'm looking forward now to reading The Woolworths Saturday Girls and seeing what happens next to the characters I have come to care about.
---
---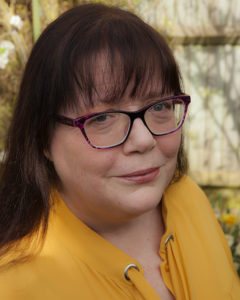 Elaine Everest, author of bestselling novels The Woolworths Girls, The Butlins Girls, Christmas at Woolworths and The Teashop Girls, was born and brought up in North-West Kent, where many of her books are set. She has been a freelance writer for 25 years and has written widely for women's magazines and national newspapers, both short stories and features. Her non-fiction books for dog owners have been very popular and led to her broadcasting on radio about our four-legged friends. Elaine has been heard discussing many topics on radio, from canine subjects to living with a husband under her feet when redundancy looms.