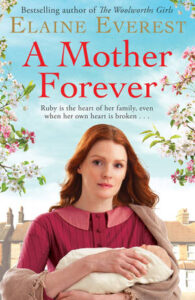 ShortBookandScribes #BookReview – A Mother Forever by Elaine Everest
I'm delighted to be reviewing A Mother Forever by Elaine Everest today. I really loved this book which was published just last week. My thanks to Rosie Wilson from Pan Macmillan for sending me a copy of the book for review purposes.
---

---
A Mother Forever is the moving story of one woman's journey through the hardest trials of her life and how the love of friends and family pulls her through. From the bestselling author of The Woolworths Girls Elaine Everest, this book tells the tale of Ruby and how it all began . . .

1905: Ruby Caselton may only be twenty-five years old but she already has the weight of the world on her shoulders. Heavily pregnant with her second child, penniless and exhausted, she is moving her family into a new home. The Caseltons left their last place when they couldn't pay the rent, but Ruby's husband Eddie has promised this will be a fresh start for them all. And Ruby desperately hopes that this time he will keep his word.

With five-year-old George at her feet and her mother having a cross word for everyone and everything, life is never dull at number thirteen Alexandra Road. It doesn't take long before Eddie loses another job and once again hits the bottle. It's up to Ruby to hold them all together, through thick and thin. She remembers the kind, caring man Eddie once was and just can't give up on him entirely. What she doesn't know is that Eddie has a secret, one so dark that he can't bear to tell even Ruby . . .

Through Ruby's grit and determination, she keeps food on the table and finds herself a community of neighbours on Alexandra Road. Stella, the matriarch from across the way, soon becomes a friend and confidante. She even dreams that Ruby will ditch the useless Eddie and take up with her eldest son, Frank. But when war breaks out in 1914, the heartbreaks and losses that follow will fracture their community, driving both Stella and Ruby to breaking point. Will their men ever return to them?

A Mother Forever is a moving but heartwarming story about the family we're connected to through blood, but also the family we make for ourselves with neighbours and friends. A prequel to The Woolworths Girls, it can also be read as a compelling novel in its own right.
---

---
I really enjoy Elaine Everest's writing and A Mother Forever is my favourite of hers so far. It's a prequel to the popular Woolworths Girls' series (which I'm forever kicking myself for not reading yet – I'll get there!) so fans of that series may recognise some of the names.
It's the story of plucky Ruby Caselton and her family. In 1905, as the book begins, she's moving her family into Alexandra Road in Erith, the best house she's ever been able to live in. She's with her husband, Eddie, her mother, her son, George, and she's about to give birth to another child. It's fair to say that throughout the course of the book, nothing really goes to plan for Ruby but meeting the Green family on that very first day in Erith makes her some lifelong friends.
In the best saga fashion, A Mother Forever takes our characters and thoroughly puts them through the mill. Ruby has a lot to deal with but she's a fantastic person, strong yet homely, the best kind of friend. I loved the journey she went on and how everything kind of ends up going full circle for her.
The story takes in the horrific events of the First World War and Everest deals with it with sensitivity, which brought tears to my eyes. There's so much history contained in these pages, with the explosion at the W.V. Gibert munition works included too, along with the death of a king and the coronation of a new one, and the Spanish flu. I loved the setting too. Alexandra Road and its surrounds was brought to life and I felt I knew the area and the characters who lived there so well.
This is a fantastic saga that gripped me from page 1 and didn't let me go until the end. It's full of the trials and tribulations of family life, especially in the early years of the 20th century, and it's written with warmth and compassion. I loved it!
---
---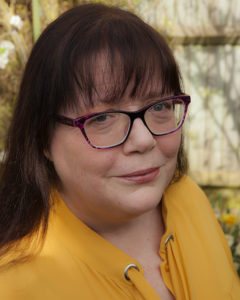 Elaine was born and brought up in North West Kent, where many of her Sunday Times bestselling historical sagas are set. She has been a freelance writer for twenty-three years and has written widely for women's magazines and national newspapers, with short stories, serials and features. Her non-fiction books for dog owners have been very popular and led to broadcasting on radio about our four-legged friends. Elaine has been heard discussing many topics on radio including her Kent based novels, canine subjects, and living with a husband under her feet! She was BBC Radio Kent's short story writer of the year, a runner up for The Harry Bowling Prize, and winner of Myrmidon Books novel writing competition.
When she isn't writing, Elaine runs The Write Place, her successful creative writing school in Hextable, Kent. She hopes one day soon to have another old English Sheepdog and still keeps in touch with many of her dear friends from her days in the show ring.
Elaine lives in Swanley, Kent with her husband, Michael, and their Polish Lowland Sheepdog, Henry.