ShortBookandScribes – Seven Day Spotlight – w/e 09/06/19
Hi everyone, welcome to this week's Seven Day Spotlight post. It's been a fairly uneventful week. I've spent most of it trying to keep up with blog tour reading whilst cramming in other books that are about to be published. I'm also now up to series 3 of my Line of Duty catch up/re-watch/binge watch. My binge watching is more of a slow and steady variety but I also don't want to rush through them. I've earmarked a few other series to watch after this has finished: Mum, Years and Years, and Gentleman Jack. Have you watched any of them?
So, here's what I posted this week on my blog:
Monday's post was my review of Bonnie and Stan by Anna Stuart.
Tuesdays post was my review of The House by the Loch by Kirsty Wark.
Wednesday was a two post day with my review of A Pirate's Song by Justin Davis and I also re-posted my review of Little Big Love by Katy Regan to promote the paperback edition.
Thursday's post was my review of The Gift of Friends by Emma Hannigan.
And Friday's post was my review of Forget Me Not by Claire Allan.
Interestingly, it turned out to be a week of reviews only which is quite unusual.
---
It's been a great week for book post and I also picked up a few ebook bargains. Here goes:
The Daughters of Ironbridge by Mollie Walton
Anny Woodvine's family has worked at the ironworks for as long as she can remember. The brightest child in her road, Anny has big dreams. So, when she is asked to run messages for the King family, she grabs the opportunity with both hands.

Margaret King is surrounded by privilege and wealth. But behind closed doors, nothing is what it seems. When Anny arrives, Margaret finds her first ally and friend. Together they plan to change their lives.

But as disaster looms over the ironworks, Margaret and Anny find themselves surrounded by secrets and betrayal. Can they hold true to each other and overcome their fate? Or are they destined to repeat the mistakes of the past?
Seven-year-old Jocelyn loves her nanny more than her own mother.
When her nanny disappears one night, Jo never gets over the loss.
How could she vanish without saying goodbye?

Thirty years on, Jo is forced to return to her family home and confront her troubled relationship with her mother. When human remains are discovered in the grounds of the house, Jo begins to question everything.

Then an unexpected visitor knocks at the door and Jo's world is destroyed again as, one by one, she discovers her childhood memories aren't what they seemed.

What secrets was her nanny hiding – and what was she running away from? And can Jo trust what her mother tells her?

Sometimes the truth hurts so much you'd rather hear the lie.
A Summer Reunion by Fanny Blake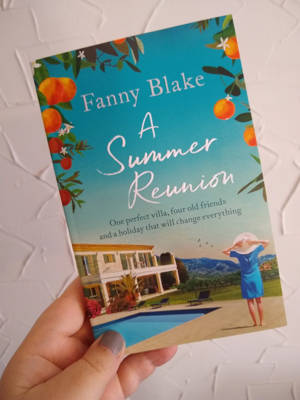 One perfect villa, four old friends, and a holiday that will change everything…

Amy, Linda, Kate and Jane were best friends at school. Now, years later, they have grown apart. When Amy discovers her husband has been stealing from her successful interiors business, and with a milestone birthday looming, she decides it is the time to reach out to her old friends once again.

So, she decides to invite the other three to her beautiful villa in Mallorca for a reunion weekend. As the four friends gather, secrets are unearthed, old scores settled and new friendships forged. Will this holiday bring them together or tear them apart? And will each of them grasp their second chance for happiness…?
Degrees of Guilt by HS Chandler
When you read this book, you will think you know every twist in the tale.

Maria is on trial for attempted murder.

She has confessed to the crime and wanted her husband dead.

Lottie is on the jury, trying to decide her fate.

She embarks on an illicit affair with a stranger, and her husband can never find out.

You will think you know who is guilty and who is innocent.
The Family Upstairs by Lisa Jewell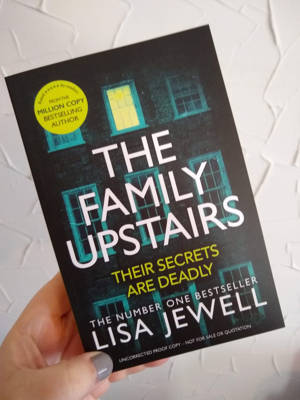 In a large house in London's fashionable Chelsea, a baby is awake in her cot. Well-fed and cared for, she is happily waiting for someone to pick her up.

In the kitchen lie three decomposing corpses. Close to them is a hastily scrawled note.

They've been dead for several days.

Who has been looking after the baby?

And where did they go?

Two entangled families.
A house with the darkest of secrets.
A compulsive new thriller from Lisa Jewell.
Sea of Bones by Deborah O'Donoghue
Juliet is used to wielding power and influence in her line of work, but when her beloved niece dies, she finds herself powerless in the face of her grief and has doubts over the coroner's report of suicide.

She travels back to her family's remote coastal home where Beth was found. As Juliet delves deeper into the investigation, her personal and professional lives collide and she unwittingly finds herself pitted against dangerous opposition who seem intent on silencing her.

In order to expose the truth behind her niece's death, Juliet must face the fact that nobody in her life is who she previously thought them to be – including herself.
I Know Who You Are by Alice Feeney
Aimee Sinclair: the actress everyone thinks they know but can't remember where from. But I know exactly who you are. I know what you've done. And I am watching you.

When Aimee comes home and discovers her husband is missing, she doesn't seem to know what to do or how to act. The police think she's hiding something and they're right, she is – but perhaps not what they thought. Aimee has a secret she's never shared, and yet, she suspects that someone knows. As she struggles to keep her career and sanity intact, her past comes back to haunt her in ways more dangerous than she could have ever imagined.

I Know Who You Are will leave your heart pounding and your pulse racing. This is the most twisted thriller you'll read all year.
Two Silver Crosses by Beryl Kingston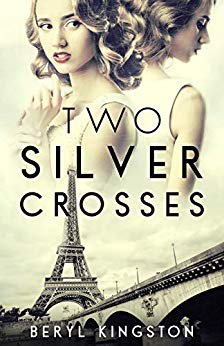 'Nobody is to know where we are. You must forget England. That part of your lives is over.'

Twins Ginny and Emily Holborn have everything they could ever need in their Wolverhampton home: a loving family, a garden to play in and a staff waiting to attend to their every need. Until, one summer day in 1926, they disappear without a trace.

Ten years later, bright-eyed solicitor Charlie Commoner is given his first job: track down the still-missing Holborn twins. Despatched to France, he's left to unravel a web of infidelity, mystery, and terrifying family secrets.

Let bestselling author Beryl Kingston sweep you away on a journey from London to Paris, through tragedy and triumph in the search for two sisters wearing two silver crosses.
Hannah, Cate and Lissa are young, vibrant and inseparable. Living on the edge of a common in East London, their shared world is ablaze with art and activism, romance and revelry – and the promise of everything to come. They are electric. They are the best of friends.

Ten years on, they are not where they hoped to be. Amidst flailing careers and faltering marriages, each hungers for what the others have. And each wrestles with the same question: what does it take to lead a meaningful life?
A Cornish Summer by Catherine Alliott
Flora's been in love with her husband for twenty years. The trouble is, he's been married to someone else for the past fifteen . . .

Now she's been invited to spend the summer in the shady lanes and sandy coves of Cornwall. It should be blissful.

There's just one small snag: she'll be staying with her former mother-in-law, Belinda.

And Flora discovers she's not the only one invited when her ex-husband shows up out of the blue, complete with his new wife. So now there are two small snags.

Can Flora spend the summer playing happy families with the woman who stole her husband's heart, and the mother-in-law who might have had a hand in it?

Or will stumbling on the family secret change her mind about them all?
Somewhere Close to Happy by Lia Louis
Lizzie James is happy.

She has a steady office job (with a steady stream of snacks), has had the same best friend since school, and she sees her family every Thursday night for take-away and trashy TV. Lizzie likes her uncomplicated life.

Then a letter arrives one day from her first love, Roman. A letter dated the day he disappeared, 12 years before. As Lizzie uncovers the secrets of the letter, she discovers what really happened the year her life fell apart – and all avenues lead back to Roman.

Lizzie James thought she was happy, or somewhere close to happy, anyway. Now she's not so sure.
Confession with Blue Horses by Sophie Hardach
Tobi and Ella's childhood in East Berlin is shrouded in mystery. Now adults living in London, their past in full of unanswered questions. Both remember their family's daring and terrifying attempt to escape, which ended in tragedy; but the fall-out from that single event remains elusive. Where did their parents disappear to, and why? What happened to Heiko, their little brother? And was there ever a painting of three blue horses?

In contemporary Germany, Aaron works for the archive, making his way through old files, piecing together the tragic history of thousands of families. But one file in particular catches his eye; and soon unravelling the secrets at its heart becomes an obsession.

When Ella is left a stash of notebooks by her mother, and she and Tobi embark on a search that will take them back to Berlin, her fate clashes with Aaron's, and together they piece together the details of Ella's past… and a family destroyed.

Devastating and beautifully written, funny and life-affirming, Confession with Blue Horsesexplores intimate family life and its strength in the most difficult of circumstances.
The Moss House by Clara Bailey
Two hundred years ago, neighbouring Yorkshire landowners Miss Lister and Miss Walker find their lives become entwined in a passionate, forbidden lesbian relationship and retreat to the Moss House, their private sanctuary away from an unaccepting world. The world was not yet ready for the likes of Miss Lister. Landowner, scholar, traveller, mountaineer and non-conformist.
The Lost Daughter by Sylvia Broady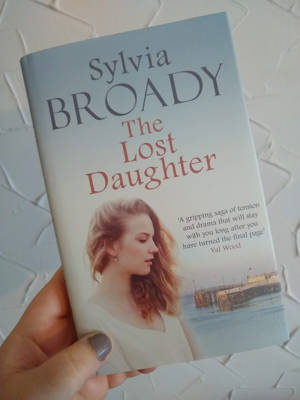 1930, Hull, East Yorkshire. Alice Goddard is fleeing through a rain lashed street from her violent, bullying husband Ted and fearing for her life and that of her two-year-old daughter Daisy. Running to the police station for help, she becomes involved in a road accident. Seriously injured, she lies in a coma in hospital. When she recovers, Ted has disappeared and Daisy is missing…
A trio by Paul Anthony Jones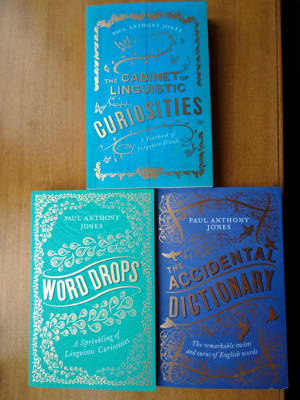 The Cabinet of Linguistic Curiosities 
The ultimate gift for wordsmiths and lovers of language: a word for every day of the year

Open the Cabinet to leap back in time, learn about linguistic trivia, follow a curious thread or wonder at the web of connections in the English language.

1 January quaaltagh (n.) the first person you meet on New Year's Day

1 April dorbellist (n.) a fool, a dull-witted dolt

12 May word-grubber (n.) someone who uses obscure or difficult words in everyday conversation

25 September theic (adj.) an excessive drinker of tea

24 December doniferous (adj.) carrying a gift

Paul Anthony Jones has unearthed a wealth of strange and forgotten words: illuminating some aspect of the day, or simply telling a cracking good yarn, each reveals a story. Written with a light touch that belies the depth of research it contains, this is both a fascinating compendium of etymology and a captivating historical miscellany. Dip into this beautiful book to be delighted and intrigued throughout the year.
How well do you know your words?

Buxom used to mean obedient
A cloud was a rock
Raunchy originally meant dirty

Brimming with hidden histories and tantalising twists, The Accidental Dictionary tells the extraordinary stories behind ordinary words.

Our everyday language is full of surprises; its origins are stranger than you might think. Any word might be knocked and buffeted, subjected to twists and turns, expansions and contractions, happy and unhappy accidents. There are intriguing tales behind even the most familiar terms, and they can say as much about the present as they do the past.

Busking, for instance, originally meant piracy. Grin meant to snarl. A bimbo was a man, nicemeant ignorant, glamour was magic and a cupboard was a table . . .

Focusing on 100 surprising threads in the evolution of English, The Accidental Dictionaryreveals the etymological origins and quirky developments that have led to the meanings we take for granted today. It is a weird and wonderful journey into words.

So, let's revel in its randomness and delight in its diversity – our dictionary is indeed accidental.
If you're logofascinated, you are literally spellbound by language.

This surprising compendium of 1,000 facts about words, language and etymology is here to inspire your curiosity and delight in discovery. In Word Drops, you can delve into a smattering of unexpected connections and weird juxtapositions, stumble upon a new or remarkable word, or learn of many a bizarre etymological quirk or tall tale.

– Did you know that the bowl made by cupping your hands together is called a gowpen?

– And speaking of bowls, the earliest known reference to bowling in English dates from 1555, when bowling alleys were banned by an Act of Parliament.

– And that ties in nicely with the fact that the English called the Germans 'Alleymen' during the First World War.

– But in Navajo, Germany is called Béésh Bich'ahii Bikéyah-or 'metal cap-wearer land'.

Word Drops is a language fact book unlike any other, its linguistic tidbits all falling together into one long interconnected chain just like the example above with each fact neatly 'dropping' into place beside the next.

What's more, throughout, footnotes are used to give some informative and intriguing background to some of the most bizarre facts, covering everything from traditional Inuit games to the origin of the Bellini cocktail, from the precise length of one 'jiffy' to what the Romans thought hoopoe birds ate, and from what to expect on a night out with Dr Johnson to Samuel Pepys's cure for a hangover. Want to know the longest palindrome in Morse code, or who The Great Masticator was? Curious to know what Norwegian steam is, or what a jäääär is? The answers are all here.

For all of the logofascinated among us, this is an immensely pleasurable and unpredictable collection that is guaranteed to raise eyebrows (the literal meaning, incidentally, of supercilious).
And two children's books
Greedy Gertie is a wonderful waffle-eater! But when it comes to dancing, she's no good at all. Gertie is in a wheelchair, and everybody knows you use your legs for dancing.

One day, Gertie discovers a bunch of animals doing wonderful, unique dances. They encourage her to join them, but Gertie refuses. She's sure she will get in a muddle and mess things up… but the wise old owl has other ideas!

Will Greedy Gertie find her talent for dancing? Or will she stick to eating waffles like there's no tomorrow?

Greedy Gertie is an uplifting tale promoting disability awareness and acceptance to young readers.  Its appealing, brightly coloured illustrations and optimistic narrative will delight children and adults alike.
The Book of Silly Rhymes by Cheryl Lee-White
Do you chuckle, chortle or cackle? Are you more likely to smirk secretly, sneak out a snigger, or would you prefer to belt out a big belly laugh? Do you howl like a monkey, roar like a lion or snort like a pig?

However you get the giggles, this hilarious collection of rude, ridiculous and rambunctious rhymes is sure to tickle your funny bone!

The Book of Silly Rhymes is a collection of poems written to amuse and delight children in equal measure. Each rhyme is short, and can be read quickly and in any order with the aim of appealing to reluctant readers. The text has been printed in a font designed to be easily read by those with dyslexia.
Phew!