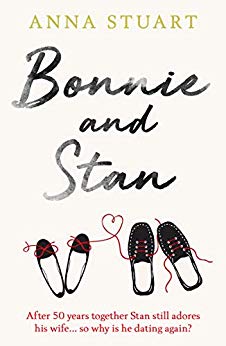 ShortBookandScribes #BookReview – Bonnie and Stan by Anna Stuart @annastuartbooks @TrapezeBooks @Tr4cyF3nt0n #BlogTour
I'm reviewing Bonnie and Stan by Anna Stuart today and am very pleased to be doing so as part of the blog tour. My thanks to Tracy Fenton of Compulsive Readers for the place on the tour and to the publishers, Trapeze, for providing an ecopy of the book for review purposes via Netgalley.
---

After 50 years together Stan still adores his wife… so why is he dating again?

Bonnie and Stan are soulmates. They met during the Swinging Sixties, to the soundtrack of The Beatles and the Merseybeat scene. Now they've grown up and grown old together, had children and grandchildren. They are finally building their dream home, when disaster strikes.

Stan is running out of time, and can't bear the thought of leaving Bonnie alone. Alongside his teenage granddaughter Greya, he forms a plan to find Bonnie a new love of her life. And she must never find out…

Bonnie & Stan is a poignant, surprising love story set during the Swinging Sixties and the present day. Ultimately feel-good and full of emotion, Bonnie & Stan will make your heart sing.
---
Bonnie and Stan is a very gentle story, a story of a great and enduring love between the eponymous characters.
Now in their 70s, Stan finds that he doesn't have long left and it's breaking his heart to leave his precious Bonnie behind, on her own. Fair enough, they have twin daughters and several grandchildren but, as Stan thinks to himself, who is going to lift the roast out of the oven and carve the meat when he's gone. That's his job. With the help of their eldest granddaughter, Greya, Stan decides to try and find a new mate for Bonnie, someone who will look after her once he's gone.
We also learn of how Bonnie and Stan met, back in the 60s. This storyline is not as prominent as the current day one, but it's very important and explains a lot about their subsequent life together. It's also fascinating as this is not just any city in the 60s, this is Liverpool. We visit the Cavern Club, see Cilla, The Beatles. You can hear the Merseybeat loud and clear in this book.
Ultimately, this is the story of two people who have spent pretty much all of their adult lives together. It's such a lovely story but I admit I found it a difficult read at times due the subject matter, i.e. Stan's illness. But despite that, I was enthralled by it and the journey of discovery that both of them, but particularly Stan, go on.
In effect, Bonnie and Stan is a slice of life story. There are no great reveals, no twists or shocks, it's just following a family through a difficult, yet life-changing time. The writing is emotive and I loved the characters. It's very much a character-driven book and I liked that those characters were mostly older ones.
It's moving, it will make you smile and probably make you cry. It's really a lovely read.
---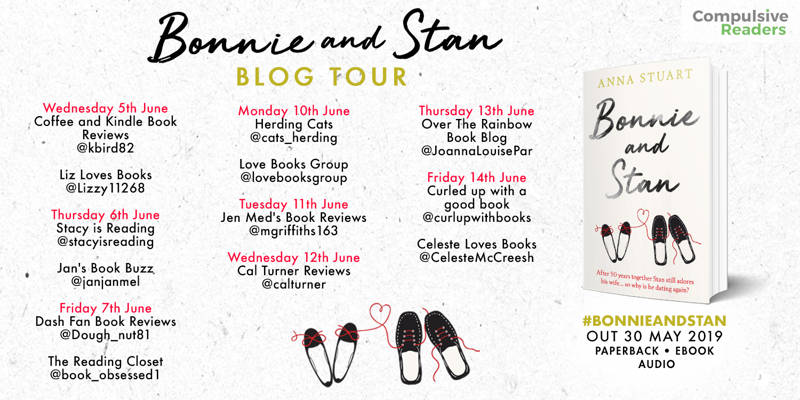 ---

Anna wanted to be an author from the moment she could pick up a pen and was writing boarding-school novels behind the sofa by the age of nine. She made the early mistake of thinking she ought to get a 'proper job' and went into Factory Planning – a career that gave her some wonderful experiences, amazing friends and even a fantastic husband, but did not offer much creative scope. So when she stopped to have children she took the chance to start the 'improper job' of writing. During the baby years she wrote in those gaps provided by sleeps, playschools and obliging grandparents, publishing short stories and serials in all the women's magazines. Her ultimate aim was to write longer fiction and several years ago she published a series of successful historical novels under the pseudonym Joanna Courtney. She will continue to publish under that name but is delighted, as Anna Stuart, to also be able to write Bonnie and Stan – a real-life romance set in both the present day and sixties Liverpool.