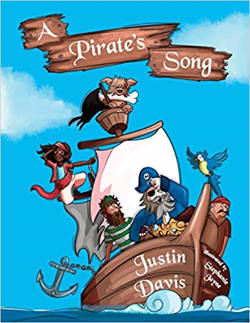 ShortBookandScribes #BookReview – A Pirate's Song by Justin Davis @jdavisauthor @bluefalconpub #childrensbooks #BlogTour
I'm delighted to be reviewing A Pirate's Song by Justin Davis today. My thanks to Claire Cumberland from Blue Falcon Publishing for the place on the blog tour and for sending a copy of the book for review purposes.
---

Ahoy there me hearties!
Are ye brave? Are ye strong? Can ye sing a pirate's song?
Will ye search for treasures old,
jewels and trinkets, pearls and gold?
Then climb aboard and join our crew.
Quickly now, there's work to do!

If you've ever wondered what it's like to be a pirate or fancied hauling anchor and sailing the seven seas, then this is just the tale for you! This bright and beautiful rhyming picture book from award-winning children's author, Justin Davis, will capture the imagination of any budding sea dog!
---
Who doesn't love a pirate tale? This one is great fun.
The pirates set out to sea to search for treasure but they get caught in a terrible storm. Once they've got through it they see land and go ashore. They work together (well not the captain as he has to supervise!) to find the treasure: gold, jewels and rum.
I love a children's book that has rhyming sentences which A Pirate's Song does. I think it really helps the flow, especially when you're reading out loud. There's also a pirate song which the captain uses to keep up the crew's spirits and to help them work together, which is a really nice message to give to children.
The illustrations work really well alongside the story and are colourful and jolly. At the end of the book there is a series of questions to see whether you were paying attention or not and a little puzzle to see who found the treasure.
All round, it's a delightful read for children (and parents!), well written, fun and vibrant.
---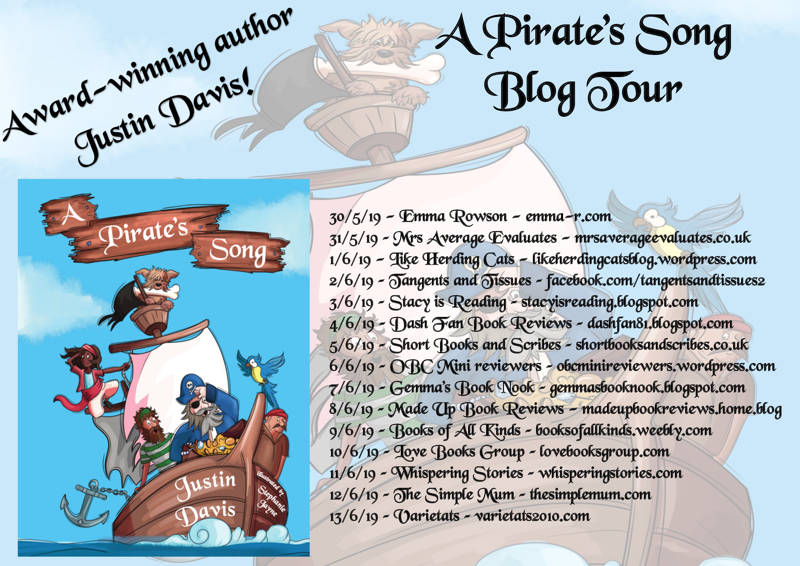 ---

The fourth children's book from Northamptonshire-based Justin has been published. His previous books have both attracted praise and won him a rapidly growing young fan base. Escape from Nettle Farm, prequel to Spy Danger, won a Red Ribbon in the 2016 Wishing Shelf Awards, and was a finalist in the 2017 People's Book Prize. My Bunny, a beautifully illustrated rhyming picture book, was a finalist in the 2017 Wishing Shelf Awards. Justin is currently working on two more books, due for release in 2020.
Author bio and photo taken from Amazon