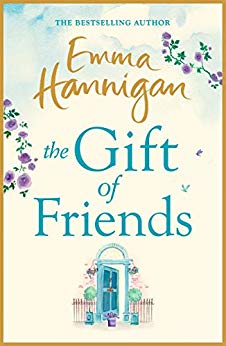 ShortBookandScribes #BookReview – The Gift of Friends by Emma Hannigan @headlinepg #RandomThingsTours #BlogTour
I'm so pleased to be reviewing The Gift of Friends by Emma Hannigan today, a book that is all the more special because it was Emma's last before she sadly passed away. My thanks to Anna Pallai from Headline for sending me a proof copy for review purposes and to Anne Cater from Random Things Tours for the place on the blog tour.
---
Kingfisher Road – a leafy, peaceful street in the town of Vayhill. But there are whispers behind closed doors. Who is moving into Number 10?

Engaged to handsome, wealthy Justin Johnston, Danielle appears to her new neighbours to have the perfect, glossy life. But not everything is as it seems…

In fact, each of the other four women who live close by has a secret, and each is nursing their own private heartache.

But could a gift be waiting on their doorsteps? And, by opening their front doors, and their hearts, to each other, could the women of Kingfisher Road discover all the help they need?
---

The Gift of Friends is my first Emma Hannigan book, although I do have a few of her others on the TBR mountain. Sadly, it's also bittersweet as it's her final book, and a wonderful one it is too.
Kingfisher Road is one of those posh and exclusive roads but it's home to some of the most kind, down to earth women you could find. There's Betsy, Maia, Nancy and Pearl, and they're joined at the beginning of the book by a new resident, Danielle. Each of the women have a problem to deal with. That makes it sound like they've broken a nail or something but actually each 'problem' is a serious one, from domestic abuse to the possible loss of a home.
I'll be honest, when I started this book I thought it might be just a bit too…..well 'nice'. Then I got totally embroiled in the lives of these women and I ended up loving it. They have such a lovely friendship going on and it could be totally twee but it's not, it's just so heartwarming.
As each of the women work through their particular issues, they never have to do so alone as the others have their back every single time. It was refreshing not to have any squabbles or petty digs, just genuine friendship and loyalty. I didn't even have a favourite character as the author wrote all of them in a very likeable way, and what it highlighted to me was that we're all different but if we're tolerant and kind to each other then we can all get along.
The writing is perfect. It's warm, it's witty, it's vibrant and uplifting. The Gift of Friends is one of those charming novels that are just so satisfying to read, a pleasure from start to finish.
---

---

Emma Hannigan was the No. 1 bestselling author of eleven novels including Letters to Daughters, The Wedding Promise, The Perfect Gift, and The Summer Guest, as well as a memoir, All to Live For, which was about surviving an eleven year battle with cancer – facing cancer 10 separate times over the course of those years – and remaining strong, positive and warm. Very sadly, we have now lost Emma in the fight against cancer – she passed away at the end of February 2018.