Seven Day Spotlight – w/e 27/08/17
Happy Sunday everybody. Here's a round up of the week on my blog.
I posted a review of the excellent crime book, Dead to Me by Stephen Edger.
Next up was my review of Another Woman's Husband by Gill Paul which is a fascinating blend of fact and fiction.
I then posted a guest post by Daisymae_224 about internet dating and later in the week I posted a review of her book, Dating Daisy.
I reviewed Tammy Cohen's brilliant psychological thriller, They All Fall Down.
I shared an extract from Condition: The Final Correction by Alex Birri, the third in a dystopian trilogy.
And finally, I posted a review of the wonderfully feel-good The Big Dreams Beach Hotel by Lilly Gorman.
---
So what has been added to my teetering TBR pile this week? Here goes…
The Olive Branch by Jo Thomas – this one is still free.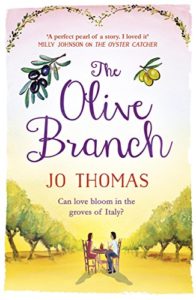 You can buy almost anything online these days. For Ruthie Collins, it was an Italian farmhouse.

Yet as she battles with a territorial goat and torrential rain just to get through the door of her new Italian home, the words of Ed, her ex, are ringing in her ears. She is daft, impetuous and irresponsible.

But Ruthie is determined to turn things around and live the dream.

First, though, she must win over her fiery neighbour, Marco Bellanouvo, and his family… Then there's the small matter of running an olive farm. As the seasons change and new roots are put down, olives and romance might just flourish in the warmth of the Mediterranean sun.
A House to Mend a Broken Heart by Alison Sherlock
Willow Tree Hall has seen much better days and has been the proud ancestral home of the Earl and Countess of Cranley for centuries.

With no qualifications and escaping her past Annie Rogers takes the job as housekeeper to widowed Arthur, the charming current Earl of Cranley. After a bad fall puts Arthur in hospital, it's up to his reluctant heir, Sam Harris, to lend a helping hand and try to find a sustainable future for the Estate.

With the house requiring a full renovation, Annie suddenly finds herself completely out of her depth with a team of dodgy builders and Sam watching critically from the side-lines.

With Sam running from his past and Annie hiding from hers, just maybe together they can bring Willow Tree Hall back to life.

The start of a beautiful new series focussing on the lives and loves, trials and tribulations of all those who live and work at Willow Tree Hall.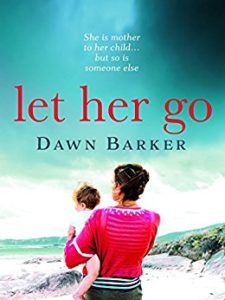 Could you share your child with someone else?

Zoe wanted a baby more than anything. But her dreams will come at a price…

After years of struggling to conceive, Zoe and her husband face the prospect of never having a family. When Zoe's stepsister, Nadia, offers to be a surrogate it presents the perfect solution. A healthy girl, Louise, is born.

But no one imagined just how hard it would be to know someone else was also mother to your child. As the pressure on Zoe and Nadia mounts, they make choices that there is no going back from.

Years later, Louise is in desperate need of her family's help. Can they put their painful history aside to save the child they love so much?
These Dividing Walls by Fran Cooper
This is not the Paris you know…

'It'll open your heart and your mind. It certainly did mine' The Pool

On a hot June day, grief-stricken Edward arrives in Paris hoping that a stay in a friend's empty apartment will help him mend. But this is not the Paris he knows: there are no landmarks or grand boulevards, and the apartment he was promised is little more than an attic room.

In the apartments below him, his new neighbours fill their flats with secrets. A young mother is on the brink, a bookshop owner buries her past, and a banker takes up a dark and malicious new calling.

Before he knows it, Edward will find himself entangled in their web, and as the summer heat intensifies so do tensions within and without the building, leading to a city-wide wave of violence, and a reckoning within the walls of number 37.
The Dressmaker's Secret by Charlotte Betts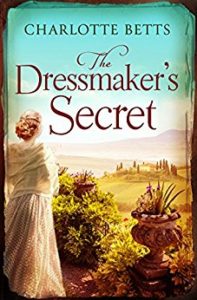 Italy, 1819. Emilia Barton and her mother Sarah live a nomadic existence, travelling from town to town as itinerant dressmakers to escape their past. When they settle in the idyllic coastal town of Pesaro, Emilia desperately hopes that, this time, they have found a permanent home. But when Sarah is brutally attacked by an unknown assailant, a deathbed confession turns Emilia's world upside down.

Seeking refuge as a dressmaker in the eccentric household of Princess Caroline of Brunswick, Emilia experiences her first taste of love with the charming Alessandro. But her troubling history gnaws away at her. Might she, a humble dressmaker's daughter, have a more aristocratic past than she could have imagined? When the Princess sends her on an assignment to London, she grasps the opportunity to unravel the truth.

Caught up in a web of treachery and deceit, Emilia is determined to discover who she really is – even if she risks losing everything . . .
Anything You Do Say by Gillian McAllister
Joanna is an avoider. So far she has spent her adult life hiding bank statements and changing career aspirations weekly.

But then one night Joanna hears footsteps on the way home. Is she being followed? She is sure it's him; the man from the bar who wouldn't leave her alone. Hearing the steps speed up Joanna turns and pushes with all of her might, sending her pursuer tumbling down the steps and lying motionless on the floor.

Now Joanna has to do the thing she hates most – make a decision. Fight or flight? Truth or lie? Right or wrong?
The Girl in the Picture by Kerry Barrett
Two women. One house. Centuries of secrets.

East Sussex Coast, 1855

Violet Hargreaves is the lonely daughter of a widowed industrialist, and an aspiring Pre-Raphaelite painter. One day, the naïve eighteen-year-old meets Edwin; a mysterious and handsome man on the beach, who promises her a world beyond the small costal village she's trapped in. But after ignoring warning about Edwin, a chain of terrible events begins to unfold for Violet…

East Sussex Coast, 2016

For thriller-writer Ella Daniels, the house on the cliff is the perfect place to overcome writer's block, where she decides to move with her small family. But there's a strange atmosphere that settles once they move in – and rumours of historical murders next door begin to emerge. One night, Ella uncovers a portrait of a beautiful young girl named Violet Hargreaves, who went missing at the same time as the horrific crimes, and Ella becomes determined to find out what happened there 160 years ago. And in trying to lay Violet's ghost to rest, Ella must face ghosts of her own…

This haunting timeslip tale is perfect for fans of Kate Riordan, Tracy Rees, Kate Morton and Lucinda Riley.
The Hoarder's Widow by Allie Cresswell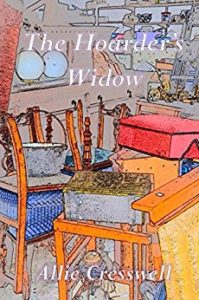 Suddenly-widowed Maisie sets out to clear her late husband's collection; wonky furniture and balding rugs, bolts of material for upholstery projects he never got round to, gloomy pictures and outmoded electronics, other people's trash brought home from car boot sales and rescued from the tip. The hoard is endless, stacked into every room in the house, teetering in piles along the landing and forming a scree up the stairs. It is all part of Clifford's waste-not way of thinking in which everything, no matter how broken or obscure, can be re-cycled or re-purposed into something useful or, if kept long enough, will one day be valuable. He had believed in his vision as ardently as any mystic in his holy revelation but now, without the clear projection of his vision to light it up for her as what it would be, it appears to Maisie more grimly than ever as what it is: junk.
As Maisie disassembles his stash she is forced to confront the issues which drove her husband to squirrel away other people's rubbish; after all, she knows virtually nothing about his life before they met. Finally, in the last bastion of his accumulation, she discovers the key to his hoarding and understands – much too late – the man she married.
Then, with empty rooms in a house which is too big for her, she must ask herself: what next?
Matt Hunter lost his faith a long time ago. Formerly a minister, now a professor of sociology, he's writing a book that debunks the Christian faith while assisting the police with religiously motivated crimes. On holiday with his family in Oxfordshire, Matt is on edge in a seemingly idyllic village where wooden crosses hang at every turn. The stay becomes more sinister still when a local girl goes missing, followed by further disappearances.

Caught up in an investigation that brings memories to the surface that he would prefer to keep buried deep, Matt is on the trail of a killer determined to save us all.
Seven Days of Us by Francesca Hornak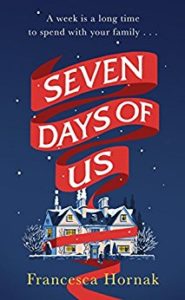 It's Christmas, and the Birch family is gathering for the first time in years.

Emma is elated at having everybody under one roof, but her oldest child, Olivia, is only home because she has nowhere else to go. She's just returned from treating an epidemic abroad and must stay in quarantine for a week – and so, too should her family.

For the next seven days, no one can leave the house and no one can enter.

It doesn't sound too hard. But a week with your nearest and dearest can feel like an eternity, especially when they're all harbouring secrets.

One of whom is about to come knocking at their door…
I Am, I Am, I Am by Maggie O'Farrell
One of the most anticipated books of 2017, I AM, I AM, I AM is a memoir with a difference – a story of a woman's life in near-death experiences. It is a memoir you will finish newly conscious of your own vulnerability, determined to make every heartbeat count.

A childhood illness she was not expected to survive. A teenage yearning to escape that nearly ended in disaster. A terrifying encounter on a remote path. A mismanaged labour in an understaffed hospital. Shocking, electric, unforgettable, this is the extraordinary memoir from Costa Novel-Award winner and Sunday Times bestselling author Maggie O'Farrell.

It is a book to make you question yourself. What would you do if your life was in danger, and what would you stand to lose?
Buried Secrets by T.J. Brearton
What if your dream home became your worst nightmare?

Newlyweds Brett and Emily Larson have just moved into a new home deep in the countryside, and are overjoyed when Emily finds out she's pregnant.

Then they discover human bones in their garden.

As the police start to investigate, three things become clear:

The bones are recent.
They are not here by accident.
They are a message.

When the police put three photographs of known criminals on the Larsons' kitchen table, the couple realize the danger may be closer to home than they think.

As the situation escalates, can Brett and Emily keep one step ahead to protect themselves – and their unborn child?
Felicity at the Cross Hotel by Helena Fairfax
A romantic hotel in the Lake District. The Cross Hotel is the perfect getaway. Or is it?
Felicity Everdene needs a break from the family business. Driving through the Lake District to the Cross Hotel, past the shining lake and the mountains, everything seems perfect. But Felicity soon discovers all is not well at the Cross Hotel …
Patrick Cross left the village of Emmside years ago never intending to return, but his father has left him the family's hotel in his will, and now he's forced to come back. With a missing barmaid, a grumpy chef, and the hotel losing money, the arrival of Felicity Everdene from the notorious Everdene family only adds to Patrick's troubles.
With so much to overcome, can Felicity and Patrick bring happiness to the Cross Hotel … and find happiness for themselves?
The Little Bakery on Rosemary Lane by Ellen Berry
Growing up in a quiet Yorkshire village, Roxanne couldn't wait to escape and find her place in the world in London. As a high-powered fashion editor she lives a glamorous life of perennial singlehood – or so it seems to her sister Della. But when Roxanne gets her heart broken by a fashion photographer, she runs away, back to Della's welcoming home above her bookshop in Burley Bridge.

But Burley Bridge, Roxanne discovers, is even quieter than she remembered. There's nothing to do, so Roxanne agrees to walk Della's dog Stanley. It's on these walks that Roxanne makes a startling discovery: the people who live in Burley Bridge are, well, just people – different from the fashion set she's used to, but kind and even interesting. Michael, a widower trying to make a go of a small bakery, particularly so. Little by little, cupcake by cupcake, Roxanne and Michael fall into a comforting friendship.

Could there be a life for Roxanne after all, in the place she's spent 46 years trying to escape?
Mummy With Benefits by Marilyn Bennett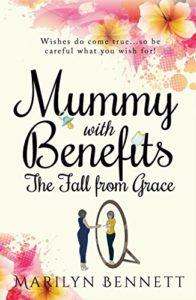 Life has taken a rather positive turn for Grace. She is now working her socks off in a job she enjoys. She has also quite possibly met the man of her dreams.

So when she reluctantly has to dress up as her granny alter ego for one last time, it can only spell trouble. Grace is forced to confront her bad timing, bad luck and suitably questionable choices all head on.

Motherhood takes Grace on a new life-changing adventure, one that ensures she grows up, but also presents an opportunity for her to try and create a longed for family, which is almost within her reach.

But will she succeed?
Different Genes by Claire Baldry
Sixty-one year old Louise finally learns she is adopted after the death of her mother. She embarks on a quest to reveal the secrets of her past, helped by new companion and lover, Simon, whom she meets after joining an Internet dating site.

In her first full-length novel, author Claire Baldry sensitively explores the growing closeness between the newly retired couple as they develop their mutual understanding and physical relationship.

The reader is reminded of the changing values of the postwar years, while Simon and Louise visit places from Louise's past and meet people who knew her mother and grandmother. Together, they begin to unlock the forgotten secrets of Louise's past – but in the face of so much change and uncertainty, can Louise let her relationship flourish?

The story is set mainly in the author's home county of East Sussex, but finishes in Kent, when Louise and Simon finally visit her birth mother's grave at a convent in Chatham. This immensely readable journey of discovery is a charming and bittersweet mixture of romance, sadness and genuine suspense.
And that's it. Have you read any of them already or like the sound of any of these books? I'd love to hear from you. Wishing you all a very happy Bank Holiday Monday.