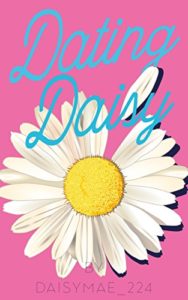 #blogtour – Dating Daisy by Daisymae_224 @authoright #guestpost
I'm so pleased to be on the blog tour for Dating Daisy by Daisymae_224 today. Unfortunately I ran out of time to share a review with you today (but look out for it later in the week) but I will be sharing a fab guest post with you, all about the author's own internet dating experiences. First here's what it's about:

What do you do when you're a newly divorced 52 year old mother, keen for a second chance of romance? Why internet dating of course! Daisy Mae_224 embarks on the internet dating process with trepidation. Having not been on the dating scene for nearly 30 years, and with fairly rudimentary computer skills, she finds herself embroiled in a series of haphazard and hilarious situations. Daisy keeps a diary of her internet dating life and reveals detail by detail, the ups and downs of her midlife dating extravaganza. Soon after starting out, Daisy realises her true mission. With no past experience and no-one/nothing to guide her, she needs to produce – Internet Dating lessons. Read on to find out about PLONKERS, muppets and MAWDs, and a whole host of amusing anecdotes, tips and ideas. Working by day as a Sexual Health doctor, the story as it unfolds contains accounts of Daisy's clinical experiences with patients in the Sexual Health clinic. She also reflects on her past life with Voldemort (the dreadful ex-husband). With advice and encouragement from Imogen, her 17 year old daughter, her surrogate parents known as the Amigos, with a big house and swanky swimming pool, her friend Pinkie and from Jeannie, her nonagenarian friend from the Nursing Home, Daisy resiliently persists in her quest to find a long term partner. This is a heartfelt story that will ring bells with anyone who has ended a long term relationship and now wants to find somebody new. It is humorously written, full of emails, poems, limericks, and even a recipe! Daisy can't resist her pages of advice on topics like "Kissing" and "Anti-Snoring." It is a unique and highly amusing book, which will make you laugh out loud! So read on and see. Will Dating Daisy find her "prairie vole?" Or will the whole process end in disaster?
---

Daisy Pulls it Off … or Does She?

Here's the thing. I, by my own admission, am not a risk taker. Read on and you will see how I suddenly had to take the biggest risk in my life!

I had been married for 27 years. Although I always worked fulltime, and this took its toll as I was always exhausted, and we had a busy household, it was my husband who paid the mortgage, the bills etc.  I didn't know for example, how much our council tax bill was, or when it was time to renew the house insurance. Moreover, I was pretty sedentary. I wasn't very sporty, more likely to sit by the swimming pool and watch, than dive in. If we went anywhere or did anything, I was there with the picnic basket,  the sticking plasters and the camera, but always watching and rarely actually joining in. So – I had a fairly cosseted existence in some respects – until suddenly, one day in October 2012, everything changed forever.

The day I realised that my marriage was over, and we were facing a divorce. As is so often the case, I was the last to discover my husband had been having an affair.  The divorce process took 3 acrimonious years, and during this time both my parents died of cancer. I was jolted into reality. I found myself alone, confused and uncertain.

But – Oh how resourceful is human nature!

I decided it was time to turn this all around. In truth, I hadn't been happy in the marriage for a long time. I knew inside me I couldn't be on my own. I'm a very friendly, out-going person and I thrive on loving and being loved. I needed someone to come home to, to have dinner with, to go on holiday with, to dance with (ballroom dancing is my passion!).

I needed to find myself a soul mate, and fast. Every day that went by was a day wasted. Aged 52, I just had to get on with it.

The solution – Internet Dating!

So, I took my non-risk taking self and put myself in a risky position. There was risk everywhere. Risk I would sign onto the wrong site, not have anyone interested in me. Risk I might make the wrong choice. Risk I would be humiliated – as my friends and family would know all about it. They might all see my dating profile! If I did ever have a date, there was the risk of being rejected, insulted, stood up, assaulted, raped or  murdered – need I go on! I wasn't even very computer literate. I had to be shown how to upload the photo!  There was risk I wouldn't be able to do it at all!

So, I was slow to put myself into action. I did look on the sites at great length, before I paid any money. I think I wanted to sign on – but didn't have the nerve. I think this went on for about 6 months actually. It was a good friend who had met her partner internet dating, who forced me to physically press the button. I went to bed that night in fevered anticipation full of "what if's" and "maybe's". I had no idea what was in store for me. I felt I was a lamb to the slaughter.

The interesting thing is that the site asks you what you are looking for. If you put, like me, you are looking for a man aged between 50 and 60 within say 30 miles from home, there might be only perhaps 10 possibilities! This isn't actually a lot. Of these 10, perhaps 4 will not have a photograph. I don't follow these up, they are nonstarters. The photo is vitally important. I agree entirely personality is the most important aspect, BUT, there does have to be a degree of physical attraction. If my photo is on the site, theirs should be too.  But of the 6 remaining, I am tall, 5ft9. So I would never date anyone shorter than me, in fact I love tall men and 6ft would be my cut off. So of these 6 about half will be smaller than me, which narrows it down now to 3 hopefuls. Then I look at each profile.

I think you can tell a lot from a profile. I wanted someone with a personality who could talk to me. I wanted someone intelligent, someone who was solvent, local and available. If the profile was empty and they had hardly written anything about themselves this was not what I was looking for. I think somehow I needed to find someone with shared values, hobbies and interests. This is what I concentrated on. However, from the 3 remaining hopefuls, none of these might match my criteria!

So now what! Step one is widen the search. Men aged 50-65, within 50 miles etc – see what comes up now?

Or- dare I say it – join another site! If you are serious about finding a mate, as I was, why not? In the end I was on 4 sites!

I have made the point before that for me, this was internet dating, not internet mating. I wasn't interested in any one night stands. Old fashioned maybe, but in all sincerity I didn't miss any of that. I wanted to find love, True Love (That's the name of the poem in the book! I carried the poem in my handbag, and I knew when I found the right person, I would want to give them my poem), and when I did find this person, hopefully, all that would follow. So I was careful to conduct myself with decorum.

Internet dating is addictive. I would log on first thing in the morning, last thing at night, and often in the middle of the night as I couldn't sleep. I had this magnetic pull for the computer, impossible to resist. I do think it's easy, with a blank screen and an attractive photograph, to reveal too much about yourself too soon. It's a strangely surreal experience. You then eventually meet up, and you know so much about the other person and vice versa,  although you've never previously met! Totally the reverse to what conventionally has been the norm!

The honest truth is that I met many very nice guys, they just weren't suitable for me. I wasn't assaulted, raped or murdered, far from it! I was always happy to pay my way, but was surprised by how many men insisted on paying the bill. I found if the date was good, the rest was easy. But more often the date was bad, and having got away, it was hard to know how to let them down gently. Generally, I was pleased and surprised, as all my dates wanted to see me again, and I found I wasn't unattractive at 52 after all! It was good for my self esteem!

In summary, Internet Dating was a risk worth taking. Now I am a different person. I am much more likely to join in than sit on the sidelines. We've spent the night in the Ice Hotel, been husky dog sledging, been to Vienna and danced the Viennese waltz in a real Viennese ballroom! I've been jet skiing, flotilla sailing and electric biking! Life is full and happy. We are mad about Ballroom and Latin, belong to a dance school, and dance all the time. I have rows of sparkly shoes!

So you see – I have found that some risks- are most definitely worth taking!
Brilliant! Thanks for that, Daisy.
---
With thanks to the publishers for the review copy and to Rachel Gilbey for the place on the blog tour. Do have a look at the other blogs taking part.
---

Living in the South of England Daisy_234 shares many similar professional, life, and dating, experiences as her protagonist; for this reason she has chosen to write under a pen name.