#blogtour – The Big Dreams Beach Hotel by Lilly Bartlett @MicheleGormanUK @HarperImpulse @bookreview
I'm over the moon to be on the blog tour for this fabulous book today. It really is a cracker. Here's what it's all about:

Wriggle your toes in the sand and feel the warm breeze on your face at the hotel that's full of dreams… 

Three years after ditching her career in New York City, Rosie never thought she'd still be managing the quaint faded Victorian hotel in her seaside hometown.

What's worse, the hotel's new owners are turning it into a copy of their Florida properties. Flamingos and all. Cultures are clashing and the hotel's residents stand in the way of the developers' plans. The hotel is both their home and their family.

That's going to make Rory's job difficult when he arrives to enforce the changes. And Rosie isn't exactly on his side, even though it's the chance to finally restart her career. Rory might be charming, but he's still there to evict her friends.

How can she follow her dreams if it means ending everyone else's?
---
The Big Dreams Beach Hotel was my first Lilly Bartlett read and oh my, what an absolute pleasure.
Rosie is working at a hotel in Scarborough, an unusual one to say the least and one that time forgot. She's the manager and it's not exactly making loads of money. There's an unusual cast of characters who are residents at the hotel (this made me think of Fawlty Towers!). The Colonel, Lill, Miracle and not to mention Peter and Barry (his Basset Hound). They're all such brilliant creations, unique and interesting people who I really cared about.
But when the Colonel decides to sell the hotel along comes Rory, transition manager, and also rather good looking. He and Rosie have to work together. Perhaps you can see where this might be heading…..
This story and these characters could be rather twee in the wrong hands but Lilly Bartlett has wonderful storytelling ability and instead it's a really heart-warming, lovely read.
I warmed to the characters instantly and I really wanted everything to work out for them. There's a lot of humour in the story, both within the dialogue and in the behaviour of the characters. There's plenty of sarcasm and it may be the lowest form of wit but I happen to find it very funny.
I loved the fact that it is set mostly in Scarborough. It's somewhere that I went on holiday quite a few times so I am fond of the place. The hotel is quite old-fashioned but the so called improvements wreaked on it by the bizarre new owners are quite something. I'll just say 'flamingos' and leave it there!
This is feel-good fiction at its best. I enjoyed every minute that I spent reading it and gave a sigh of satisfaction when I got to the end. I'd say it's the perfect light read.
With thanks to Michele Gorman for the review copy. The Big Dreams Beach Hotel is available now in ebook (only 99p at the moment) and paperback.
---
---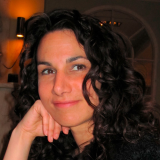 Michele writes books packed with heart and humour, best friends and girl power. Call them beach books, summer reads or chick lit… readers and reviewers call them "feel good", "relatable" and "thought-provoking".
She is both a Sunday Times and a USA Today bestselling author, raised in the US and living in London. She is very fond of naps, ice cream and Richard Curtis films but objects to spiders and the word "portion".
Michele also writes cosy romcoms under the pen-name Lilly Bartlett. Lilly's books are full of warmth, romance, quirky characters and guaranteed happily-ever-afters.