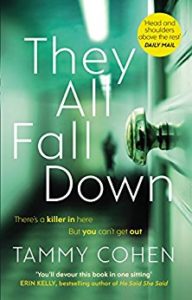 #bookreview – They All Fall Down by Tammy Cohen @MsTamarCohen @TransworldBooks @alisonbarrow
I'm a fan of Tammy Cohen's writing (in her various guises) and so I was so pleased to receive a copy of They All Fall Down for review. Thank you to Alison Barrow from Transworld for the review copy.
Hannah had a normal life – a loving husband, a good job. Until she did something shocking.

Now she's in a psychiatric clinic. It should be a safe place. But patients keep dying.

The doctors say it's suicide. Hannah knows they're lying.

Can she make anyone believe her before the killer strikes again?
---

In Tammy Cohen's latest book we have a story from the viewpoint of several women protagonists. The book revolves around Hannah's incarceration in a psychiatric clinic after what initially is an unknown incident. Hannah's chapters are in the first person and so her role as an unreliable narrator is set. Her mother, Corinne, and one of the therapists at the clinic, Laura, are the other two main characters, both of which we read about in the third person. I did start to get an idea of what led Hannah to be a client (as they are referred to) at the clinic before it was revealed and I thought it was a very clever idea.
Hannah's friends in the clinic are dying. Two of them have committed suicide and you may think that's not unusual given where they are but Hannah thinks differently and that these women were in a more positive state of mind. She starts to think that maybe the clinic is not that safe a place to be.
I thought They All Fall Down was an excellent psychological thriller. As a reader I had no idea whether there was going to be something sinister about the deaths or whether Hannah was paranoid. The setting of a mental institution is a fascinating one and I found all the 'clients' so interesting and complex. As Corinne starts to delve deeper to try and work out whether the clinic is safe for Hannah we learn more about the background of the man in charge of the clinic and also about Hannah's marriage. I really liked Corinne for her intense love for her daughter and her desire for the truth and she was probably my favourite character.
I enjoyed the ups and downs, the twists and turns of this book. And there was a twist or two near the end which took me by surprise. Tammy Cohen is skilled at weaving a tangled web of a story and I had no idea as to how it would end until actually I read it. Such a talented writer and this book was a pleasure to read.
They Fall Fall Down is available now in ebook and paperback.
---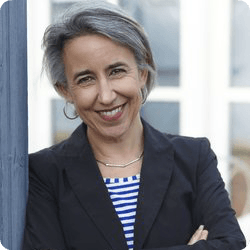 Tammy Cohen (who previously wrote under her formal name Tamar Cohen) has a growing backlist of acclaimed novels of domestic noir including:The Mistress's Revenge, The War of the Wives, and Someone Else's Wedding. Her break-out psychological suspense thriller was The Broken, followed by Dying for Christmas, First One Missing and When She Was Bad.
She lives in North London with her partner and three (nearly) grown children, plus one badly behaved dog.
Author photograph taken from the author's website