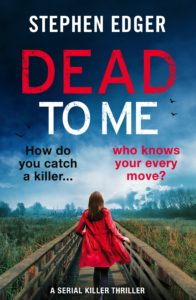 #blogtour – Dead to Me by Stephen Edger @StephenEdger @bookouture #bookreview #CrimeFiction
I'm delighted to be on the blog tour for Dead to Me by Stephen Edger today in what is the first in a series featuring DI Kate Matthews. Here's what it's all about:

When a woman's body is found in an abandoned bar near the Southampton docks, Detective Kate Matthews is called in to lead the investigation. She must solve this case to prove she is coping with the death of a close colleague.

Kate knows a pile of ripped up newspaper cuttings discovered at the victim's house must be a piece of the puzzle, but her team keep hitting dead-ends… Until she finds a disturbing clue that convinces her of three things: The murder is linked to the body of a man found hanging in a warehouse, she is on the hunt for a calculated serial killer, and the killer is watching her every move.

Kate realises there will be another victim soon, and that her own life is in grave danger, but no one else believes her theory. Can she find and stop the most twisted killer of her career, before another life is lost?
---
Dead to Me is a rollercoaster ride of a crime thriller. DI Kate Matthews is new to the Southampton police and has a lot to prove. So when there is a series of murders that at first do not appear to be linked she is the investigating officer who has to put a stop to them.
I liked Kate although sometimes I wondered what on earth she was doing! She's a good officer though, feisty and brave and an ace investigator. I also thought Laura Trotter, an officer serving under her, had loads of potential as a character and I hope she will turn up in the next book in the series (yes, Kate and co will be back!).
There are several strands to the storyline in this book and I thought they all came together really well. Nobody else really thinks the murders could be connected so Kate has an uphill struggle on her hands to try and prove it.
The ending was a total surprise and kept well under wraps I thought. It was clever and cunning, if a bit implausible. But I liked it and it worked well.
Overall this is a page turner of a book that kept me interested throughout. There's a lot of these crime series about and I thought this one had an edge that might just see me reading the second one (I'm hopeless at keeping up with series).
If you like the sound of Dead to Me then you can buy it from Amazon UK and Amazon US.
---
With thanks to Bookouture and Netgalley for the review copy and to Noelle Holton for the place on the tour. Do check out the other bloggers taking part.
---

Stephen Edger is a British crime writer, who has been writing since 2010. In that time he has written and published eleven novels, and five short stories. He writes mysteries and thrillers focused on crime.
Stephen was born in the north-east of England, grew up in London, but has lived in Southampton since attending university in the year 2000. Stephen works in the financial industry, and uses his insider knowledge to create the plots of his books. He also has a law degree, which gives him a good understanding of the inner workings of the UK justice system.
Stephen is married, and has two children, and two dogs. He is passionate about reading and writing, and cites Simon Kernick and John Grisham as major influences on his writing style.