Seven Day Spotlight – w/e 24/09/17
Hello everybody. Happy Sunday! Welcome to my round up post. I think, if you're a regular reader of my blog, you might be a bit surprised by the acquisitions section. But first, here's what I've posted this week.
Monday saw me posting my review of Dan Knew by F J Curlew. It's a lovely read from the point of view of former street dog, Dan.
On Tuesday I posted an extract from The Secrets You Keep by Kate White.
On Thursday I had a lovely guest post from Nikola Scott about working from home along with my review of her fabulous book, My Mother's Shadow.
On Friday I shared my review of the feel good Summer Sundaes by Georgina Troy. There is a giveaway still running on that post.
And on Saturday I posted a guest post from Jules Hornbrook about his book, Crocodile Love.
---
So what's been added to my TBR pile this week?
She Did It by Mel Sherratt – I was toying with this one anyway but when I heard that book bloggers feature in it my finger just managed to click on that button to buy it.
I lift my head and open my eyes. It's real. I can't believe there is so much blood.

A successful businesswoman, Tamara enjoys her champagne lifestyle to the full. At least, that is the front she displays to the world. As well as being lonely, she's running out of money. A promising new member of staff brings the injection of fresh blood needed to win the contract that will turn things around.

Working for Tamara is a perfect ruse for Esther. But, along with fake references and qualifications, she also has a plan for revenge. Sensing Tamara's vulnerability, Esther uses their acquaintance as a way of getting close to someone who hurt her in the past.

Tamara is keeping things secret. Esther has a dark side she is trying to hide. For both of them, lying is a habit. But when mistakes begin to catch up with Esther, and people start dying, Tamara realises she's chosen the wrong person to trust as a friend.
The Fox of Richmond Park by Kate Dreyer – anyone who knows me knows that I have a big love of the ginger creatures so a book from the point of view of a fox was a must have.
When your family home has been demolished by a ruling power terrified of mutiny and the love of your life gives their heart to another, wouldn't you search the open city for a better future?

This is a story of one Londoner who found himself in this situation. He just happens to have fur and four legs.

With the help of an adventure-seeking magpie, Vince the fox is determined to find his grandparents' old home, which exists somewhere within England's capital. The threat of political exile and the city's modern, mechanical and multicultural challenges will not stop him.

But back in Richmond Park, Edward the alpha-stag is paranoid: if Vince's departure encourages a multi-species uprising, the deer will lose their power – and Edward is hardly the only tyrannical ruler to be feared in the capital's parks.

Just what has Vince started beneath the eyeline of London's human population?
Dancing at the Victory Cafe by Leah Fleming – this sounds like such a lovely read and has such an eye-catching cover.
When Isobel Morton takes over the café in Lichfield's market square, she has big plans. Soon renamed The Victory Café, with a  menu that delights despite rations, the girls who work at the Vic are swept away by Belle's lust for life.

Among the regular customers  is a trio of soldiers from the nearby American base and waitress Dorrie Goodman soon befriends them, learning about jazz and romance in the process. But the stifling morality of a Midlands town in the 40s cannot accommodate such a friendship; jealously, hatred and the weight of public disapproval combine to precipitate a tragedy.

It is not until many years after the war that friendship and reconciliation can begin to heal the wounds of the past …
And my fabulous book post from Becky Hunter at Headline – The Perfect Girlfriend by Karen Hamilton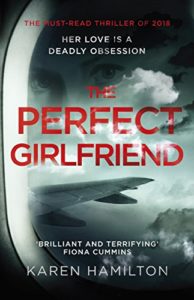 Karen Hamilton's THE PERFECT GIRLFRIEND is a frightening depiction of unbridled obsession, where love and pure hatred grapple on a knife edge. The perfect new psychological thriller for fans of The Girl on the Train and Gone Girl.

Juliette loves Nate.
She will follow him anywhere. She's even become a flight
attendant for his airline, so she can keep a closer eye on him.

They are meant to be.
The fact that Nate broke up with her six months ago means nothing.
Because Juliette has a plan to win him back.

She is the perfect girlfriend.
And she'll make sure no one stops her from
getting exactly what she wants.

True love hurts, but Juliette knows it's worth all the pain…
And that's it! How restrained have I been this week?
I'd love to hear thoughts on these books. Have you added any to your TBR pile or have you read any already?