#blogtour – Dan Knew by F J Curlew @FJCurlew #review
I'm delighted to welcome you to my stop on the blog tour for Dan Knew by F J Curlew. I'll be sharing my review of this heart-warming read but first here's what the book is about:

A puppy born to the dangers of street life. A woman in trouble. An unbreakable bond.
A Ukrainian street dog is rescued from certain death by an expat family. As he travels to new countries with them a darkness grows and he finds himself narrating more than just his story. More than a dog story. Ultimately it's a story of escape and survival but maybe not his.
The world through Wee Dan's eyes in a voice that will stay with you long after you turn that last page.
---
When I first heard about Dan Knew I thought it sounded like a lovely premise for a novel. It tells the story of Dan, a plucky puppy born to a street dog in Ukraine. He is rescued by an expat family who take him in along with various other dogs and cats along the way.
I thought it got off to a relatively slow start. Dan was a gorgeous and loyal dog to his 'mum' but the life of a dog isn't the most exciting thing to read about. But, and there's a big but here, I think the fact that I knew it was semi-autobiographical made all the difference. I wasn't reading about a character here but a real dog, one who had meant the world to his owner and he really came to life for me as I read about him. At the beginning I was wondering how the author could sustain the story for 300+ pages but it really did work and as I got more involved in the story I started to love it.
From Dan's point of view we go through many trials and tribulations in his human mum's life. I won't go into it here but she really goes through the mill. And Dan and his family (including their other wonderful dogs, Lada, Ceilidh and Jake) move around a lot and Dan certainly becomes a seasoned traveller across Europe. I thought his feelings were put across really well – imagine how an animal feels being left without his mum and put on an aeroplane, ferry or train: bewildered, lost and unsure.
I think there's an inevitability about most animal stories and the ending of this one left me sobbing. It's altogether a very moving and emotional story and I thought Dan was just lovely. I'm so pleased that I read about him.
With thanks to the author for the review copy and the place on the blog tour. Dan Knew is available now in ebook and paperback.
---
There are lots of other great blogs taking part in the tour so please do go and have a look.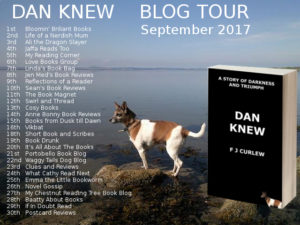 ---

Fiona dropped out of school aged 15, because being the consummate rebel, she hated it! After becoming a single parent she decided to return to education, graduating in 1996 with an honours degree in primary education. Ah, the irony!
As soon as she graduated she packed everything she owned into her Renault 11, including her daughter, two dogs and a cat, and headed off to Estonia to become an international school teacher. After fifteen years of teaching, predominantly in Eastern Europe, she returned to the UK. She now lives on the east coast of Scotland with two Scottish rescue dogs and a disgruntled Portuguese cat.
Fiona is the author of two books:
To Retribution – A love story/political thriller set in times of turmoil.
Dan Knew – A fictionalised account of her travels told through the eyes of Dan, her rescued Ukrainian street dog.