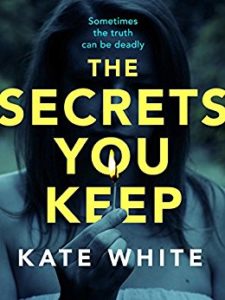 #blogtour – The Secrets You Keep by Kate White @katemwhite @canelo_co #extract
I'm delighted to be sharing an extract from Kate White's latest book, The Secrets You Keep, today. With thanks to Ellie Pilcher from Canelo for the place on the tour.
First of all, here's the all important blurb from the back of the book:

You've lost your memory. A woman has been murdered. Your husband is keeping secrets. How do you know who to trust?

Months after a being involved in a terrible car crash, Bryn Harper is physically healed but her emotional scars remain raw. She has no memory of the accident and is plagued with bad dreams.

When Bryn and her husband, Guy, host a dinner party Bryn swears money has been stolen while Guy seems unfazed. Bryn confronts the caterer that night and is horrified to discover the woman's brutally slain body the next day.

As the case is investigated, Bryn is dragged into a fresh nightmare and learns that Guy is keeping things from her. Another murder occurs and Bryn realises the danger is getting ever closer to home. How well does Bryn really know the man she loves?
---

At five o'clock two waiters arrive at the kitchen door, both dressed in black pants, white shirts, and skinny black ties. One is probably in his early thirties, dark-haired, with a mustache and close-cropped beard and a tattoo that darts like a lizard from inside his shirt collar whenever he moves. His name, he says, is Conrad. The other guy is blond and gangly and probably only in his early twenties. Hopefully he's more experienced than he looks.

They make a couple of trips back and forth to a van, carrying aluminum roasting pans and also a cooler on wheels. Immediately they start peeling back the tops of the pans and unloading items into the fridge. I pick up the scent of almonds.

'I don't even know what we're having tonight,' I tell them. Guy's running the show since it's a work dinner.

'It's probably best if we let Eve explain,' Conrad says.

'Eve?'

'Eve Blazer. She's the owner and the chef. She'll be here at six.'

When I reenter the kitchen an hour later, she's there, swirling olive oil in a pan. She's pretty and lusciously curvy, a woman who's obviously unabashed about sampling—and relishing—the dishes she creates. Her hair, fittingly enough, is the color of fresh butter, and most of it is tucked beneath a small white chef's cap.

To my surprise, she greets me coolly. Her eyes slide off mine as if I've introduced myself as the person who'll be taking coats.

'Do you need me to show you where anything is?' I ask.

'I think we can manage,' she says. 'Are you still planning on an eight o'clock sit-down?'

'Yes, that sounds right.' The guests, Guy's informed me, are arriving at seven fifteen. 'What are you serving tonight?'

'No one's told you?' she says, as if I'm the nerdy girl who's clueless about what all the popular kids are up to. I don't understand why she's taking this tone. Maybe she's just truly surprised that I've been left in the dark, so I give her the benefit of the doubt.

'No, my husband's secretary made the arrangements.'

'Chicken tagine. And a crème brûlée for dessert.'

'Sounds good. Why don't I let you get to work?'

I head upstairs and dress for dinner—black leggings, heels, and a breezy white silk blouse. For a few minutes I sit on the edge of my bed, trying to siphon energy from some secret reserve in the universe, but to no avail. I lift my hand from my lap and touch the linen duvet cover. I'd love nothing more than to flop on the bed and let my eyes fall closed for the night.

Finally, pressured by the insistent clicking of the digital clock on the bedside table, I rise, descend to the ground floor, and do a last sweep through the house, making sure lights are on and the rooms are tidy. On the screened porch, I notice the pad on which I've scribbled down the dream. As I'm scooping it up, a shadow crosses the room and I turn. Guy is standing in the doorway.

'There you are,' he says. 'Sorry to be running late. Is everything under control with the caterer?'

'Seems to be. I offered to show the chef where stuff was, but she didn't want my help.'

'I'm sure she's a pro at finding her way around unfamiliar kitchens.'

'She's not very friendly—though if the food is good, I won't hold it against her.'

'Probably just preoccupied.' He looks tired, I realize.

'How was your day?'

'Good, good.' He crosses the room and gives me a quick kiss. 'How about yours? Have you been writing?'

'Not really today.' It feels good to be honest. Then I realize he's talking about the notepad in my hand. 'Oh, this. It's just a dream from yesterday. That kind I keep having.'

'The fire dream? In the hotel?'

'Yes. But this one had an odd new detail. There was a man in the room with me and he told me to wait.'

Guy smiles ruefully. 'Should I be worried?'

'Honey, don't be silly. Dreams aren't literal. But there was something about this man that seemed significant. I'm not sure why, though.'

He takes a deep breath, and I sense him measuring his words before he speaks them.

'Dr. Greene really thinks this is a good idea?'

'Definitely. She says that though most of our dreams contain just garbage from the day, recurring ones are worth paying attention to. It can be the unconscious trying to send a message.'

'I just worry this is stirring everything up for you.'

'Actually I don't mind that happening. It may help me remember.'

'But couldn't it be a blessing not to remember? Maybe this is your brain's way of sparing you the horrible details.'

'I want those details. The car crashed, a man burned to death, and I still don't completely understand why.'

He touches my shoulder with his hand.

'You've made such progress, Bryn. I want you to keep moving forward, not getting dragged back.'

Could the dream journaling—or whatever it's called—be dragging me back? Is this the reason I've felt even more lethargic since moving here?

'I'll check in with Dr. G about it when we talk next week, okay?'

But even as I say it, I know I want to continue with my notes. I sense the man in the room has something worth hearing.
Sound good? Then here are the buying links you need:
And please do go and have a look at the other blogs taking part in the tour.
---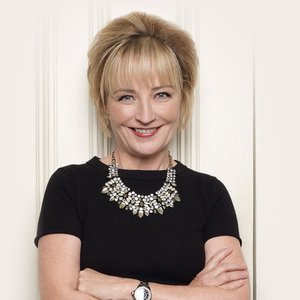 Kate White is the New York Times bestselling author of twelve works of fiction: seven Bailey Weggins mysteries and five stand-alone psychological thrillers, including most recently, The Secrets You Keep. For fourteen years she was the editor-in-chief of Cosmopolitan magazine, and though she loved the job (and the Cosmo beauty closet!), she decided to leave in late 2013 to concentrate on being a full-time author and speaker.