Seven Day Spotlight – w/e 22/10/17
Welcome to my weekly round up post. This week on my blog:
On Monday I featured The Cabinet of Linguistic Curiosities by Paul Anthony Jones. It's a fascinating book about strange and forgotten words with one for every day of the year.
Tuesday's post was an extract from the fabulously sparkly The Little Village Christmas by Sue Moorcroft.
I also posted a guest post from Ann Girdharry on publication day for her latest book, London Noir.
On Wednesday I posted a guest post from BJ Knapp looking behind her book, Beside the Music.
Thursday saw me featuring a guest post from Sue Carrington, one of the characters in LK Chapman's book, The Stories She Tells.
On Friday I took part in the blog blitz by reviewing the wonderful Heartaches and Christmas Cakes by Amy Miller. It's the first in a new wartime saga series and I loved it.
And finally on Saturday I reviewed The Big Little Festival by Kellie Hailes, again for a blog blitz. When I finished the book I said "awwww" to myself as it was a lovely read. There's a giveaway on the post which is still running.
---
And now to additions to my TBR pile. Still quite restrained this week.
After Leaving the Village by Helen Matthews – thank you to the author for sending this one through for review. I'm really looking forward to it.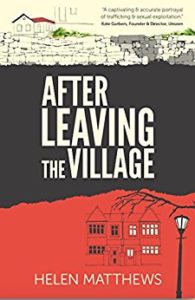 Two women. Two villages. Different destinies. Odeta's life has shrunk to a daily round of drudgery, running her father's grocery store in a remote Albanian village. One day a stranger from Tirana walks into the shop and promises her a new career in London. Odeta's life is about to change, but not in the way she expected.
Journalist Kate lives on a quiet London street and seems to have a perfect life but she worries about her son Ben, who struggles to make friends. Kate blames the internet and disconnects her family from the online world so they can get to know their neighbours. On a visit to her home village in Wales, Kate is forced to confront a secret from her past. But greater danger lies closer to home. Perhaps Kate's neighbours are not the friendly community they seem.
Her Last Secret by Barbara Copperthwaite – after reading all the amazing reviews of this one recently I couldn't resist it.
Some secrets you can never tell.

Everyone thinks the Thomases are the perfect family: grand London house, gorgeous kids.

They don't know wife Dominique is a paranoid wreck.

They don't know husband Ben is trapped in a web of deceit.

They don't know daughter Ruby lives in fear of the next abusive text.

But someone knows all their secrets.

Can the lies that bind them tear them apart?

This dark, gripping psychological thriller will have you holding your breath until the very last page. Fans of Behind Closed Doors, Gone Girl, and The Girl on the Train will be captivated.
The CWA Short Story Anthology: Mystery Tour – edited by Martin Edwards – there are some amazing authors contributing to this book of short stories.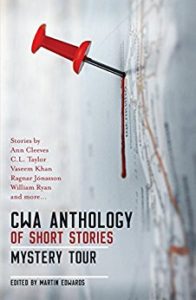 Crime spreads across the globe in this new collection of short stories from the Crime Writer's Association, as a conspiracy of prominent crime authors take you on a world mystery tour. Highlights of the trip include a treacherous cruise to French Polynesia, a horrifying trek in South Africa, a murderous train-ride across Ukraine and a vengeful killing in Mumbai. But back home in the UK, life isn't so easy either. Dead bodies turn up on the backstreets of Glasgow, crime writers turn words into deeds at literary events, and Lady Luck seems to guide the fate of a Twickenham hood. Showcasing the range, breadth and vitality of the contemporary crime-fiction genre, these twenty-eight chilling and unputdownable stories will take you on a trip you'll never forget.

Contributions from:
Ann Cleeves, C.L. Taylor, Susi Holliday, Martin Edwards, Anna Mazzola, Carol Anne Davis, Cath Staincliffe, Chris Simms, Christine Poulson, Ed James, Gordon Brown, J.M. Hewitt, Judith Cutler, Julia Crouch, Kate Ellis, Kate Rhodes, Martine Bailey, Michael Stanley, Maxim Jakubowski, Paul Charles, Paul Gitsham, Peter Lovesey, Ragnar Jónasson, Sarah Rayne, Shawn Reilly Simmons, Vaseem Khan, William Ryan and William Burton McCormick
The Returning Tide by Liz Fenwick – this was a freebie sent to me by New Books magazine for resubscribing which was a no brainer as I love that magazine.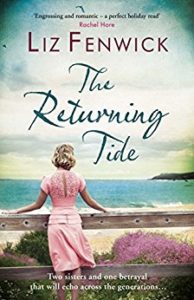 Two sisters and one betrayal that will carry across generations . . .

In wartime Cornwall, 1943, a story between two sisters begins – the story of Adele and Amelia, and the heart-breaking betrayal that will divide them forever. Decades later, the efforts of one reckless act still echo – but how long will it be until their past returns?

The Returning Tide will sweep you away to the beautiful Cornish coast, full of secrets and mystery, and will be loved by fans of Kate Morton and Rachel Hore.
The Wicked Cometh by Laura Carlin – this sounds fabulously dark and intriguing.
'We have no need to protect ourselves from the bad sort 
because we ARE the bad sort . . .'

'This newspaper has taken note that the past month has been remarkable for the prevalence of cases where men, women and children are declared missing. Scarcely a week passes without the occurrence of an incident of this type' – The Morning Herald, Tuesday 13 September 1831

Down the murky alleyways of London, acts of unspeakable wickedness are taking place and the city's vulnerable poor are disappearing from the streets. Out of these shadows comes Hester White, a bright young woman who is desperate to escape the slums by any means possible.

When Hester is thrust into the world of the aristocratic Brock family, she leaps at the chance to improve her station in life under the tutelage of the fiercely intelligent and mysterious Rebekah Brock.

But whispers from her past slowly begin to poison her new life and both she and Rebekah are lured into the most sinister of investigations, dragging them into the blackest heart of a city where something more depraved than either of them could ever imagine is lurking. . .
The Best Little Christmas Shop by Maxine Morrey – one word in this title meant I couldn't resist – shop! And a Christmas shop at that.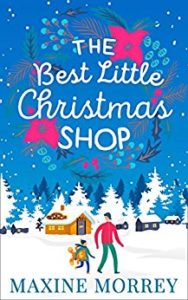 Come home for Christmas to the Best Little Christmas Shop – the snowiest, cosiest place you can be!

Home for the holidays…

Icing gingerbread men, arranging handmade toys and making up countless Christmas wreaths in her family's cosy little Christmas shop isn't usually globe-trotter Lexi's idea of fun. But it's all that's keeping her mind off romance. And, with a broken engagement under her belt, she's planning to stay well clear of that for the foreseeable future…until gorgeous single dad Cal Martin walks through the door!

Christmas takes on a whole new meaning as Lexi begins to see it through Cal's adorable five-year-old son's eyes. But, finding herself getting dangerously close to the mistletoe with Cal, Lexi knows she needs to back off. She's sworn off love, and little George needs a stability she can't provide. One day she'll decide whether to settle down again – just not yet.

But the best little Christmas shop in this sleepy, snow-covered village has another surprise in store…
Only Child by Rhiannon Navin – this one sounds like a hard-hitting read.
We went to school that Tuesday like normal.
Not all of us came home . . .

Huddled in a cloakroom with his classmates and teacher, six-year-old Zach can hear shots ringing through the corridors of his school. A gunman has entered the building and, in a matter of minutes, will have taken nineteen lives.

In the aftermath of the shooting, the close knit community and its families are devastated. Everyone deals with the tragedy differently. Zach's father absents himself; his mother pursues a quest for justice — while Zach retreats into his super-secret hideout and loses himself in a world of books and drawing.

Ultimately though, it is Zach who will show the adults in his life the way forward — as, sometimes, only a child can.
The Note by Zoë Folbigg – I love the sliding doors story behind this one.
Based on Zoë Folbigg's true story comes an unforgettable romance about how a little note can change everything…

One very ordinary day, Maya Flowers sees a new commuter board her train to London, and suddenly the day isn't ordinary at all. Maya knows immediately and irrevocably, that he is The One.

But the beautiful man on the train always has his head in a book and never seems to notice Maya sitting just down the carriage from him every day. Eventually, though, inspired by a very wise friend, Maya plucks up the courage to give the stranger a note asking him out for a drink. After all, what's the worst that can happen?

And so begins a story of sliding doors, missed opportunities and finding happiness where you least expect it.
Fangs & Feasts in Transratania: Geronimo Stilton – kindly sent to me by Sweet Cherry Publishing, this looks like a fun children's read.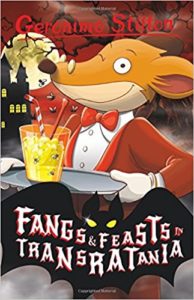 After a mysterious phone call from his cousin Trap, Geronimo sets off for Ratoff in spooky Transratania. The garlic-fuelled town holds many mysteries, not least the residents of Ratoff Castle. Maybe it's the way they sleep during the day, maybe it's the blood-red drink they have with every meal, but there's something not quite right about them …Who are these mice? And will Geronimo manage to survive the night? For children aged 5-7 and also available as part of a 10 book box set.
I hope you have had a good week. I'd love to hear any thoughts on any of these books.