#blogtour – The Cabinet of Linguistic Curiosities by Paul Anthony Jones @HaggardHawks @eandtbooks #extract
I have something a little different on my blog today. I'm taking part in the blog tour for The Cabinet of Linguistic Curiosities by Paul Anthony Jones. I'd like to take this opportunity to thank Alison Menzies and Elliott & Thompson for the copy of the book and the place on the tour.
So what's the book about? Let's open the doors and have a look.

A whole year's worth of linguistic curiosities, just waiting to be discovered.

Within these pages you might leap back in time, learn about linguistic trivia, follow a curious thread or wonder at the web of connections in the English language.

1 January quaaltagh(n.) the first person you meet on New Year's Day

1 April dorbellist(n.) a fool, a dull-witted dolt

12 May word-grubber(n.) someone who uses obscure or difficult words in everyday conversation

25 September theic(adj.) an excessive drinker of tea

24 December doniferous(adj.) carrying a gift

Paul Anthony Jones has unearthed a wealth of strange and forgotten words: illuminating some aspect of the day, or simply telling a cracking good yarn, each reveals a story. Written with a light touch that belies the depth of research it contains, this is both a fascinating compendium of etymology and a captivating historical miscellany. Dip into this beautiful book to be delighted and intrigued throughout the year.
---

For my stop on the tour I'm going to share with you the entry for today – 16th October.
idioticon (n.) a dictionary of a minority or geographically localised language

Derived from a Greek word, idios, meaning 'personal' or 'particular to oneself ', an idioticon is essentially a lexicon of idiomatic language – that is, a dictionary dedicated to the language of one particular region or group of people.

The lexicographer Noah Webster, author of the very first dictionary of exclusively American English, was born in Hartford, Connecticut, on 16 October 1758. It wasn't until he was seventy years old that Webster secured his place in linguistic history with the publication of his two-volume American Dictionary of the English Language in 1828. The dictionary had taken him twenty-two years to complete, but for good reason: in that time he had learned twenty-six different languages and assembled a collection of 70,000 words, more than any other dictionary in history. Indeed, around half of the words in Webster's American Dictionary had never been included in an English dictionary before – including some very specific Americanisms like squash, skunk, hickory, chowder and applesauce.

In writing his dictionary, Webster took the opportunity to implement a series of proposed spelling reforms, reordering words like centre and fibre to center and fiber, shortening words like colour and axe to color and ax, and simplifying words like plough and manoeuvre to plow and maneuver. Although not all of his reforms caught on (he also suggested dropping the E from nightmare, changing soup and steady to soop and steddy, and reworking daughter and machine as dawter and masheen), Webster's dictionary nevertheless helped to implement many of the spelling differences that still divide British and American English to this day.
What a fascinating entry. I've always found the differences in British and American English interesting. American English is much more intuitive of course, but I do like the idiosyncrasies (see what I did there?) of British English.
The Cabinet of Linguistic Curiosities is the perfect book to dip in and out of. You could read the corresponding entry for each day of the year. Here are a few of my particular favourites:
spike-bozzle (v.) to sabotage; to ruin or render ineffective
sheep's-eye (v.) to look amorously at someone
epistolophobia (n.) the fear of receiving correspondence
murdermonger (n.) a writer of murder stories
We're going to a tandle next month and iddy-umpty is very useful. I often have a bad case of singultus and I've been known to scurryfunge on occasion.
If you want to find out the full meanings then you'll have to read the book – available from 19th October in ebook and hardcover.
And if it sounds like your kind of book I'd love to know – drop me a letterling!
---
Take a look at the other blogs taking part in the tour and find out more.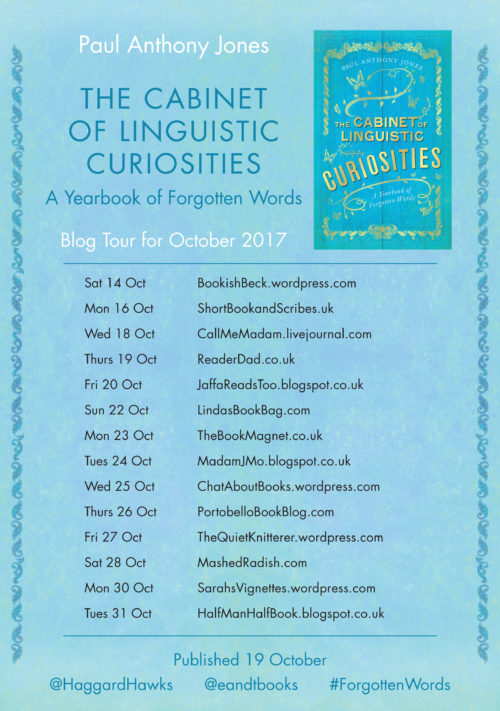 ---

PAUL ANTHONY JONES is something of a linguistic phenomenon.  He runs @HaggardHawks Twitter feed, blog and YouTube channel, revealing daily word facts to 39,000 engaged followers.  His books include Word Drops (2015) and The Accidental Dictionary (2016).  His etymological contributions appear regularly, from the Guardian to the Telegraph, Buzzfeed to Huffington Post and BBC Radio 4.
He lives in Newcastle Upon Tyne and is available for all types of word-nerdery.