#blogtour – The Little Village Christmas by Sue Moorcroft @SueMoorcroft @AvonBooksUK #extract
I'm so pleased today to be taking part in the blog tour for The Little Village Christmas by Sue Moorcroft. Sadly it's one of those pesky occasions when I haven't managed to get to the book yet but I can tell you it has a very lovely, sparkly cover. I can share an extract with you though, but first here's what the book is about.

The #1 bestseller returns with an irresistibly festive tale that you won't be able to put down!

Alexia Kennedy – interior decorator extraordinaire – has been tasked with giving the little village of Middledip the community café it's always dreamed of.

After months of fundraising, the villagers can't wait to see work get started – but disaster strikes when every last penny is stolen. With Middledip up in arms at how this could have happened, Alexia feels ready to admit defeat.

But help comes in an unlikely form when woodsman, Ben Hardaker and his rescue owl Barney, arrive on the scene. Another lost soul who's hit rock bottom, Ben and Alexia make an unlikely partnership.

However, they soon realise that a little sprinkling of Christmas magic might just help to bring this village – and their lives – together again…

Settle down with a mince pie and a glass of mulled wine as you devour this irresistibly festive Christmas tale. The perfect read for fans of Carole Matthews and Trisha Ashley.
---

Gabe appeared, carrying a box of empty cans. 'I'll take these to the recycling.' He glanced back in the direction of the building. 'It looks frighteningly bare in there. You are going to put my property back together again, aren't you?'

Alexia laughed. 'Just give me till Christmas. It's bare because Shane and Tim have been so conscientious about keeping period features safe.'

He beetled his brows at her in mock ferocity. 'The Saturday before Christmas. That's our grand opening.'

'The Saturday before,' she agreed with a grin. 'The tiles will have been relaid and the fireplaces restored. I'll make gorgeous Victoriana Christmas arrangements of holly and dried oranges to stand on the mantels. The Victorians loved Christmassy things made of lace and beads as well – it will look gorgeous!'

'I knew I could rely on you,' Gabe acknowledged, patting her shoulder. They said their goodnights and Gabe strode down the short drive.

Alexia glanced at Ben. His face, lit only by the lights of the kitchen windows, was shadowy. 'You can go with him. I'll finish up here.' To give Shane and Jodie time to fall asleep she'd gladly linger to explore the newly bared Angel, excited by the metamorphosis to come. Tomorrow she'd bring her camera and take work-in-progress pictures for her portfolio. It was an important project for her and it would be good to properly capture this swept-clean moment.

Ben wiped his hands. 'I don't live with Gabe. I'm staying in a cottage on the Carlysle estate.'

Alexia put on an interested expression, though she'd already known. Everyone in Middledip knew everything. 'A cottage on the home farm?' The Carlysle estate employed many of the villagers and a few of lived there.

'No, Woodward Cottage, near the lake. I was able to persuade Christopher Carlysle that it goes with my job. "The woodward" was the old name for someone who looked after woodlands.'

'I haven't been to Woodward Cottage since I was a teenager. It was so tumbledown it's hard to imagine it as habitable.'

'Apparently Mr Carlysle was able to get a grant to do it up. His idea was that the estate bailiff would move in but the bailiff decided to marry a woman with two teen­aged kids and there's only one bedroom. I've been there about six months.'

'Six months? I'm amazed Gabe hasn't introduced us. I haven't even seen you around the village, except for dangling in the trees out front.'

He rubbed his nose. 'I've kind of kept to myself.'

Alexia could somehow imagine solitude suiting Ben. He had the air of someone who could take people or leave them. 'I think you were the subject of conversation at the pub the other day. Do you have a pet owl? The guys decided you're a wizard.'

He grinned faintly. 'Barney's a rescue owl. Owls aren't pets. Gabe found him on the edge of the wood. He'd fallen from the nest and damaged his wing. He'll never fly or hunt, so I've given him a home. When not looking after Barney I'm a tree surgeon. I used to have my own business but I sold up when I moved here. The woods haven't been managed as well as they could have been so Gabe put in a word for me with Christopher Carlysle and now I'm employed by the Carlysle estate. I was in the mood to be left alone to do my thing and that's the kind of employee Mr Carlysle likes.' Ben rose and returned his chair to the skip.

Reading this as a full stop to the subject, Alexia rose too, collecting paper plates while Ben disconnected the barbecues from their gas bottles.
---
So if that has tempted you into reading The Little Village Christmas then it's available in ebook and paperback.
And do please check out the other blogs taking part in the tour.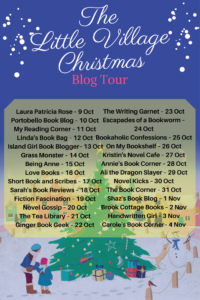 ---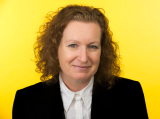 Award-winning author Sue Moorcroft writes contemporary women's fiction with occasionally unexpected themes. She's won a Readers' Best Romantic Read Award and been nominated for others, including a 'RoNA' (Romantic Novel Award). Sue's a Katie Fforde Bursary Award winner, a past vice chair of the Romantic Novelists' Association and editor of its two anthologies.
She also writes short stories, serials, articles, writing 'how to' and is a creative writing tutor.
The daughter of two soldiers, Sue was born in Germany and went on to spend much of her childhood in Malta and Cyprus. She likes reading, Zumba, FitStep, yoga, and watching Formula 1.