#blogtour – The Stories She Tells by LK Chapman @LK_Chapman @emmamitchellfpr
I'm delighted to be on the blog tour today for The Stories She Tells by LK Chapman. Thanks to Emma Mitchell for the tour spot. I have a fabulous guest post, not from the author but from one of the characters in the book, Sue Carrington. First of all, here's what the book is about.

When Michael decides to track down ex-girlfriend Rae who disappeared ten years ago while pregnant with his baby, he knows it could change his life forever. His search for her takes unexpected turns as he unearths multiple changes of identity and a childhood she tried to pretend never happened, but nothing could prepare him for what awaits when he finally finds her.

Appearing to be happily married with a brand-new baby daughter, Rae is cagey about what happened to Michael's child and starts to say alarming things- that her husband is trying to force her to give up her new baby for adoption, that he's attempting to undermine the bond between her and her child, and deliberately making her doubt her own sanity.

As Michael is drawn in deeper to her disturbing claims he begins to doubt the truth of what she is saying. But is she really making it all up, or is there a shocking and heartbreaking secret at the root of the stories she tells?
And now read on to hear from Sue.
---

The Stories She Tells character Sue Carrington talks about why supporting her local youth club is so important to her.
For most of my life I've been interested in helping and supporting young people. I have two sons – they are grown up now, in fact one now has a family of his own! Anyway, it was a few years after my first son was born that I became aware of my local youth club, who ran a baby and toddler group once a week at their centre. When I discovered the club was struggling financially my husband and I decided to help out with some fairly large donations, as we have always been very fortunate in our lives and wanted to give something back.
Over the years the centre has grown and managed to secure more funding from other organisations. Some fantastic and dedicated people work and volunteer there – they are the ones who hold everything together and make things happen! There are all sorts going on now for all different ages- music and art workshops, cooking and money management classes, groups for teenage parents and young carers, and opportunities to do exciting outdoor activities and sports.
I think the youth club is most important for children and young people who are struggling at school and don't feel engaged with it, or whose personal circumstances make learning and socialising hard for them. The young carers group helps young people who spend a lot of their time looking after family members who have a disability or illness, meaning less time for them to focus on themselves and their education. They can get some time out to go on trips away and take part in leisure activities, which I think is so valuable to help with feelings of isolation and stress. I think for anybody – and especially a young person experiencing difficulties at an already tricky time of life – trying out new things and finding positive activities to put energy into is so important. When I was growing up my sister had a really hard time – she struggled at school and in the end, she had a baby when she was still very young. I wonder what a difference it could have made to her if there had been somewhere she could go to meet other teenage mothers and get more support.
Young people are so important, but I think it can be hard sometimes for them to talk about their concerns and they can feel a bit cut off from the world. The youth club gives them a chance to connect with the community, to have a voice and meet other people, to gain life skills and have fun. I feel much better knowing that the youth club is there in my town, and I hope it is able to continue for many years to come.
---
How cool was it to hear from a character in the book? It really brings it to life.
If you like the sound of The Stories She Tells then you can buy it here.
And have a look at the others blogs taking part.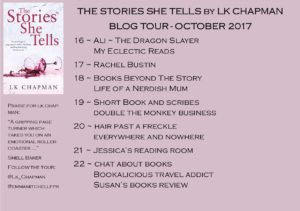 ---

Louise Katherine Chapman was born in Somerset, UK, in 1986. She studied psychology at the University of Southampton and has worked as a psychologist creating personality questionnaires for a consultancy company. She has also spent some time volunteering for mental health charity Mind.
Chapman loves to write because she loves learning about people and she loves stories. A major turning point in her life was the day she realised that no matter how strange, cruel or unfathomable the actions of other people can sometimes be, there is always a reason for it, some sequence of events to be unravelled. Since then she is always asking "why" and "what if" and she is fascinated by real life stories capturing the strength, peculiarities or extremes of human nature.
LK Chapman's first novel, Networked, was a sci-fi thriller but now she's turned her attention to writing psychological suspense. She lives in Hampshire with her husband and young family, and enjoys walks in the woods, video games, and spending time with family and friends.