#GuestPost – Behind the Book by BJ Knapp, Author of Beside the Music @bjknappwrites
I'm delighted today to welcome BJ Knapp to Short Book and Scribes today. She's the author of Beside the Music which has the intriguing tagline "Can a marriage survive 80s metal?". If you're suitably intrigued now then here's what the book is about:

Her marriage is missing something. Could a past-its-prime 80s metal band help love make a comeback?

Brenda's life is going nowhere fast. With her promotion at work out of reach and her husband putting off starting a family to run for office, she can't help but look back to her glory days. When nostalgia encourages her to write a fan letter to the lead singer of her favorite 80s band, she never expected an invitation to dinner and an unbelievable proposal…

Brenda's letter inspires lead singer Keith Kutter to record the band's comeback album in her living room, which she immediately agrees to. But her excitement fades when her house is overrun by prowling groupies, nonstop noise, and the band's insatiable impulse to party. When her status as a muse conflicts with her marriage, Brenda must make a choice: the life she might have lived or the life she tried to escape…

Beside the Music is an amped-up women's fiction novel that'll make you want to bang your head in a good way. If you like colorful characters, rock band exposes, and a lighthearted look at modern relationships, then you'll love BJ Knapp's tribute to old-school rock.

Buy Beside the Music to crank this fun-filled adventure all the way up to 11!
It's available now in ebook and paperback.
Now read on for a guest post from BJ looking behind the book.
---

Imagine what would happen if an 80s metal band like Def Leppard moved into your house while they record their comeback album.  What would that be like?  How would that affect your life?  This is what happened to Brenda and Tim Dunkirk in Beside the Music.  Brenda is a diehard fan of 80s sensation, Hydra.  She meets her teenage crush, bassist Keith Kutter, and is presented with the opportunity to host the band while they record their comeback album.  (And also?  How awesome is the name Keith Kutter?  I wanted to put an umlaut over the u in Kutter, but Microsoft Word wouldn't let me.)
The story is about how the band moving in has an impact on a marriage that is already troubled.  He's running for office; she's gunning for a promotion at work.  She wants to start a family; he says the time isn't right.  Brenda and Tim struggle with the thing that a lot of us struggle with in our own marriages—how do I be "me" and be half of an "us" at the same time?  Beside the Music asks the question, can you be one man's wife and another man's muse?
I get asked all the time how I came up with the idea for this story.  I even get asked if it happened to me, whether I had 80s rock stars living in my house—the answer to that question is no, usually followed with "I am not cool enough to have that happen." (The other thing I say is "Dude, you've been in my house, wouldn't you have noticed?" when a friend asks this question, which has happened.)  I came up with the idea for this book because I love 80s rock.  Approximately 75% of my brain is filled with 80s rock lyrics.  But not all those bands had the staying power that U2, for example, has had.  Then I imagined what must have been like for those bands that didn't have the staying power.  Of course there was the scene where they get called into a conference room at the record company, and they show up wearing their leather, their teased hair, and the eyeliner. Then they get told that their fifteen minutes of fame are over and that they spent all the money they amassed while they were famous.
Then the band has to make a decision.  Do they say "Well, it's been real" and then they go get a job in an office cubicle?  Or do they decide to try for the epic rock and roll comeback?  I had these scenes originally written for Beside the Music.  I envisioned a multi perspective where we'd have the band coming to grips with not being rich and famous anymore and has to figure out what to do next, while at the same time Brenda and Tim are going in different directions in their marriage.  But with a multi perspective I am basically writing two books in one, and to pull off a multi perspective I'd have to fully commit to trying to write both of these stories without making a ridiculously long book.  I didn't feel I could do it enough justice—especially after the point where the band moved in and they are living in the same story as Brenda and Tim?  What would I do?  Write the same scene from Brenda's perspective and then again from the band's perspective?  No, that's just weird.  So I had to scrap the scenes I wrote from the band's perspective.
But what was dropped onto the cutting room floor can then be repurposed into something else.  I am currently writing the prequel to Beside the Music called Before the Music.  This is from Keith Kutter's perspective in his rise to fame and all that happened in his life to make him the dark character he is in Beside the Music.  While Beside the Music is more quirky funny, Before the Music will be darker and more dramatic.
Thanks so much, BJ. It sounds like a really fun read. I have a soft spot for Def Leppard because they're from Sheffield, just like me 🙂
---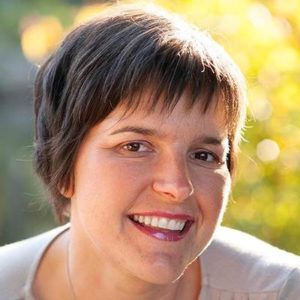 BJ Knapp, author of Beside the Music is a former college radio station DJ, BJ was inspired to write this book after asking herself "Whatever happened to all those 80's rock stars and one-hit wonders?"  Her writing career has contributions to RI Fit Magazine.  But her prouder achievements are her original angry chick rock songs, usually about bad boyfriends, accompanied by her out of tune guitar.  She blogs at http://bjknapp.com.
BJ resides in Rhode Island with her husband, Todd, and dogs Nemo and Potter.  She is an avid sailor and scuba diver, and also enjoys pretty much any outdoor activity such as hiking and geocaching as well.  She has also single-handedly orchestrated hundreds of failed attempts at cooking.