Seven Day Spotlight – w/e 01/10/17
Hi everybody, happy Sunday!
This week's theatre delight was Around the World in 80 Days. It's a madcap and funny production with 8 people playing over 125 parts using just a few props. Very clever and lots of fun.
I've had a busy week on my blog and so there are lots of posts to remind you of.
On Monday I posted a review of The Flower Shop on Foxley Street by Rachel Dove which is a lovely, sweet story. There's still a giveaway running on that post. I also posted a guest post from Phoebe Morgan as part of the blog tour for The Doll House. She talked about getting a literary agent.
On Tuesday I shared my review of the absolutely wonderful A Time To Change by Callie Langridge. If you like time slip and time travel then this is for you.
Wednesday's post was all about setting with a guest post from Nick Louth about The Body in the Marsh.
On Thursday I had two guest posts. One was answers to the questions that readers often ask by Charlie Gallagher, author of Missing. The other was a fascinating, if horrifying, true story from Katerina Diamond, author of The Angel.
Friday's post was an extract from Christmas on the Little Cornish Isles by Phillipa Ashley and this was my first Christmas themed blog post. I wonder how many more there will be…..
On Saturday I posted an extract from Bluebird, Bluebird by Attica Locke.
And finally, today I posted my review of The Sinking Chef by Sylvia Ashby which is a madcap, fun, foodie read. There's a giveaway on that post too.
---
It's been another fairly restrained week for me in terms of additions to my TBR pile. Here's what I got:
Wide Awake Asleep by Louise Wise – having just read a time slip/time travel book I was keen to read this one which sounds so intriguing.
Julie Compton's life should have come to an end in the car crash but instead she woke, unharmed, back in 1972 and primed to relive her life all over again.

One problem. She's in the body of a stranger.

Journey back to the 70s and 80s England where Julie's forced to jump through the eras, occupying and controlling the bodies of people she knew as a child. She must work out which destiny path was the wrong one, wondering all the while if her body, back in 2016, was dying in her car.

With each momentous change, her memories transform and she realises she's not only changing her future but the futures of those around her.

A paranormal, time-slip adventure set in the real town of Northampton in England.
The Seven Deaths of Evelyn Hardcastle by Stuart Turton – and this one sounds like another clever time travel sort of read.
'Somebody's going to be murdered at the ball tonight. It won't appear to be a murder and so the murderer won't be caught. Rectify that injustice and I'll show you the way out.'

It is meant to be a celebration but it ends in tragedy. As fireworks explode overhead, Evelyn Hardcastle, the young and beautiful daughter of the house, is killed.

But Evelyn will not die just once. Until Aiden – one of the guests summoned to Blackheath for the party – can solve her murder, the day will repeat itself, over and over again. Every time ending with the fateful pistol shot.

The only way to break this cycle is to identify the killer. But each time the day begins again, Aiden wakes in the body of a different guest. And someone is determined to prevent him ever escaping Blackheath…
Christmas at the Little Knitting Box by Helen Rolfe – sounds like a lovely festive read.
Christmas is coming and New York is in full swing for the snowy season. But at The Little Knitting Box in the West Village, things are about to change …

The Little Knitting Box has been in Cleo's family for nearly four decades, and since she arrived fresh off the plane from the Cotswolds four years ago, Cleo has been doing a stellar job of running the store. But instead of an early Christmas card in the mail this year, she gets a letter that tips her world on its axis.

Dylan has had a tumultuous few years. His marriage broke down, his mother passed away and he's been trying to pick up the pieces as a stay-at-home dad. All he wants this Christmas is to give his kids the home and stability they need. But when he meets Cleo at a party one night, he begins to see it's not always so easy to move on and pick up the pieces, especially when his ex seems determined to win him back.

When the snow starts to fall in New York City, both Cleo and Dylan realise life is rarely so black and white and both of them have choices to make. Will Dylan follow his heart or his head? And will Cleo ever allow herself to be a part of another family when her own fell apart at the seams?

Full of snow, love and the true meaning of Christmas, this novel will have you hooked until the final page.
The Future Can't Wait by Angelena Boden – I'm looking forward to reading this one for the blog tour next month.
The Future Can't Wait is a contemporary novel set in multi-cultural Birmingham against a background of growing radicalisation of young people sympathetic to Islamic State.

Kendra Blackmore's half-Iranian daughter Ariana (Rani) undergoes an identity crisis which results in her cutting off all contact with her family. Sick with worry and desperate to understand why her home-loving daughter would do this, Kendra becomes increasingly desperate for answers – and to bring her estranged daughter home…
The Toy Makers by Robert Dinsdale – this one sounds so magical.
Do you remember when you believed in magic?

The Emporium opens with the first frost of winter. It is the same every year. Across the city, when children wake to see ferns of white stretched across their windows, or walk to school to hear ice crackling underfoot, the whispers begin: the Emporium is open! 

It is 1917, and London has spent years in the shadow of the First World War. In the heart of Mayfair, though, there is a place of hope. A place where children's dreams can come true, where the impossible becomes possible – that place is Papa Jack's Toy Emporium.

For years Papa Jack has created and sold his famous magical toys: hobby horses, patchwork dogs and bears that seem alive, toy boxes bigger on the inside than out, 'instant trees' that sprout from boxes, tin soldiers that can fight battles on their own. Now his sons, Kaspar and Emil, are just old enough to join the family trade. Into this family comes a young Cathy Wray – homeless and vulnerable. The Emporium takes her in, makes her one of its own. But Cathy is about to discover that while all toy shops are places of wonder, only one is truly magical…
The Good Mother by Karen Osman – a psychological thriller that is only 98p at the moment.
How far would you go to protect your children?

A gripping psychological suspense, with a shocking twist that will leave you reeling…

Catherine is a good mother and a good wife. The family home is immaculate, her husband's supper is cooked on time, but when she starts writing to Michael, a prisoner convicted of murder, she finds herself obsessing about his crime and whether he can ever truly be forgiven…

Kate has no time for herself. Caught in the maelstrom of bringing up two young children with no money, and an out-of-work husband, she longs to escape the drudgery of being a wife and a mother. And she soon starts taking dangerous risks to feel alive…

Alison has flown the nest. But university life is not what she had hoped for, and she finds herself alone and unhappy. Until the day her professor takes a sudden interest in her. Then everything changes…

Three women – all with secrets. And as the days tick down to Michael's release, those secrets can no longer be ignored.
An Unremarkable Body by Elisa Lodato – this is one I keep seeing and it has such an interesting premise.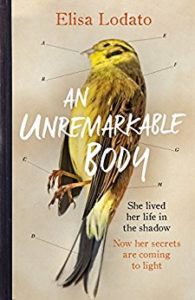 When Katharine is found dead at the foot of her stairs, it is the mystery of her life which consumes daughter, Laura.

The medical examiner's report, in which precious parts of Katharine's body are weighed and categorised, motivates Laura to write her own version of events. To bear witness to the unbearable blank space between each itemised entry.

What emerges is a picture of life lived in the shadows, as well as an attempt to discover how and why her mother died. To make sense of her own grief Laura must piece her mother's body back together and in doing so, she is forced to confront a woman silenced by her own mother and wronged by her husband. A woman who felt shackled by motherhood and unable to love freely.

With the heart of a memoir and the pace of a thriller, An Unremarkable Body reveals an overwhelming desire to make sense of an unfulfilled life. To protest that an unremarkable body does not mean an unremarkable life.
We'll Always Have Christmas by Jenny Hale – I've seen a few reviews of this one lately and the bakery element combined with Christmas meant I just had to get it.
Christmas has always been a special time for Noelle Parker. Winter evenings spent with family and friends, drinking hot chocolate and eating cookies at her family's cozy bakery have shaped her love for all things festive. But this year everything is changing…

The beloved bakery is facing closure and Noelle needs a miracle to save Christmas.

Determined to raise funds for the family business, Noelle sets about revamping the bakery while juggling a surprise new job, caring for the elderly and cantankerous William Harrington in his luxurious, sprawling mansion.

As Noelle melts the frostiness of the house with cake baking, snowball fights and glittering decorations, she helps William to reconnect with a romance that has spanned decades and unexpectedly finds herself falling for his grandson – the gorgeous but mysterious Alexander Harrington…

In the countdown to Christmas, can Noelle save the bakery, reunite a family and create some magical memories of her own along the way?
Bad Sister by Sam Carrington – courtesy of Sabah Khan from Avon Books.
Sisters. Allies. Liars.

The gripping new thriller from the bestselling author of Saving Sophie.

Stephanie is scared for her life. Her psychologist, Connie Summers, wants to help her face her fears, but Connie will never really understand her. Stephanie's past has been wiped away for her own protection. Stephanie isn't even her real name. But then, Dr Summers isn't Connie's real name either.

And that's not all the women have in common. As Stephanie opens up about her troubled relationship with her brother, Connie is forced to confront her own dark family secrets.

When a mutilated body is dumped in plain sight, it will have devastating consequences for both women.

Who is the victim?
Who is to blame?
Who is next?
So that's it, folks. I'd love to hear any comments or thoughts please.
Happy reading!