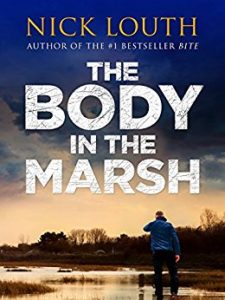 #blogtour – The Body in the Marsh by Nick Louth @NickLouthAuthor @Canelo_co #guestpost
I'm pleased to welcome Nick Louth to my blog today as part of the blog tour for The Body in the Marsh. I have a guest post to share with you but first of all, this is what the book is all about:
When a woman goes missing, it gets personal for DCI Craig Gillard. But he could never imagine what happens next.

Criminologist Martin Knight lives a gilded life and is a thorn in the side of the police. But then his wife Liz goes missing. There is no good explanation and no sign of Martin…

To make things worse, Liz is the ex-girlfriend of DCI Craig Gillard who is drawn into the investigation. Is it just a missing person or something worse? And what relevance do the events around the shocking Girl F case, so taken up by Knight, have to do with the present?

The truth is darker than you could ever have imagined.

Utterly gripping and full of twists, this is a compulsive thriller from master Nick Louth for fans of Robert Bryndza, Patricia Gibney and Carole Wyer.
If you like the sound of it then here are the links you need:
---
Who put the marsh in the Body in the Marsh?
Every thriller needs a setting which sticks in the mind, whether it's a snowscape for Scandinavian noir, or an idyllic English village for some Midsomer Murders. The Body in the Marsh is partly set in the shingle landscape of Dungeness in Kent, and the huge area of wetlands behind (I'm not giving too much away here, don't worry.) It's a unique part of the world, a national nature reserve with its own collections of plants and bird life, and has an atmosphere all of its own, especially out of the tourist season.
But it's as a human settlement that Dungeness looks so odd. We're always used to seeing land parcelled off and marked for ownership, by walls, fences, hedges and other boundaries. But there are almost none here, partly because the nature of the shingle makes it very hard to construct fences. The nearest to an ordered layout is the track of the Romney Hythe & Dymchurch Model Railway which passes through the settlement and executes a loop under the shadow of the power station. The wooden houses, rarely more than a single story, just seem to perch on the shingle as if they've drifted in on the last tide. The whole of the settlement is owned by EDF, the French electricity company which runs Dungeness B nuclear power station.
Setting part of the thriller here meant doing a fair amount of research. I based the Knights' holiday home on a particular former fisherman's cottage that I saw there, though its interior layout is my own design. I even had to look up some of the bus timetables for the area. It's a part of the creative process which I thoroughly enjoy.
Thank you, Nick. It certainly sounds like a fascinating setting.
---
Please do follow the rest of the tour.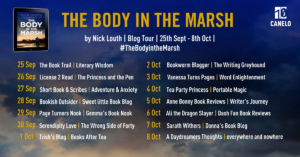 ---

Nick Louth is a best-selling thriller writer, award-winning financial journalist and an investment commentator. A 1979 graduate of the London School of Economics, he went on to become a Reuters foreign correspondent in 1987. It was an experience at a medical conference in Amsterdam in 1992, while working for Reuters, that gave him the inspiration for Bite, which was self-published in 2007 and went on to become the UK No. 1 Kindle best-seller for several weeks in 2014 before being snapped up by Sphere. It has sold a third of a million copies, and been translated into six languages.
The terrorism thriller Heartbreaker was published in June 2014 and received critical acclaim from Amazon readers, with a 4.6 out of 5 stars on over 100 reviews. Mirror Mirror, subtitled  'When evil and beauty collide' was published in June 2016. The Body in the Marsh, a crime thriller, is being published by Canelo in September 2017.
Freelance since 1998, he has been a regular contributor to the Financial Times, Investors Chronicle and Money Observer, and has published seven other books. Nick Louth is married and lives in Lincolnshire.