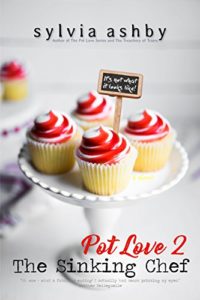 #blogtour – The Sinking Chef by Sylvia Ashby @bysylvia_a @NeverlandBT #bookreview #giveaway
I'm thrilled to be closing the blog tour today for The Sinking Chef by Sylvia Ashby. I have my review for you and it's safe to say I loved the book. It's the second in the Pot Love series and unfortunately, despite my best intentions, I didn't get round to reading the first book before this one (this seems to be a common refrain on my blog at the moment). But it doesn't matter, The Sinking Chef works as a standalone. So what's it about?

Bridget Jones meets Burnt in this delightful comedy novel about a talented YouTuber and the guy who keeps trying to bring her down. Although part of a series this book is completely standalone, as are all other novels in the Pot Love Series.

In Belsize Park, London, Ashley works hard on her daily YouTube channel "The Sinking Chef". It's filmed right in her kitchen, so she doesn't go out much.

James is a gruff British TV director, turned publisher, who Ashley had a crush on ages ago. She has moved on but when he calls with an offer to take her out to lunch she doesn't say no. It's only lunch – what can go wrong?

The day Ashley meets James for lunch and he promises her a book deal, she makes the worse decision in her life – to hide the book deal from her boyfriend, Giacomo. As things progress Ashley's secrets mount up and other things in her life unravel. Is there a connection? And how is she going to get out of this without losing Giacomo and the life she loves?

Set in the heart of fast-paced London, The Sinking Chef is a charming story of love, recipes, secrets, and the determination to do thinks right by those you love most in your life.
---
The Sinking Chef is right up my street. First of all, a word for that scrumptious cover. I'm a cupcake fan and they look divine. I love the words on the little sign: "it's not what it looks like". That just about sums up Ashley Burke, the protagonist in this book.
Despite not having read Pot Love, the first in the series, I didn't feel I had missed anything (I will go back and read it when I have time). The Sinking Chef works absolutely fine as a standalone book as everything that happened before is alluded to in just enough detail.
Ashley has a successful You Tube cookery channel and life is going great until James gets in touch out of the blue. He's the guy who led to her getting fired from her last job but when he suggests she write a cook book and his company will publish it she can't turn it down. But why on earth doesn't she tell her boyfriend? This is the premise behind this madcap, fun and endearing novel but there is more to it as things start to go wrong in Ashley and Giacomo's lives.
At times I wanted to reach into the book, grab Ashley and shake her for being so incredibly dim. But I guess all the fun of watching Ashley flutter and flail in every situation would be lost then. Despite this, I thought she was a fabulous character. She's one of those types who always seems to get herself in a pickle and has to find her way out of it.
And what can I say about Giacomo, her gorgeous Italian boyfriend? He's the strong and silent type, a chef and Ashley's mad about him (who wouldn't be?). The supporting characters are so fantastic too, with special mention for Paige and Jun, whom Ashley meets when she is invited to pitch to have her cookbook published. What a pair they are!
Every so often we are treated to a recipe for a dish that is then referred to in the story. I love little touches like this and the recipes are written in such a way that they are easy to follow if you fancy having a go at them yourself.
The Sinking Chef made me snigger many times. The author has a slightly sardonic writing style that was right up my alley. This is a fairly light read but it's not a fluffy one. I think there are shades of the Sophie Kinsella about it. I loved the ending and I'm very pleased to hear that book 3 is coming soon. All in all it was such a pleasure to spend time reading this book. Now, who's for a cupcake?
---
With thanks to the author and Neverland Blog Tours for the review copy and the place on the blog tour. If you like the sound of The Sinking Chef then here are the buy links you need.
The book is exclusive for Amazon & in Kindle Unlimited
---

Up for grabs are:
1st prize: £25 Amazon voucher and an eCopy of the book
2nd and 3rd prize: ecopy of the book
Open internationally.
---
Lots of other blogs have taken part in the tour so why not go and check them out?
---

Sylvia Ashby is fond of the written word: books, blog posts, recipes, even an explanation to the HM Revenue & Customs as to why she thinks skirts should be exempt from VAT – she's written it all!
She likes travelling and has lived all over Europe – London, Brussels, Amsterdam and Sofia, Bulgaria. Currently, she lives in Leuven, Belgium with her husband, daughter, son and a sparrow called Jack, who comes occasionally to peck the seeds she leaves for him on top of the garden shed.