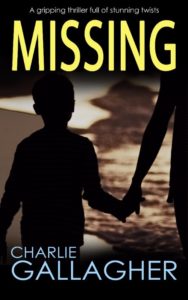 #blogtour – Missing by Charlie Gallagher @Gloriouscharlie @Books_n_all #guestpost
I'm so pleased to be on the blog tour for Missing by Charlie Gallagher today. I have a guest post for you with answers to the questions that readers often ask. First of all, here's what the book is about:

Do you love thrillers with heart-pounding twists and turns? Don't miss best-selling author Charlie Gallagher's standalone novel which will you have gripped from first page to last. WHAT WOULDN'T YOU DO TO GET YOUR FAMILY BACK? In the busy town centre of Canterbury, a woman and a young boy are snatched from the street.A few miles away, a man stands on the edge of a viaduct ready to throw himself off. Sergeant Shaun Carter, a police negotiator, is trying to talk him down, but he dare not get too close. This man is the only person who has the answers needed to find the missing. These two events will have consequences for everyone they touch. And Shaun Carter is forced to make heartbreaking choices as he faces a vicious criminal network. As the situation spirals out of control, Shaun asks for help from his maverick police colleague George Elms. This pulsating crime thriller takes you on an adrenaline-packed ride with a stunning end.
---

Questions that readers often ask
What is your writing routine?
If only I could get a routine! I don't have one, I simply can't. I work a 40 hour week of earlies, lates and nights, I have two very young girls, the youngest of which is not yet school age, a wife and a spaniel. All of which demand some of my time. The writing has to fill in the gaps. I know Joy Ellis appreciated my admission that sometimes I will write on the toilet. It's literally the only place I get left alone!
What is the best thing about being a writer?
Creating something from nothing. The worst part is always when you sit down and stare  at the blinking cursor, with Chapter One mocking you just above it and thinking how the hell do you start one of these. But the satisfaction of creating something living and breathing that goes out to a readership is far and away the best thing. I love getting the feedback, I love getting people speak to me direct and telling me they love George Elms or they hope Helen Webb gets what's coming. I want people to feel something when they read my books. There's nothing better than being able to make people feel something just from a row of words.
Can you remember the first story that you wrote?
Yes. As a kid I used to read these adventure books where you got to the end of a chapter and you, as the reader, chose what your hero did. If you want Geoff and Luke to go knock at the door, go to page 56, if you want Geoff and Luke to run away scared, go to page 63. That sort of thing. I tried to make one of these. I very quickly realised that this was massively complicated and I was 7 years old. I remember bringing it to a swift end by drawing an explosion.
Joffe Books have assured me it won't be considered without a quite comprehensive re-write. Spoilsports.
Has your attitude to writing changed since teaming up with a publisher?
It changes the dynamics; I think it has to. I write stories because I love it, that hasn't changed, but I write a lot more than I used to. I feel the pressure of an audience, people will write to me and ask for the next book. This is great, obviously, but it adds to the pressure of producing something that will satisfy those who will read it. What you realise when your readership increases is that George Elms is no longer my character, he belongs to everyone else. Those that have read the Langthorne Series have expectations around him, they like him for his character traits and who he is. You need to respect that!
Are there any books/genres you'd love to write, but dare not?
I love comedy. I've done bits in this genre, a script, some material for a mate who does a bit of stand-up. Comedy and drama for me are very similar. A good dramatic moment is like a good joke, you have to have an effective build-up, a well timed reveal (see punchline) and it should shock the reader into a reaction (see laughter). I am currently squirreling away fictional diary entries from a police officer with a comic slant. I think that one might have to wait until it's no longer my career however!
Fabulous, I loved those answers. Thanks, Charlie! 
---

 Charlie Gallagher has been a serving UK police officer for ten years. During that time he has had many roles, starting as a front-line response officer, then a member of a specialist tactical team and is currently a detective investigating serious offences.
ALSO BY CHARLIE GALLAGHER
LANGTHORNE POLICE SERIES
Book 1: BODILY HARM
Book 2: PANIC BUTTON
Book 3: BLOOD MONEY
Book 4: END GAME