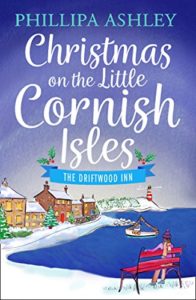 #blogtour – Christmas on the Little Cornish Isles by Phillipa Ashley @PhillipaAshley @AvonBooksUK #extract
I'm delighted to be posting my first Christmas blog tour post today. I have a fabulous extract from Christmas on the Little Cornish Isles by Phillipa Ashley today but first here's what the book is all about:

For Maisie Samson, this Christmas is going to be different. After years working in a busy Cornish pub, she's moved back to quiet Gull Island where she grew up, to help her parents run the family inn.

But even though she can't wait for the festive season to arrive, Maisie cannot shake the memories of what happened to her last Christmas – the day she lost everything. She keeps herself busy, setting up the tree and hanging mistletoe ready for her first proper family Christmas in years.

Until a new arrival to the island walks into her bar and changes everything. Australian backpacker Patrick is looking for a job for the low season. When Maisie takes him on, she doesn't expect him to last the week, but to her surprise Patrick is the perfect fit. Charming and handsome, could Maisie allow herself to hope that she and Patrick could be more than just colleagues?

As Christmas approaches, Maisie finds herself dreading the spring, when Patrick is due to leave. With the help of a little Christmas magic, can Maisie get the happily ever after she always dreamed of?

Christmas on the Little Cornish Isles is the first in a stunning new series from Phillipa Ashley. The perfect book to snuggle up with this Christmas.
---

Extract Eight from Chapter Four, pp 26-27
Patrick was cold and stiff. He'd never felt so lost in his life. He felt as if he'd been cut adrift in the ocean. Was this loneliness? Or just lack of sleep and perhaps, his rational mind whispered, delayed grief?
He'd loved Greg, though the two men had never admitted it to each other. You just didn't say those things, but he had loved him, as a father or an older brother, neither of which he'd ever really known. He even missed Tania, even though she'd left him for her hairdresser shortly after he'd heard that Greg's illness was terminal. She'd be out to dinner on a yacht in Darling Harbour now, or maybe sipping champagne in some cocktail bar.
Good luck to her. He was no longer bitter.
The zip of the tent flap rasped. Sam's head poked through the flap.
'We're going. Probably won't see you again so just wanted to say nice to meet you and have a good journey.'
Patrick propped himself up on his elbows, hoping to Christ that his eyes weren't wet. 'Have a good trip. Watch out for Great Whites,' he said.
Sam grinned awkwardly. 'We will. Er . . . we wanted you to have this as a thank-you for cooking the breakfast. We know you're on the wagon and this was all we could find that was alcohol-free but . . . enjoy, old man.'
Patrick sat up. Sam thrust a bottle of Vimto at him. It was almost full.
'Thanks.'
'Pleasure. Don't drink it all at once.' Sam saluted and was gone.
A few minutes later, Patrick crawled out of his tent. The campsite was empty of humans. Only the tents stood, gently flapping in the breeze. On three sides, the sea spread out like an inky cloth, speckled with whitecaps. People crawled over the tower of an old fort that looked like it was part of Gull but was actually on the coast of the island opposite. Crows cawed and small birds twittered and darted in and out of the bushes. It was autumn here – spring was on its way in Melbourne. The weather would probably be even worse than here, but on sunny days the skies would be a full-on honest sapphire, not this half-hearted couldn't-make-its-mind-up blue.
He took a deep breath and started to pack up his tent.
---
If that's tempted you then Christmas on the Little Cornish Isles is available now in ebook and from 16th November in paperback.
And don't forget to follow the rest of the blog tour.
---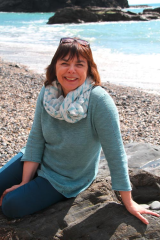 Phillipa Ashley writes warm, funny romantic fiction for a variety of world-famous international publishers.
After studying English at Oxford, she worked as a copywriter and journalist. Her first novel, Decent Exposure, won the RNA New Writers Award and was made into a TV movie called 12 Men of Christmas starring Kristin Chenoweth and Josh Hopkins. As Pippa Croft, she also wrote the Oxford Blue series – The First Time We Met, The Second Time I Saw You and Third Time Lucky.
Phillipa lives in a Staffordshire village and has an engineer husband and scientist daughter who indulge her arty whims. She runs a holiday-let business in the Lake District, but a big part of her heart belongs to Cornwall. She visits the county several times a year for 'research purposes', an arduous task that involves sampling cream teas, swimming in wild Cornish coves and following actors around film shoots in a camper van. Her hobbies include watching Poldark, Earl Grey tea, Prosecco-tasting and falling off surf boards in front of RNLI lifeguards.