Seven Day Spotlight – w/e 29/07/18
Welcome to this week's Seven Day Spotlight post. I could share another sweating GIF with you – after all, we had Furnace Friday to contend with this week. But thankfully the weekend has brought rain and wind and a break to those scorching temperatures.
I'm reading some amazing books at the moment, some absolute corkers. For some crazy reason I booked in five review blog tours for the first week of the summer holidays. I might be on my knees now but I made it!
Here's what I posted this week on my blog:
First up, on Monday I shared a Q&A with Sarah Kay Moll, author of Dark City.
Tuesday's post was a review of Between the Lies by Michelle Adams.
On Wednesday, I shared an extract from The Lost Sister by Tracy Buchanan and also my review of Watching You by Lisa Jewell.
Thursday's post was my review of The Last Thing She Told Me by Linda Green.
And Friday saw me posting my review of One Little Lie by Sam Carrington.
On Saturday, I reviewed Do No Harm by Lucy V Hay.
And finally, on Sunday, I reviewed Fatal Inheritance by Rachel Rhys.
Phew! Six reviews in one week has to be a record for me!
---
So, it's been a bit of a bumper week for additions to my TBR pile. Here's what I added: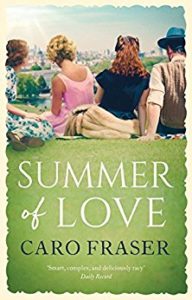 The dark days of the war are over, but the family secrets they held are only just dawning.

In the hot summer of 1949, a group of family and friends gather at Harry Denholm's country house in Kent. Meg and Dan Ranscombe, emerging from a scandal of their own making; Dan's godmother, Sonia; and her two young girls, Laura and Avril, only one of whom is Sonia's biological daughter. Amongst the heat, memories, and infatuations, a secret is revealed to Meg's son, Max, and soon a terrible tragedy unfolds that will have consequences for them all.

Afterwards, Avril, Laura and Max must come of age in a society still reeling from the war, haunted by the choices of that fateful summer. Cold, entitled Avril will go to any lengths to take what is hers. Beautiful, naive Laura finds refuge and love in the London jazz clubs, but Max, with wealth and unrequited love, has the capacity to undo it all.
The Song Collector by Natasha Solomons
Fox, as the celebrated composer Harry Fox-Talbot is known, wants to be left in peace. His beloved wife has died, he's unable to write a note of music, and no, he does not want to take up some blasted hobby.

Then one day he discovers that his troublesome four-year-old grandson is a piano prodigy. The music returns and Fox is compelled to re-engage with life – and, ultimately, to confront an old family rift.

Decades earlier, Fox and his brothers return to Hartgrove Hall after the war, determined to save their once grand home from ruin. But on the last night of 1946, the arrival of beautiful wartime singer Edie Rose tangles the threads of love and duty, which leads to a shattering betrayal.

With poignancy, lyricism and humour, Natasha Solomons tells a captivating tale of passion and music, of roots, ancient songs and nostalgia for the old ways, of the ties that bind us to family and home and the ones we are prepared to sever. Here is the story of a man who discovers joy and creative renewal in the aftermath of grief and learns that it is never too late to seek forgiveness.
The Binding by Bridget Collins
Imagine you could erase your grief.
Imagine you could forget your pain.
Imagine you could hide a secret.
Forever.

Emmett Farmer is working in the fields when a letter arrives summoning him to begin an apprenticeship. He will work for a Bookbinder, a vocation that arouses fear, superstition and prejudice – but one neither he nor his parents can afford to refuse.

He will learn to hand-craft beautiful volumes, and within each he will capture something unique and extraordinary: a memory. If there's something you want to forget, he can help. If there's something you need to erase, he can assist. Your past will be stored safely in a book and you will never remember your secret, however terrible.

In a vault under his mentor's workshop, row upon row of books – and memories – are meticulously stored and recorded.

Then one day Emmett makes an astonishing discovery: one of them has his name on it.

THE BINDING is an unforgettable, magical novel: a boundary-defying love story and a unique literary event.
The Necessary Marriage by Elisa Lodato
Jane is sixteen when she falls in love with her teacher. Leonard Campbell is everything she has ever wanted: handsome, intelligent and attentive. He He singles Jane out, giving her novels to read and discuss over long walks and cosy dinners. It is only once married, tied down and tied down with two children in 1980s suburbia that Jane realises she might have settled too early, losing much of herself in the process.

Then Marion and Andrew, a couple whose passion frequently tips into violence, move in next door, forcing Jane to confront feelings she didn't know she could have. And when Marion abandons her family, Jane steps in to help with the couple's two boys, setting in motion a series of events, all of which expose the push and pull within every relationship. As desire and loyalty are blurred, it becomes clear that nobody can escape the devastating impact of a family falling apart.

The Necessary Marriage is an intense, intimate portrait of how couples come together and grow apart, and the passions that drive us to do crazy things.
The Hunting Party by Lucy Foley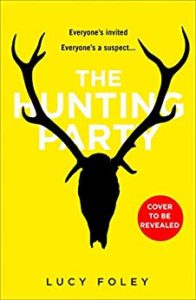 Dripping with atmosphere, The Hunting Party is Lucy Foley's hotly-anticipated crime debut. A razor-sharp and chilling Highland murder mystery . . .

Everyone's invited. Everyone's a suspect.

Nine friends ring in the New Year in the remote Scottish Highlands.

As the curtain falls on another year, the celebrations begin.

The next 48 hours see the friends catching up, reminiscing over past stories, scratching old wounds . . . And guarding friendship-destroying secrets.

The clock has barely struck 12 when a broken body is found in the snow. Not an accident – a murder among friends.

When a thick blizzard descends, the group are trapped.

No-one can get in. And no-one can get out.

Not even the killer.
Daisy Belle: Swimming Champion of the World by Caitlin Davies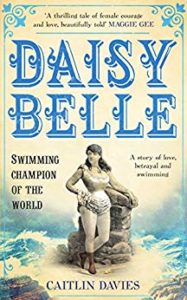 Summer 1867: four-year-old Daisy Belle is about to make her debut at the Lambeth Baths in London. Her father, swimming professor Jeffery Belle, is introducing his Family of Frogs – and Daisy is the star attraction. By the end of that day, she has only one ambition in life: she will be the greatest female swimmer in the world.

She will race down the Thames, float in a whale tank, and challenge a man to a 70-foot high dive. And then she will set sail for America to swim across New York Harbour.

But Victorian women weren't supposed to swim, and Daisy Belle will have to fight every stroke of the way if she wants her dreams to come true.

Inspired by the careers of Victorian champions Agnes Beckwith and Annie Luker, Daisy Belle is a story of courage and survival and a tribute to the swimmers of yesteryear.
The Other Couple by Sarah J Naughton
It was meant to be the perfect honeymoon.

A five-star resort in paradise.

White sands, a private villa and world-class cuisine.

A chance for newlyweds Asha and Ollie Graveney to recover from a recent tragedy, and enjoy the holiday of their dreams.

Except someone has other plans…

And paradise has turned into a nightmare.
The Truths and Triumphs of Grace Atherton by Anstey Harris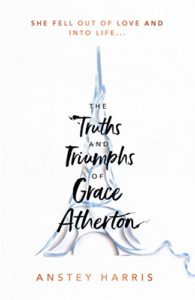 Between the simple melody of running her violin shop and the full-blown orchestra of her romantic interludes in Paris with David, her devoted partner of eight years, Grace Atherton has always set her life to music.

Her world revolves entirely around David, for Grace's own secrets have kept everyone else at bay. Until, suddenly and shockingly, one act tips Grace's life upside down, and the music seems to stop.

It takes a vivacious old man and a straight-talking teenager to kickstart a new chapter for Grace. In the process, she learns that she is not as alone in the world as she had once thought, that no mistake is insurmountable, and that the quiet moments in life can be something to shout about …

For fans of Eleanor Oliphant is Completely Fine and The Keeper of Lost Things, The Truths and Triumphs of Grace Atherton is the story of a woman who has her heart broken, but then puts it back together again in the most uplifting and exquisite way.
The Amber Maze by Christopher Bowden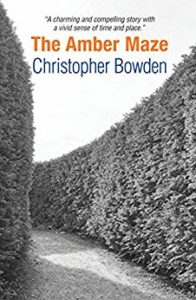 While staying in a Dorset cottage, Hugh Mullion finds a mysterious key down the side of an antique chair. No one can say how long the key has been there or what it opens.
Hugh's search for answers will unlock the secrets of the troubled life of a talented artist, destined to be hailed a neglected genius fifty years too late. And no secret is darker than that of The Amber Maze, from whose malign influence he never escaped.

The trail takes Hugh from Edwardian Oxfordshire to 1960s Camden Town, where the ghosts of the past are finally laid to rest.

Delicately crafted noir fiction at its best.
Baxter's Requiem by Matthew Crow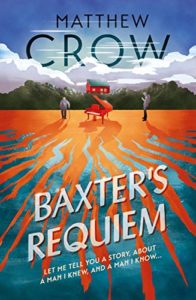 Let me tell you a story, about a man I knew, and a man I know…

Mr Baxter is ninety-four years old when he falls down his staircase and grudgingly finds himself resident at Melrose Gardens Retirement Home.

Baxter is many things – raconteur, retired music teacher, rabble-rouser, bon viveur – but 'good patient' he is not. He had every intention of living his twilight years with wine, music and revelry; not tea, telly and Tramadol. Indeed, Melrose Gardens is his worst nightmare – until he meets Gregory.

At only nineteen years of age, Greg has suffered a loss so heavy that he is in danger of giving up on life before he even gets going.

Determined to save the boy, Baxter decides to enlist his help on a mission to pay tribute to his long-lost love, Thomas: the man with whom he found true happiness; the man he waved off to fight in a senseless war; the man who never returned. The best man he ever knew.

With Gregory in tow Baxter sets out on a spirited escape from Melrose, bound for the war graves of Northern France. As Baxter shares his memories, the boy starts to see that life need not be a matter of mere endurance; that the world is huge and beautiful; that kindness is strength; and that the only way to honour the dead, is to live.

Baxter's Requiem is a glorious celebration of life, love and seizing every last second we have while we're here.
All Among the Barley by Melissa Harrison
The autumn of 1933 is the most beautiful Edie Mather can remember, although the Great War still casts its shadow over the fields and villages around her beloved home, Wych Farm.

Constance FitzAllen arrives from London to document fading rural traditions and beliefs. For Edie, who must soon face the unsettling pressures of adulthood, the glamorous and worldly outsider appears to be a godsend. But there is more to the older woman than meets the eye.

As harvest time approaches and pressures mount on the entire community, Edie must find a way to trust her instincts and save herself from disaster.
A surprise inheritance reveals the hidden lives of two sisters, torn apart by tragedy…

Following her grandmother's death, Rose Martineau inherits The Egg, an extraordinary house nestling in the Sussex countryside. She discovers that the mysterious house originally belonged to her grandmother's younger sister, Sadie, who Rose never knew existed. In her search to uncover why the sisters grew apart, Rose is drawn back into the glamorous and decadent world of the 1930s.

Meanwhile, Rose's own life as a dutiful wife and mother is turned upside down by a sordid scandal that threatens to destroy her marriage. It is only once she has unravelled the secrets of Sadie's past that she is able to look to her own future…

An epic tale of secrets, scandal, jealousy and passion spanning the twentieth century.
The Night She Died by Jenny Blackhurst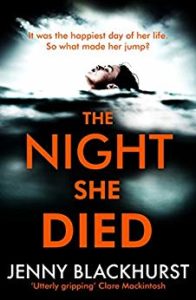 On her own wedding night, beautiful and complicated Evie White leaps off a cliff to her death.

What drove her to commit this terrible act? It's left to her best friend and her husband to unravel the sinister mystery.

Following a twisted trail of clues leading to Evie's darkest secrets, they begin to realize they never knew the real Evie at all…
There are some really amazing sounding books here, aren't there?