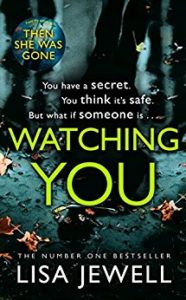 ShortBookandScribes #BookReview – Watching You by Lisa Jewell
I'm reviewing Watching You by the fabulous Lisa Jewell today. She's an author who never lets me down. My thanks to the publishers via Pigeonhole for allowing me to read this book.

You're back home after four years working abroad, new husband in tow.

You're keen to find a place of your own. But for now you're crashing in your big brother's spare room.

That's when you meet the man next door.

He's the head teacher at the local school. Twice your age. Extraordinarily attractive. You find yourself watching him.

All the time.

But you never dreamed that your innocent crush might become a deadly obsession.

Or that someone is watching you.
---
Oh, how much do I love a Lisa Jewell novel? Lots and lots is the answer. She's never let me down, right from the days of Ralph's Party. Her direction has changed a little with her last few books (she's gone over to the dark side!) but what hasn't changed is her fantastic writing and her ability to craft a brilliant tale.
Watching You is about just that, people watching people. It's set in a relatively small community and the geography is such that residents can quite easily be spied on or observed. Melville Heights is elevated and allows the opportunity to look down on Lower Melville and see all the goings on. This is quite clever too as the residents of Melville Heights are quite well off, the houses are big and attractive, whereas those in Lower Melville are smaller, more average. There are opportunities for hidden surveillance. Jewell sets the scene so well and easily plants the idea of being watched in the head of the reader.
A lot of the story revolves around Tom Fitzwilliam, a charismatic and attractive head teacher. He's one of those men who just seems to bewitch those around him, usually women. He's certainly had an effect on Joey Mullen, who has just returned from Ibiza and is crashing at her brother's house. She becomes quite obsessed by Tom. But Jenna Tripp's mum is also obsessed with him and the idea of gang stalking, and Jenna's best friend, Bess, goes into a swoon every time Tom so much as looks at her. Tom's own teenage son keeps pictures of residents that he takes from his bedroom window. The whole story revolves around being watched.
We know straightaway that something has happened to get the police involved – a body has been found. Who it is and what exactly has happened is kept from us right until the end of the book, although I did have more than an inkling of what had gone on. But I enjoyed every bit of the waiting to find out whether I was right or not.
The characterisations are the biggest strength of Watching You, I think. There are quite a lot of characters to keep track of but all are so well drawn that each had their very individual identity and so it made it very easy to keep up.
And then there's the deft plotting, the way that Jewell brings together this intense and gripping story, pulling all the individual strands together to make an absolutely fascinating whole.
This is one seriously good book. I loved the stories of all the characters, reading about their lives, their problems, their issues. It's a perfectly constructed story of deceit, obsession, voyeurism. I thought it was fabulous.
---

Lisa Jewell had always planned to write her first book when she was fifty. In fact she wrote it when she was twenty-seven and had just been made redundant from her job as a secretary. Inspired by Nick Hornby's High Fidelity, a book about young people just like her who lived in London, she wrote the first three chapters of what was to become her first novel, Ralph's Party. It went on to become the bestselling debut novel of 1998.
Fifteen bestselling novels later, she lives in London with her husband and their two daughters. Lisa writes every day in a local café where she can drink coffee, people-watch and, without access to the internet, actually get some work done . . .