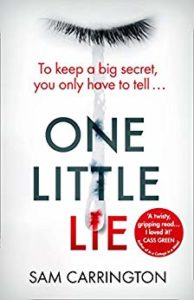 ShortBookandScribes #BookReview – One Little Lie by Sam Carrington @sam_carrington1 @AvonBooksUK #BlogTour
Welcome to my stop on the blog tour for One Little Lie by Sam Carrington. I've been wanting to read one of this author's books for a while so I was really pleased to be able to read and review this one. My thanks to Sabah Khan from Avon Books for the place on the tour and the review copy via Netgalley.
'My name is Alice. And my son is a murderer.'

Deborah's son was killed four years ago. Alice's son is in prison for committing that crime.

Deborah would give anything to have her boy back, and Alice would do anything to right her son's wrongs.

Driven by guilt and the need for redemption, Alice has started a support group for parents with troubled children. But as the network begins to grow, she soon finds out just how easy it is for one little lie to spiral out of control…

They call it mother's intuition, but can you ever really know your own child?

Deeply psychological and suspenseful, One Little Lie is a twisty and unnerving story about the price of motherhood and the unthinkable things we do to protect our children.Perfect for fans of Cara Hunter and Laura Marshall.
---

One Little Lie is my first Sam Carrington read and so I didn't realise that Connie Summers, one of the protagonists in this book, had first appeared in Bad Sister, and DI Lindsay Wade has been in all three of this author's books. It didn't matter at all, as One Little Lie is easily read as a standalone read, although lots of things are alluded to so it would be nice to go back and find out more by reading the previous book(s).
So, we have Alice Mann, Deborah Taylor and Connie Summers. Alice's son, Kyle, killed Deborah's son, Sean, in a devastating stabbing. Alice is seeing Connie, who is a psychologist, and she's also set up a support group for people in a similar situation. She feels immense guilt for what her son did and wants to try and right the wrong.
I would advise anyone reading One Little Lie to take their time over part one of the book as there is a revelation which turned the story on its head. If I had been reading a paper copy instead of an e-book I would have had to flick back through and read some bits again. As that isn't easy on a Kindle I just went with the flow but it was quite a surprising and clever turn of events. I could never have guessed where it was going.
I very much liked the dynamics between mothers and sons in this book and the fact that both Alice and Deborah had lost their sons, albeit in different circumstances, made for an interesting story. Connie was my favourite character though. I really took to her, as well as Lindsay Wade. They have a good friendship and there's lots of potential for them in further novels (I hope).
There are over a hundred chapters in this book which means each one is very short. I love short chapters as it means I can almost always fit just another one in. Each chapter is from the viewpoint of one of the women and I enjoyed the way the story flitted between each of them.
This is a very twisty story, very complex, which is why I say to pay attention. More than once I had to stop and think about who was who and what was going on. But it didn't affect my involvement in what is a really engrossing novel. I thought it was a great read and the intricate plot and fascinating characters kept my attention throughout. I really enjoyed One Little Lie.
---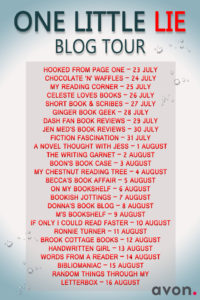 ---

Sam Carrington lives in Devon with her husband and three children. She worked for the NHS for 15 years, during which time she qualified as a nurse. Following the completion of a Psychology degree she went to work for the prison service as an Offending Behaviour Facilitator. Her experiences within this field inspired her writing. She left the service to spend time with her family and to follow her dream of being a novelist.