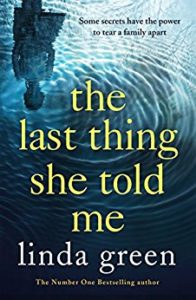 #BookReview – The Last Thing She Told Me by Linda Green @LindaGreenisms @QuercusBooks @MillsReid11 #BlogTour
I'm delighted to be reviewing The Last Thing She Told Me by Linda Green today as part of the blog tour. I thought it was a great read. My thanks to Milly Reid from Quercus for asking me to take part.

Even the deepest buried secrets can find their way to the surface…

Moments before she dies, Nicola's grandmother Betty whispers to her that there are babies at the bottom of the garden.

Nicola's mother claims she was talking nonsense. However, when Nicola's daughter finds a bone while playing in Betty's garden, it's clear that something sinister has taken place.

But will unearthing painful family secrets end up tearing Nicola's family apart?
---
Like a previous book by Linda Green, this book surprised me a bit as I was expecting more of a psychological thriller and The Last Thing She Told Me is probably more along the lines of a family drama. I was immediately intrigued by the revelation from Nicola's grandmother, Betty, on her death bed: she asks Nicola to look after the babies at the bottom of the garden. What a thing to hear when you can't question it further.
Nicola's youngest daughter, Maisie, then discovers a bone under a fairy statue at the bottom of the garden and it seems that maybe her grandmother was right. As you can imagine, from then Nicola finds it hard to concentrate on anything but the mysterious discovery. It leads her on a journey to find out about the family secrets that have been kept hidden for many years.
One of the strongest elements of this novel is the author's description of Betty's house. Full of darkness and like a museum exhibit to show how people lived 60 years ago, it came across as a place where sinister things might have happened. Another thing that really stood out for me was the plotting. Green was very clever, leading me along one path and making me believe one thing, then turning it on its head so everything slotted into place.
The emotional aspect of the story is strong too. Nicola has just lost her grandmother so to think that she might have buried babies in the garden, or been complicit in someone else doing so, causes her distress. And Nicola's mother is upset at the events too, but maybe there is more to her feelings. Nicola has to make decisions about how far she looks into the past and who it might damage.
I thought The Last Thing She Told Me was a real page turner of a read, looking at how secrets and lies can fracture a family and how the truth can sometimes put it back together again. It's a really easy book to read but has plenty of depth to the story. I thought it was great.
---

---

Linda Green is the bestselling author of eight novels. She is an award-winning journalist and has written for The Guardian, the Independent on Sunday and the Big Issue. Linda lives in West Yorkshire.