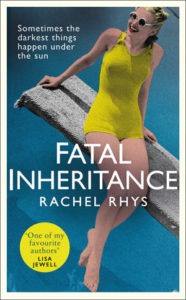 ShortBookandScribes #BookReview – Fatal Inheritance by Rachel Rhys @MsTamarCohen @DoubledayUK #RandomThingsTours #BlogTour
I'm over the moon to be reviewing Fatal Inheritance by Rachel Rhys today as part of the blog tour. It's an absolutely brilliant book. My thanks to Anne Cater from Random Things Tours for the place on the tour and to Doubleday/Transworld for the review copy.
London 1948: Eve Forrester is trapped in a loveless marriage, in a gloomy house, in a grey suburb.
Out of the blue, she receives a solicitor's letter. A wealthy stranger has left her a mystery inheritance but in order to find out more, she must travel to the glittering French Riviera.

Eve discovers her legacy is an enchanting villa overlooking the Mediterranean sea and suddenly, life could not be more glamorous.

Alone in paradise, Eve must unlock the story behind her surprise bequest – before events turn deadly…

Reminiscent of a Golden Age mystery, Fatal Inheritance is an intoxicating story of dysfunctional families and long-hidden secrets, set against the razzle-dazzle and decadence of the French Riviera. 
---

The word that comes to mind when I think about Fatal Inheritance is 'sumptuous'. The setting on the French Riviera, the descriptions, the prose – it's all so wonderfully magnificent and so atmospheric.
It's no secret that Rachel Rhys is actually an alias for bestselling psychological thriller writer, Tammy Cohen. I love the Cohen books but I really really love the Rhys books. They're completely different in style and genre which just proves what a talented writer we're dealing with here.
Fatal Inheritance starts brilliantly with bored housewife, Eve Forrester, watching raindrops race against each other. It's 1948, the war has ended but much of the independence and freedom that women enjoyed during the war has been lost. Eve's husband, Clifford, is stuffy and quite clearly believes women should be there to look good, do household things and basically not have any thoughts or opinions of their own. So when Eve receives a letter saying that she has come into an unexpected inheritance and has to go to the South of France it's quite a surprise, both to her and Clifford, when she decides to travel there alone.
Once there, Eve is thrust into the centre of a whirlwind. She meets a number of people who are from a different world to her. Hollywood film actresses, well known writers. Even the 'ordinary' people are actually far from ordinary. Everybody and everything seems to have that extra layer of gloss. She finds herself dreaming of what could be if she could escape her humdrum existence.
Fatal Inheritance is just amazing from start to finish. It entranced and enthralled me as I was taken along on the journey with Eve. I thought she was a wonderful character, surprisingly feisty considering her loveless upbringing and subsequent loveless marriage. Eve is determined to uncover the reason for her inheritance and this leads her into some danger but also into some wonderful situations, the like of which she could never have imagined she would experience.
The descriptions of the setting were fantastic. I could imagine quite easily the sun, the heat, the fragrances, the views. And the characterisations as a whole worked so well. Quite apart from Eve, there are an array of well-drawn supporting characters who add so much depth to the story: the Lester family, the Colletts who Eve first met on the sleeper train, the French lawyer who informs Eve of her inheritance, Gloria, the Hollywood actress who becomes a friend to Eve. Each and every one plays a part in the story and in Eve's emancipation.
There's a real mystery at the heart of this book and I loved following Eve as she tried to discover the reason for her inheritance. In the post-war era it wasn't so easy to find information but she eventually gets to the bottom of it and I thought the ending of the book was superb.
In fact, the whole thing is simply superb and Rhys managed to completely capture the Golden Age feel. I can't wait to see what she comes up with next. If Fatal Inheritance and her first historical mystery, A Dangerous Crossing, are anything to go by then it's going to be amazing!
---

---

RACHEL RHYS is the pen-name of a much-loved psychological suspense author. Fatal Inheritance is her second novel under this name. Her debut Dangerous Crossing a Richard and Judy bookclub pick, was published around the world. Rachel Rhys lives in North London with her family.