Seven Day Spotlight – w/e 28/10/18
Welcome to this week's Seven Day Spotlight post. I think that winter is on its way as the temperature has dipped and apparently there was even snow to be seen on the other side of Sheffield.
I was very happy to go and see Bohemian Rhapsody this week at the cinema. As a big fan of Queen it was great to watch this biopic and I have to say the actors playing the band got it absolutely spot on.
I also got to go and see my son in his first Harvest Festival at school. Very proud mummy here!

---
So, another busy week on my blog. Here's what I posted this week:
Monday's post was a guest post by Fenella J Miller, author of The Spitfire Girl. She talked about why she writes historical romance and sagas.
On Tuesday, I shared an extract about Winnie the Pooh from Literary Landscapes, edited by John Sutherland. There's also a competition to win a copy of the book which is still running until 31st October.
Wednesday was a two post today with me sharing my review of the fabulous Pieces of Me by Natalie Hart and an extract from Crikey! How Did That Happen? by Ian Strathcarron, a biography of Bertie Wooster.
On Thursday, I posted my review of Claire Baldry's lovely poetry collection, Simply Modern Life, along with an extract.
Friday's post was my review of the profound and thought-provoking Histories by Sam Guglani.
And Saturday was another two post day with me sharing my review of the complex and cleverly-plotted Lies Between Us by Ronnie Turner and an extract from The Reckoning by Clár Ní Chonghaile.
---
It's been another restrained week for me with only four additions to my TBR pile. I hope you're suitably impressed 😉
An Anonymous Girl by Greer Hendricks and Sarah Pekkanen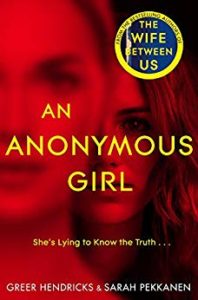 Seeking women ages 18–32 to participate in a study on ethics and morality. Generous compensation. Anonymity guaranteed.

When Jessica Farris signs up for a psychology study conducted by the mysterious Dr Shields, she thinks all she'll have to do is answer a few questions, collect her money and leave. But as the questions grow more and more intense and invasive, and the sessions become outings where Jess is told what to wear and how to act, she begins to feel as though Dr Shields may know what she's thinking . . . and what she's hiding. As Jess's paranoia grows, it becomes clear that she can no longer trust what is real in her life, and what is one of Dr Shields's manipulative experiments. Caught in a web of deceit and jealousy, Jess quickly learns that some obsessions can be deadly.
The Truth Waits by Susanna Beard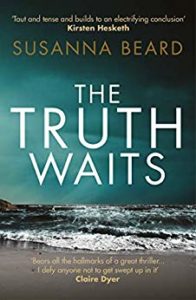 Anna has everything worked out – a successful company, all the comforts she needs and no ties. But when she stumbles across the body of a young girl on a deserted beach in Lithuania, everything changes.

Anna is compelled to uncover the story behind the tragedy, despite concern from her partner, Will. Everything points towards sex trafficking, but as she searches, her own deepest secrets start to surface.

When Will disappears without a trace, Anna is pulled further into the murky world of organised crime. Time is running out for them all, and there's a killer out there who will stop at nothing.

Beard enthralls the reader in this fast-paced psychological crime thriller. Anna serves as the perfect power-house protagonist, her daring escapades leaving the reader questioning: how far should one go to solve a murder?
All Anna wants is to be able to sleep. But crushing insomnia, terrifying night terrors and memories of that terrible night are making it impossible. If only she didn't feel so guilty…

To escape her past, Anna takes a job at a hotel on the remote Scottish island of Rum, but when seven guests join her, what started as a retreat from the world turns into a deadly nightmare.

Each of the guests have a secret, but one of them is lying – about who they are and why they're on the island. There's a murderer staying in the Bay View hotel. And they've set their sights on Anna.

Seven strangers. Seven secrets. One deadly lie.

Someone's going to sleep and never wake up…
The Book of Love by Fionnuala Kearney
One love. Two people. Twenty Years.

From the moment they met, Erin and Dom loved each other too much, too quickly. Everyone said it wouldn't last. But they knew differently.

A wedding present, a notebook, brings them together through the good times and the bad. On the blank pages of their love story, they write down everything they can't always say – the secrets, the heartbreak, the highs and lows. It's where they see the best and worst of each other.

Falling in love is easy but staying in love is where the story begins…

This is the Book of Love