ShortBookandScribes #BookReview and #Extract from Simply Modern Life by Claire Baldry @ClaiBal #BlogTour #poetry
I'm so pleased to be bringing you my review of Simply Modern Life by Claire Baldry today, along with a poem from the book. My thanks to Claire for asking me to be a part of the blog tour and for providing me with a copy of the book for review.
This collection of twenty-two beautifully illustrated poems provides an acutely observed, satirical view of modern life.

Using traditional rhymes and a highly accessible style to provide perceptive insights into the sometimes serious, sometimes humorous issues presented by life today, readers will undoubtedly empathise with the poems.

From internet trolls to people who use mobile phones on trains, this collection will appeal to readers of all ages. Covering topics such as Ofsted, school assemblies and people who fall asleep in AGMs, the poetry would be equally at home in schools, social clubs, day centres or sitting on people's coffee tables at home.

Detailed and quirky illustrations are included on almost every page, which make a delightful addition to the poems and highlight the comedic element. This collection will quickly become a favourite for thumbing through the pages and discovering new delights on each re-read. From the author of Different Genes (Matador, 2017) and founder of the popular website, Books for Older Readers.
---

First of all, a confession. I'm not much of a poetry fan. When I do read it I need it to be really accessible and easy to understand, and I do prefer it if it rhymes. And I'm pleased to say that Claire Baldry's collection is all of those things and I loved reading this selection of poems.
As you might expect from a collection entitled Simply Modern Life, the poems focus very much on modern issues (some might say problems). For instance, one of the poems focuses on that very irritating person on the train who insists on sharing their phone conversation with the whole carriage. Internet trolls and online bullying also feature along with those annoying PPI phone calls that disturb our days so often.
Claire Baldry is a former headteacher and so we are treated to poems about the dreaded Ofsted inspection and Harvest assembly which I enjoyed as my son is now in school.
I thought this was an excellent collection of funny and clever verse. I smiled a lot whilst reading it and thought that the poems really hit the mark. Accompanying them are some lovely illustrations by Amber Gee, some of which, if I'm not mistaken, are of the author herself. They provide a fine accompaniment to the text.
All in all, this is poetry that is right up my street and which I would happily recommend, even to those people who might think they would struggle with poetry. I can guarantee you won't struggle with Simply Modern Life.
---

Two Men in a Boat

"What did you do, Dad, to stop feeling shame,

When the sea levels rose, and the waves finally came,

Before the great flood?"

"The problem was global, our actions too late,

We were busy existing, ignoring our fate,

Before the great flood

We blamed the plantations, third world, the Chinese,

We starved the poor people who cut down the trees,

Before the great flood

We wanted cheap food in order to thrive,

Public transport was slow, so we all chose to drive,

Before the great flood

Wind turbines were ugly, so we sent them away,

We resorted to fracking on recycling day,

Before the great flood"

"Did you use little shops and support local craft,

Pay an income to those who helped build our life raft,

Before the great flood?"

And the Dad shook his head,

 Blamed world leaders and science,

Never seeing a need for his own self-reliance,

Before the great flood

They sailed to the sunset in the warm smoky air,

The son full of wonder that his Dad didn't care,

Before the great flood
---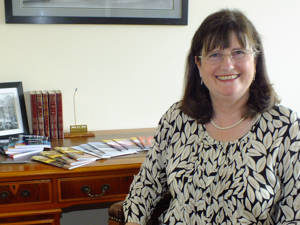 Claire Baldry retired from her career as a Headteacher and English Advisor in 2008. She is now an established writer, blogger, performance poet and public speaker in her home county of East Sussex. Claire has published four previous booklets of poetry, and more recently her debut novel Different Genes (Matador, 2017).