ShortBookandScribes #BookReview – Lies Between Us by Ronnie Turner @Ronnie_ _Turner @HQDigitalUK #BlogTour #WhereIsBonnie?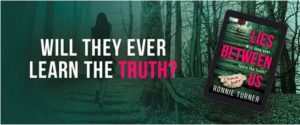 I'm delighted to be reviewing Lies Between Us by Ronnie Turner, fellow blogger and all round lovely person. My thanks to Ronnie and HQ Digital for the place on the tour and the review copy.
Will they ever learn the truth?

Three people, leading very different lives, are about to be brought together – with devastating consequences . . .

John has a perfect life, until the day his daughter goes missing.

Maisie cares for her patients, but hides her own traumatic past.

Miller should be an innocent child, but is obsessed with something he can't have.

They all have something in common, though none of them know it – and the truth won't stay hidden for long . . .

A gripping psychological thriller for fans of Clare Mackintosh, Shari Lapena and Lisa Jewell.
Book Links:
---

Well, this is a twisty old tale! We hear from Miller, Maisie and John and the question throughout it all is #WhereIsBonnie?
Bonnie is John's daughter and she's been kidnapped by somebody who is determined to taunt John with it. Maisie is a trauma nurse who has suffered her own share of trauma. She's now looking after a man who is in a vegetative state. And finally, Miller takes us back to the 80s and 90s when he was a child. These seem like three very distinct and separate storylines for much of the book until those threads start to be pulled together.
Gosh, this is a hard book to write about. I don't want to give anything away and spoil Ronnie Turner's really careful plotting that keeps the reader guessing throughout. I did start to get an inkling of the way the characters were linked part way through but that's all it was, and so the ending was still quite unexpected. Certain things are obvious in hindsight but they weren't signposted in the story and I think this level of plotting was incredibly well executed.
One thing that really stood out for me was Turner's writing. It's quite literary in style and quite beautiful. She has a lovely way with words that I marvelled at and I can see her being able to turn her hand to more than one genre.
Lies Between Us is a dark and disturbing story, one which makes me think I'm glad I don't know any characters like the ones in the book (well, I hope I don't!). Some quite unpleasant events take place and it's unsettling to read at times. Ronnie Turner has a dark place in her mind!
I must admit that I'm still confused about one aspect of the story and, if I didn't have an e-book version I would be flicking back through the pages to try and work it out. But that doesn't detract from the fact that this is a complex, clever and intense debut novel and I feel sure that Ronnie Turner will bring us more great stories in the future.
---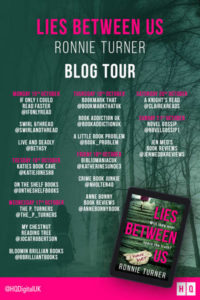 ---

Ronnie Turner grew up in Cornwall, the youngest in a large family. At an early age, she discovered a love of literature and dreamed of being a published author. Ronnie now lives in Dorset with her family and three dogs. In her spare time, she reviews books on her blog and enjoys long walks on the coast. She is currently working on her second novel.
Ronnie's debut novel, Lies Between Us, will be published by HQ Digital in October 2018.