Seven Day Spotlight – w/e 24/06/18
It's that time of the week again. Don't the weeks go fast?
Here's what I posted this week on my blog:
On Monday, I shared two extracts from Kindred Spirits: Westminster Abbey by Jennifer C. Wilson and there's still just enough time for you to enter the competition to win a copy of book one in the series.
Tuesday's post was my review of the gripping and sinister The Tall Man by Phoebe Locke.
Jenny Morton Potts, author of Just, was my guest on Wednesday, with a guest post about the importance of setting.
On Thursday, Jackie Baldwin, author of Perfect Dead, was my guest, talking about why she decided to set her book in the art world.
On Friday, I posted my review of The Cornish Village School by Kitty Wilson, and Kitty also wrote a guest post about tips for writing romance.
Also, Jennifer L. Cahill, author of One, shared her top five authors.
Finally, Saturday's post was my review of The Heat is On by Helen Bridgett, which I loved.
---
You may remember that two weeks ago I had rather a bumper week for books. Then last week it was a lean week. This week it's more or less back to normal. Here's what was added to my TBR pile:
The Rules of Seeing by Joe Heap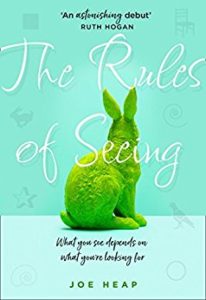 Nova is 32 years old and she is about to see the world for the very first time.

Nova can do many things. She can speak five languages. She can always find a silver lining. And as an interpreter for the Metropolitan Police, she can tell when someone is lying just from the sound of their voice.

But there's one thing Nova can't do. She can't see.

When her brother convinces her to have an operation that will restore her sight, Nova wakes up to a world she no longer understands. Until she meets Kate.

As Kate comes into focus and their unlikely friendship blossoms, Kate's past threatens to throw them into a different kind of darkness. Can they both learn to see the world in a different way?
The Last Thing She Told Me by Linda Green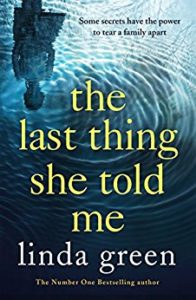 Even the deepest buried secrets can find their way to the surface…

Moments before she dies, Nicola's grandmother Betty whispers to her that there are babies at the bottom of the garden.

Nicola's mother claims she was talking nonsense. However, when Nicola's daughter finds a bone while playing in Betty's garden, it's clear that something sinister has taken place.

But will unearthing painful family secrets end up tearing Nicola's family apart?

The new emotionally-charged suspense novel from Linda Green, the bestselling author of While My Eyes Were Closed and After I've Gone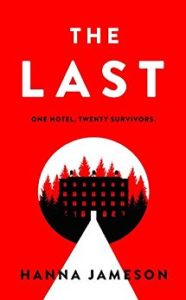 BREAKING: Nuclear weapon detonates over Washington
BREAKING: London hit, thousands feared dead.
BREAKING: Munich and Scotland hit. World leaders call for calm.

Jon Keller was on a trip to Switzerland when the world ended. More than anything he wishes he hadn't ignored his wife Nadia's last message.

Twenty people remain in Jon's hotel. Far from the nearest city, they wait, they survive.

Then one day, the body of a girl is found. It's clear she has been murdered. Which means that someone in the hotel is a killer…

As paranoia descends, Jon decides to investigate. But how far is he willing to go in pursuit of justice? And what happens if the killer doesn't want to be found?
The Chosen Ones by Howard Linskey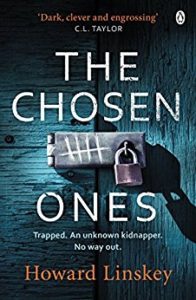 Eva Dunbar wakes in a large metal box.

She has no idea who has taken her.

She has no way out.

She isn't the first young woman to disappear.

And with no leads Detective Ian Bradshaw has precious little time.

When at last a body is found, the police hope the tragic discovery might at least provide a clue that will help them finally find the kidnapper.

But then they identify the body – and realise the case is more twisted than they ever imagined . .
I Did It For Us by Alison Bruce
From the first time I saw them together I knew it felt wrong. I didn't like the way he touched her or the self-conscious way he played with Molly and Luke. Joanne saw none of it of course. So I did it to prove to her that she was wrong. I did it for us.

Emily's instincts tell her that best friend Joanne's new boyfriend is bad news. Emily fears for Joanne. Fears for Joanne's children. But Joanne won't listen because she's in love. So Emily watches, and waits . . . and then she makes a choice.

But Emily has a past, and secrets too. And is she really as good a friend to Joanne as she claims?
The Factory Girls of Lark Lane by Pam Howes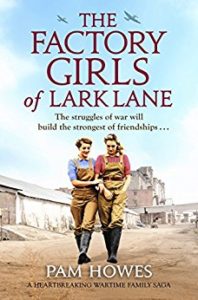 The struggles of war will build the strongest of friendships…

1940, Liverpool: Best friends Alice Turner and Millie Markham work for the war effort at Rootes munitions factory, making shell caps and Halifax bombers. Alice's sweetheart Terry is home from the front for a brief period of leave, and the women are excitedly planning a whirlwind wedding.

But the honeymoon is soon over, and the ever-present air raid sirens quickly bring Alice back down to earth. When a terrible explosion at the factory leads to a tragic death, and a loved one is announced missing in action, it's only their friendship and the support of the other factory girls which help to keep Alice and Millie's spirits up.

As the war stretches on with no sign of an ending, can Alice and Millie help one another make it through – and find happiness even in the darkest of times?
The Not So Perfect Plan to Save Friendship House by Lilly Bartlett
Meet Phoebe, who's 28, and Laney, Dot and Maggie, who are 68, 78, and none of your business. Together they'll prove that age doesn't matter when it comes to friendship, belonging and an unquenchable zest for life.

When Framlingham's famously all-female retirement home goes co-ed, a war between the sexes is declared.

Stuck in the middle, chef Phoebe Stockton is desperate to help her friends plot to keep the community that means so much to them. It's become her life raft, too. She finds comfort in her beloved career that might finally make her parents proud. But Phoebe's darling Nick is lining up on the other side of the battle, and their relationship is suffering collateral damage.

The stakes couldn't be higher. If the home's owner can't improve business by moving the men in, he'll have to close down Friendship House.

The women aren't about to let that happen.
I had some fabulous book post this week too – three books that I cannot wait to read.
Bitter Orange by Claire Fuller
The Psychology of Time Travel by Kate Mascarenhas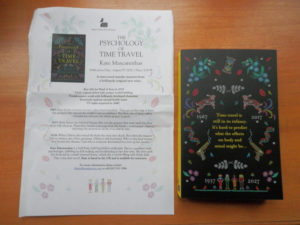 A Ladder to the Sky by John Boyne