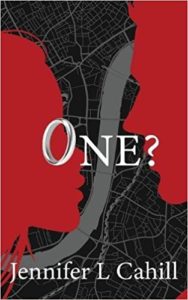 #BlogTour #GuestPost by Jennifer L. Cahill, Author of One – Top Five Authors @JLCAuthor @fayerogersuk @Authoright @AuthorightUKPR
Welcome to my stop on the blog tour for One by Jennifer L. Cahill. This book sounds great and I wish I could have fitted in a read of it. Instead, Jennifer is going to tell us who her top five authors are. My thanks to Faye Rogers for the place on the tour.
Release Date: 21st June 2016

Genre: Women's Fiction, Contemporary Fiction

Publisher: Clink Street Publishing

Format: Paperback

It's London in the mid-noughties before Facebook, iPhones and ubiquitous wifi, and One? follows the highs and lows of a group of twenty-somethings living in leafy SW4.

Zara has just moved to London for her first real job and struggles to find her feet in a big city with no instruction manual.

Penelope works night and day in an investment bank with little or no time for love. At 28 she is positively ancient as far as her mother is concerned and the pressure is on for her to settle down as the big 3-0 is looming.

Charlie spends night and day with his band who are constantly teetering on the verge of greatness.

Richard has relocated to London from his castle in Scotland in search of the one, and Alyx is barely in one place long enough to hold down a relationship let alone think about the future.
---
1. Gabriel Garcia Marquez – I love all of his work, and his characters really stayed with me. Love in the Time of Cholera is one of my favourites, as is 100 Years of Solitude. He really draws you into his imaginary world and makes you very reluctant to leave when the books end.
2. Isabel Allende – I love her work. It's even more fascinating when you take the political backdrop of the time into account and how she, and the other writers circumnavigated the censorship of the time through literature.
3. Margaret Atwood – I'm addicted to the Handmaid's Tale, it is absolutely genius. It's so complex.
4. Audrey Niffenegger – The Time Traveler's Wife is one of my favourite books. The ending was stupendous.
5. Daphne du Maurier – Rebecca is a classic favourite of mine. Beautifully written, and I completely fell in love with Manderley.
---

---

Living in Notting Hill, Jennifer L Cahill works with both individuals and blue chip clients to help them navigate  and master change and transformation. She has over  seventeen years' experience in consulting specialising  in change, communications, business transformation and personal development. She has a graduate degree  in International Commerce and Spanish and a Masters in Business Studies. In her spare time she loves embracing her more creative side.